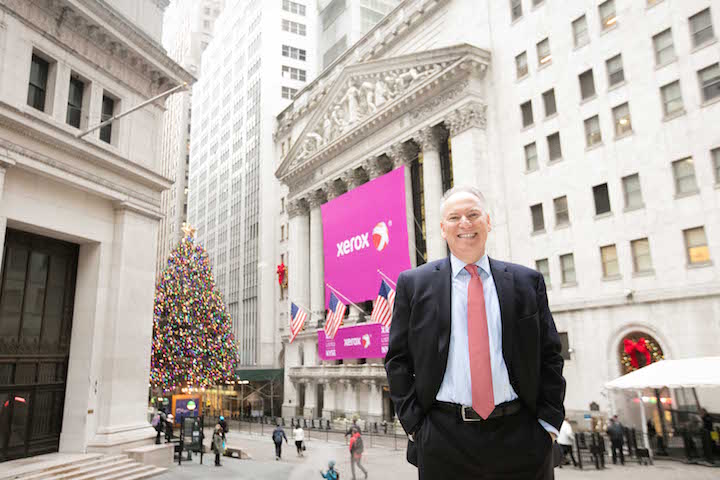 Xerox Corp. created efficiencies by more closely connecting its regional supply operations to its global network.
By Tim O'Connor
People don't buy copiers and printers for the sake of having the equipment. Copiers and printers are a means to an end, a way to disseminate information among a team or to a client. In an increasingly digital age, these modes of communication are becoming more complex as communication that once took place in a single conference room now occurs all over the world.
To accommodate how modern business functions, Xerox has become a technology company focused as much on intelligent workspaces and cloud applications as it is on the broader printing market. "We're a big player in an even bigger pool," says Ken Syme, senior vice president of global manufacturing, supply chain and procurement at Xerox.
At the heart of Xerox's technology is the interface between the digital and physical worlds. Customers want to convert their printed information into a digital format, distribute it to stakeholders and be able to interact with the material in a digital format. At the same time, paper documents are not going away anytime in the foreseeable future.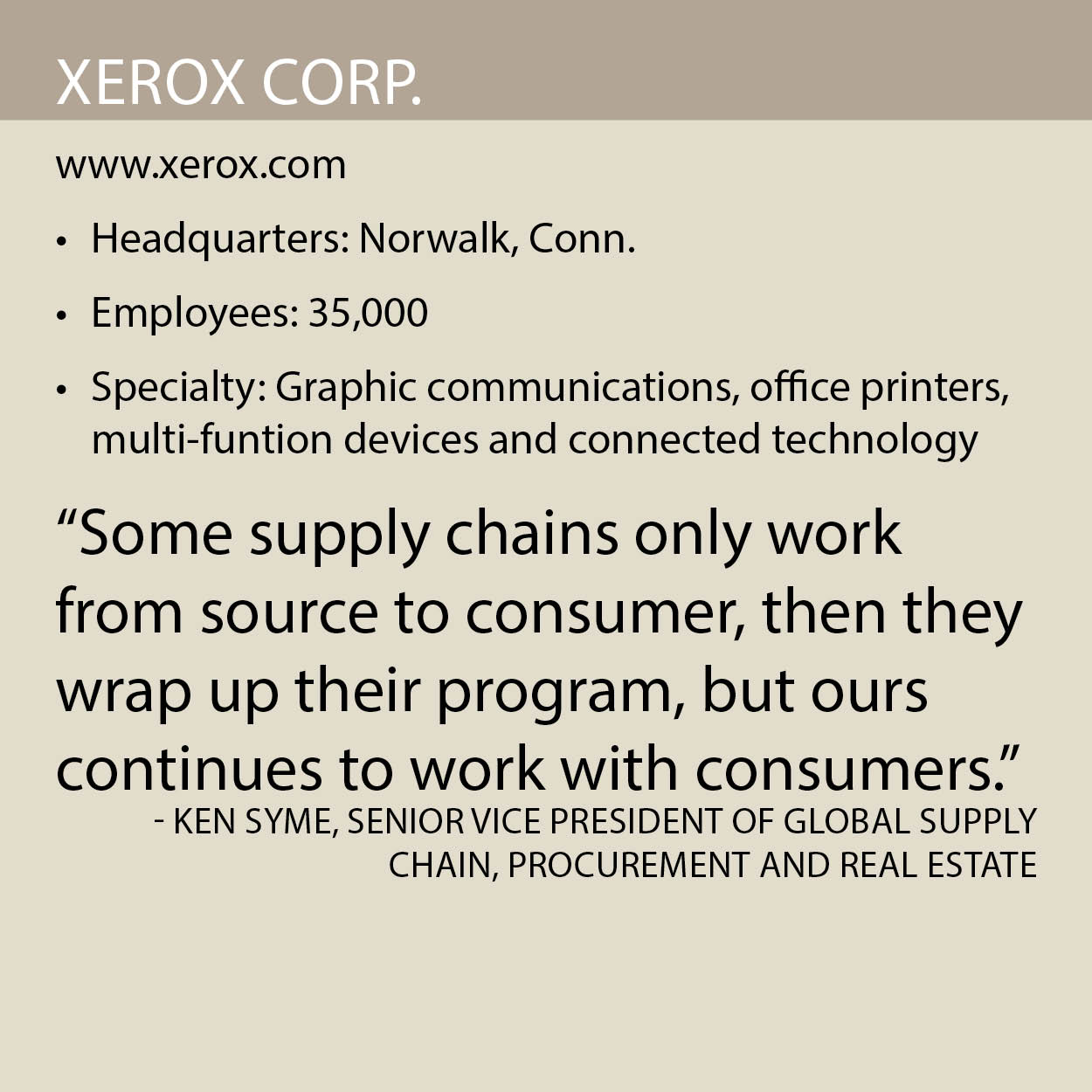 "We recently completed the largest product launch in our history," Syme says. "Xerox is bringing 29 products to the market." Each of those devices will feature ConnectKey Technology, a customized suite of capabilities that includes mobile and cloud connections, advanced printer security and managed print services with the ease of a tablet-like interface.
Consolidating Branches
"Our supply chains are tailored to the way we go to market," says Marc Rottink, vice president of Xerox's Technology Supply Chain. Xerox reaches its customers in two primary ways: Directly through its own salesforce and indirectly through distributors and channels that sell printers from multiple manufacturers. The trend in the United States is moving toward those indirect sales, which creates a need for a parallel supply chain that handles spare parts and consumables and a reverse supply chain for recycling.
Xerox's supply chain supports every phase of the company's operations, from manufacturing and distribution to customer delivery. Even after the printer is installed, the supply chain must keep clients stocked with consumables such as ink and paper. "Some supply chains only work from source to consumer, then they wrap up their program," Syme says. "But ours continues to work with consumers."
It's a complex organization but one Syme says does not create fragmentation. Xerox has built up end-to-end connectivity across the various facets of its supply chain to keep everything in sync. The group purchasing components and the facility manufacturing parts are aware of each other and coordinate to keep their operations aligned. On the service side, replacement parts are delivered ahead of technicians to avoid lost time during repairs.
The company has always had a centralized supply chain, but the nature of its global business required branches of its supply chain to function somewhat independently within each country where Xerox has operations. Rottink and Tony McQuillan, vice president of Eastern Hemisphere manufacturing and supply chain, have worked to more tightly connect those branches to the central structure by defining methodologies and the supplier base at the global level. "That has helped us in our journey to drive as much efficiency as possible in our supply chain," Syme says.
"This whole notion of end-to-end connectivity is important to us," Rottink adds. Before, those country-level supply chains worked independently to optimize what worked best for Italy or Germany without consideration as to how their decisions affected the larger network. Xerox found that merging those country-based supply chains into regional networks delivered better results as a whole. "The higher aggregated you look at stuff the more you can connect it," Rottink explains.
The aggregation of those supply chains began in Europe before being replicated in North America. Rottink says local managers were concerned about the change at first. "It's about the fear of losing control over your level of service, your revenue or the ability to control your assets," he says.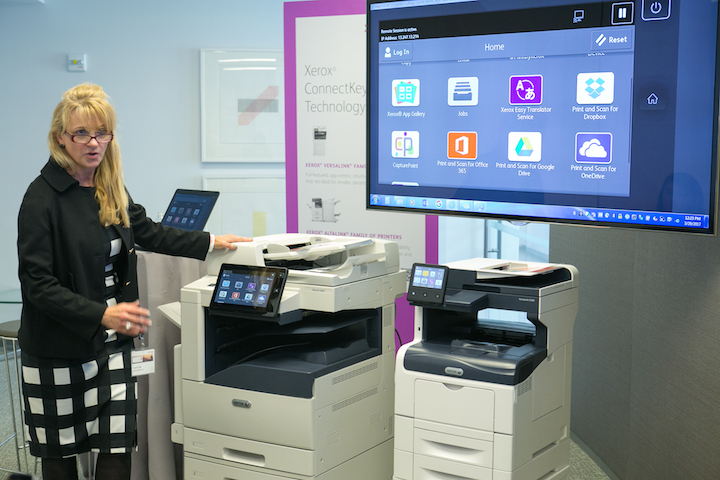 Eventually, those managers bought into the shift as Xerox proved it could consolidate those supply changes into a larger network without deteriorating service. "We know more together and we create this visibility end-to-end," Rottink says of the advantages.
The first step toward aggregating supply chains was to map out the existing network. From there, Xerox determined which functions were core and which could be handled by partner organizations. It studied how it wanted the supply chain to change and considered the different go-to-market strategies it needed in each market.
Meanwhile, it earned its customers' trust by showing how a more consolidated process would give them greater visibility into Xerox's supply chain. "I think if we didn't have the buy-in from our customers and partners we would have been in trouble," McQuillan says.
Enlisting Third Parties
In rethinking its supply chain, Xerox took cues from the manufacturing side of the company. Xerox produces some printer components at its own facilities, but for those parts where it can't be the best producer, the company enlists outside manufacturers to fill the gaps. Likewise, Xerox's core supply chain functions, such as integrated business planning, are handled in-house.
However, aspects of the supply chain that require specialized infrastructure outside of Xerox's core competences, such as warehousing and transportation fleet, are left to third-party providers that have already invested in that business. "We want to make sure we optimize our supply chain not only from a service perspective but a cost perspective," Rottink says.
The reliance on 3PLs has made Xerox more efficient and responsive to its customers. The company has as many as 50,000 spare parts used to service its machines – far too many to stock at the customers' site or in a service technician's car. But by utilizing those third-party partnerships, strategic locations and data analytics to predict where equipment might fail, Xerox can track where every spare part is and have it delivered to the customer in time for a same-day fix.
Cost is a factor, but Xerox also looks for third-party providers that can enhance the company's level of service and have the flexibility to scale up and down with demand. "We've really done this in a strategic way where we've looked at providers that can bring things to us," Syme says. "That might be geographic coverage or capability."
Innovation is another quality Xerox demands from its vendors. "We don't want to stand still," McQuillan says. "We want them to continuously innovate in the industry around them." Suppliers with an innovative mindset can make a real impact on Xerox's operations. Recently, the company reviewed how it consolidated shipments and found that third-party warehouses equipped with more advanced tools can communicate more effectively and allow for more efficient consolidation.
With more of its business trending toward indirect sales, the next step in Xerox's supply chain improvement journey is to make sure the company's network is channel-friendly. Xerox wants to optimize how it delivers parts to distributors to support and improve its transaction systems and to create more seamless communication with its partners. "We want to make sure our supply chain is tailored more in the service direction," Rottink says.
To fully understand how well it is meeting those service goals, the company must look at the larger industry. Xerox measures nearly every aspects of its supply chain against its competition. The key benchmark it follows is supply chain cost as a percentage of revenue, and Syme says Xerox compares favorably to other printer manufacturers. "We have to set up a supply chain that is flexible and is able to adapt as the market changes," he explains. "I was quite pleased with where we were represented [compared to competitors], but that doesn't mean we're going to rest."