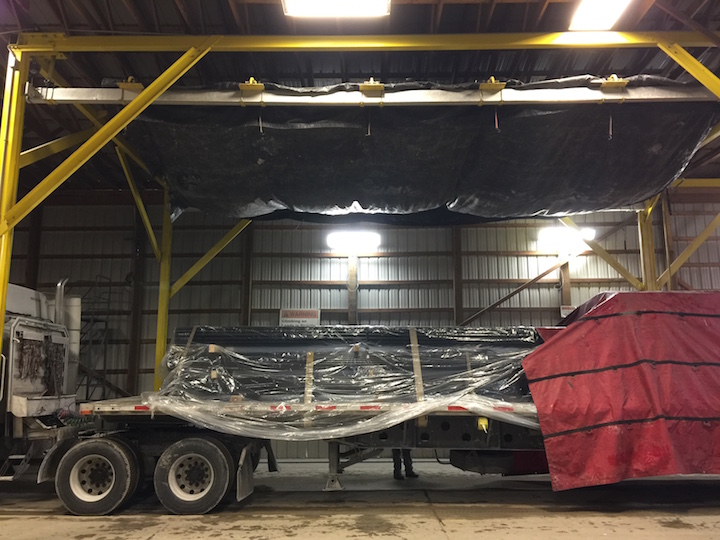 Zekelman Industries combines technology and old-fashioned customer service to attract drivers to carry its loads.
By Jim Harris
For Zekelman Industries, maintaining close relationships with the drivers it works with and keeping up with the latest developments impacting the logistics industry are not mutually exclusive goals. The company's recent investments in technology supplement its goal to treat drivers well.
"All of the technology and improved efficiency we've brought in will hopefully allow drivers to want to come to our facility," Vice President of Logistics Jeff Shulman says. "Our shipping departments want to make drivers feel comfortable."
The company attracts drivers to pick up and deliver its goods in ways both large – such as keeping them safe by installing automatic tarp machines and safety nets in all of its facilities – and small.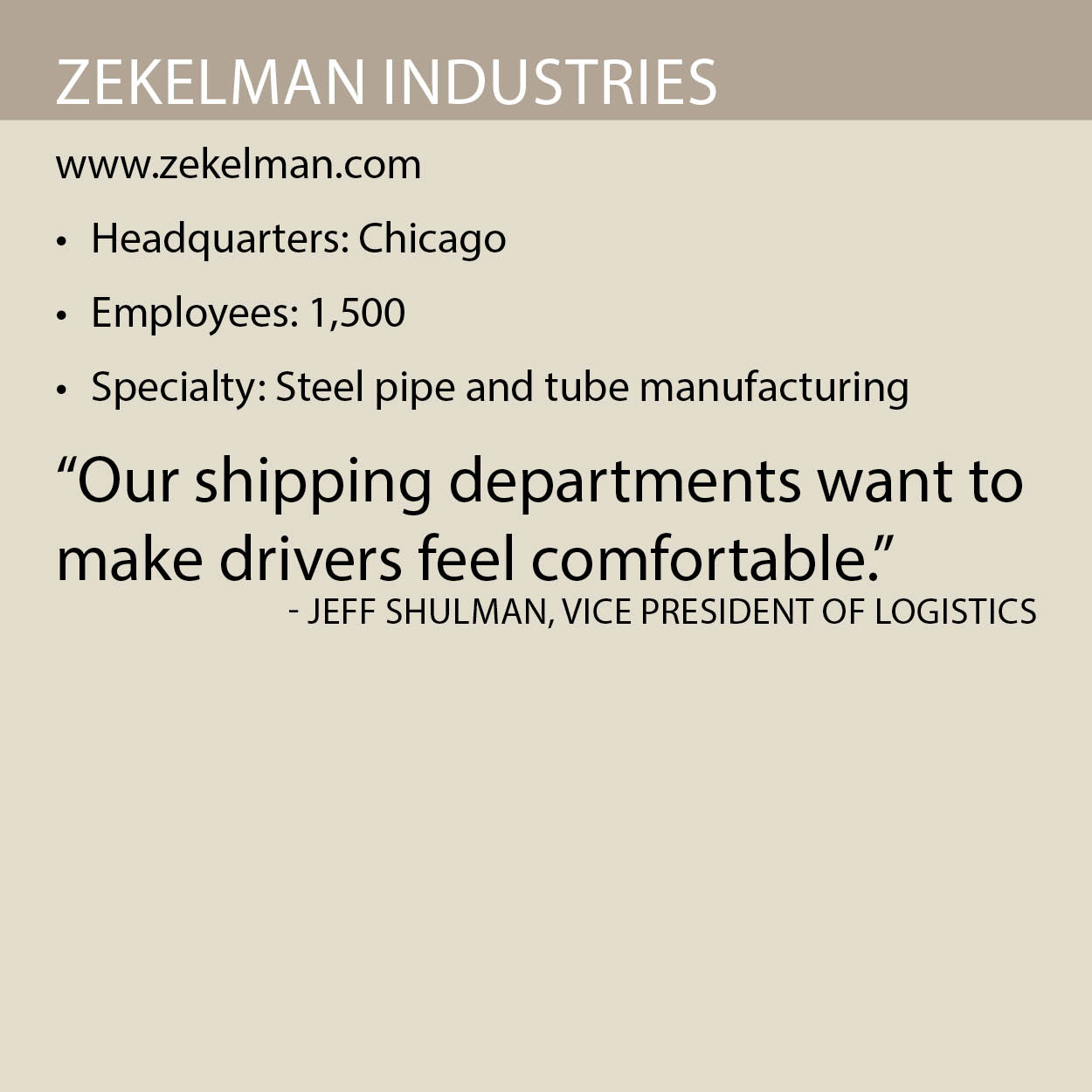 "In general, we believe in treating our drivers well; even just the gesture of offering them water or coffee when they come here goes a long way," he adds, noting Zekelman Industries participates in driver's appreciation events. "Our plants take great pride trying to outdo each other to make sure drivers want to go there."
One-Stop Shop
The company hires independent trucking companies to deliver raw materials to, and finished goods from, facilities located in the Midwest and eastern United States and the Canadian province of Ontario. Zekleman's 20-person logistics team handles the coordination of more than 400-plus truckloads and approximately 10 railcar loads daily.
Headquartered in Chicago, Zekelman Industries is the largest independent steel pipe and tube manufacturer in North America, producing approximately 2.5 million tons of pipe annually.
"In terms of the sizes and types of goods we make, there's no one else who offers the range of product that we do – we're a one-stop shop for pipe and tube," Shulman says. "I feel that we pay a high degree of attention to our customers, and we have great leadership that is innovative and leading-edge and not afraid to take risks."
The company's divisions – Atlas Tube, Wheatland Tube, Picoma, Energex Tube, Sharon Tube and Z Modular – operate 15 manufacturing plants in the United States and Canada. Pipe and tube manufactured by the company is used in a variety of applications including construction, energy and manufacturing.
Zekleman Industries recently acquired two new divisions: American Tube, based in Birmingham, Ala.; and Western Tube and Conduit of Long Beach, Calif. "Our strategy is to acquire companies that help us get closer to our customers and meet their delivery needs more easily," Shulman says.
Each division has a regional logistics group and dispatch team that is responsible for one or more plants. Depending on the division, finished goods are sent to customer locations including retail or wholesale warehouses, as well as job sites, Shulman adds.
Streamlined Process
Zekelman Industries recently took big steps toward meeting its goals of attracting drivers to its facilities and increasing the efficiency of its operations. An addition to the company's proprietary transportation management system – which it calls TMS Plus – enables faster and more secure driver check-in at its facilities.
The check-in system, developed by Zekleman Industries and put into place last year, provides carriers with a bar code, known as a loading pass, which works in a manner similar to an airline-boarding pass. "Our TMS Plus system allows carriers to send the bar code to the driver's e-mail," Shulman says, noting the bar code can be accessed on the driver's smart phone and includes information such as the load number, the weight of the load, origin and destination, and other loading and safety requirements. "We know that, when the driver checks in, that he will be picking up the right load; this allows the driver to check in faster and in a more effective way."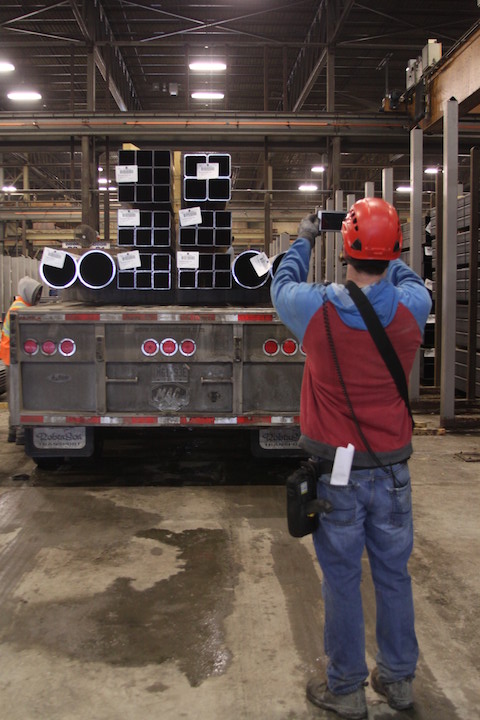 The bar code is scanned when the driver checks in, enabling shipping department personnel to check to ensure accuracy of the driver's appointment, the carrier and the load number. The shipping department is responsible for pressing a "start load" button, signaling the start of the loading process. "Checking drivers in by name gives us the benefit of being able to make a personal connection," he adds, noting information such as birthdays can also be included on the loading pass.
During the loading process, a shipping department representative takes pictures of the load, which are sent to a database accessible to Zekelman Industries. "Having this information as well as pictures of the load helps us to resolve discrepancies between us and the carrier," Shulman notes. "We now have a full understand if anything were to have happened with a load."
The check-in system was developed in response to one of the most frequent questions posed by the company to its preferred carriers. "One question that has come up during the carrier meetings we've had for the past five years is 'how long should it take to load a shipment?'" he says. "The answer we received from our drivers is that they will be happy if they are loaded within two hours."
To meet this metric, Zekelman Industries' divisions display the check-in time and total load time in real-time on screens throughout their facilities. "This check-in system keeps holds our shipping departments and carriers accountable," Shulman says. "No one wants to go over that two-hour threshold; having this has definitely enhanced our efficiency in getting trucks out faster."
The check-in system is earning Zekleman Industries positive feedback from its divisions and carriers. "From a customer service standpoint, this system has proven to be very worthy," he adds. "We're getting good adoption from security guards and shipping clerks, who like the efficiency of scanning bar codes instead of entering information manually and writing drivers' names down.
"We've received feedback from carriers that our TMS Plus system, in general, is one of the best and most user-friendly systems they use, and that always makes us happy," Shulman says. "We've put a lot of time and effort into this system."
Making Lives Easier
Zekelman Industries is working to further enhance its TMS Plus system. This includes developing a mobile application for smartphones and adding the ability to automatically track loads in transit. The system sends out notifications to customers when loads leave its facilities, but tracks those loads semi-manually.
Shulman credits the company's technical and logistics staff with its ability to develop and quickly adapt to the technology.
"Our team's ability to hear all of my ideas and put this technology in place is incredible," he says. "These innovations have made it easier for us to do more, and they have made our carriers' lives easier."