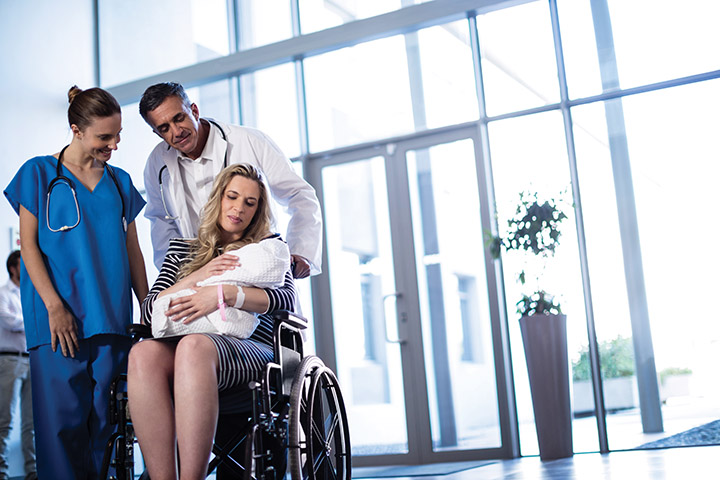 Geisinger Health aims to improve its supply chain so caregivers have more time with patients.
By Alan Dorich
Geisinger Health Systems sets itself apart by providing a wide spectrum of care, Vice President Joel Meckley says. "We have that full continuum all the way from the Geisinger clinics all the way through to our acute care hospitals and health plan," he says.
Based in Danville, Pa., the 12-hospital system services 45 counties in central, south-central and northeast Pennsylvania. And in 2017, Geisinger Commonwealth School of Medicine became the newest member of the Geisinger family.
Abigail Geisinger founded Geisinger in 1915 at the age of 85, Meckley says. "Abigail wanted to bring healthcare to the Danville area, in memory of her late husband," he explains. "In doing so, she built the hospital and hired Doctor Harold Foss, who was a young physician trained at the Mayo Clinic."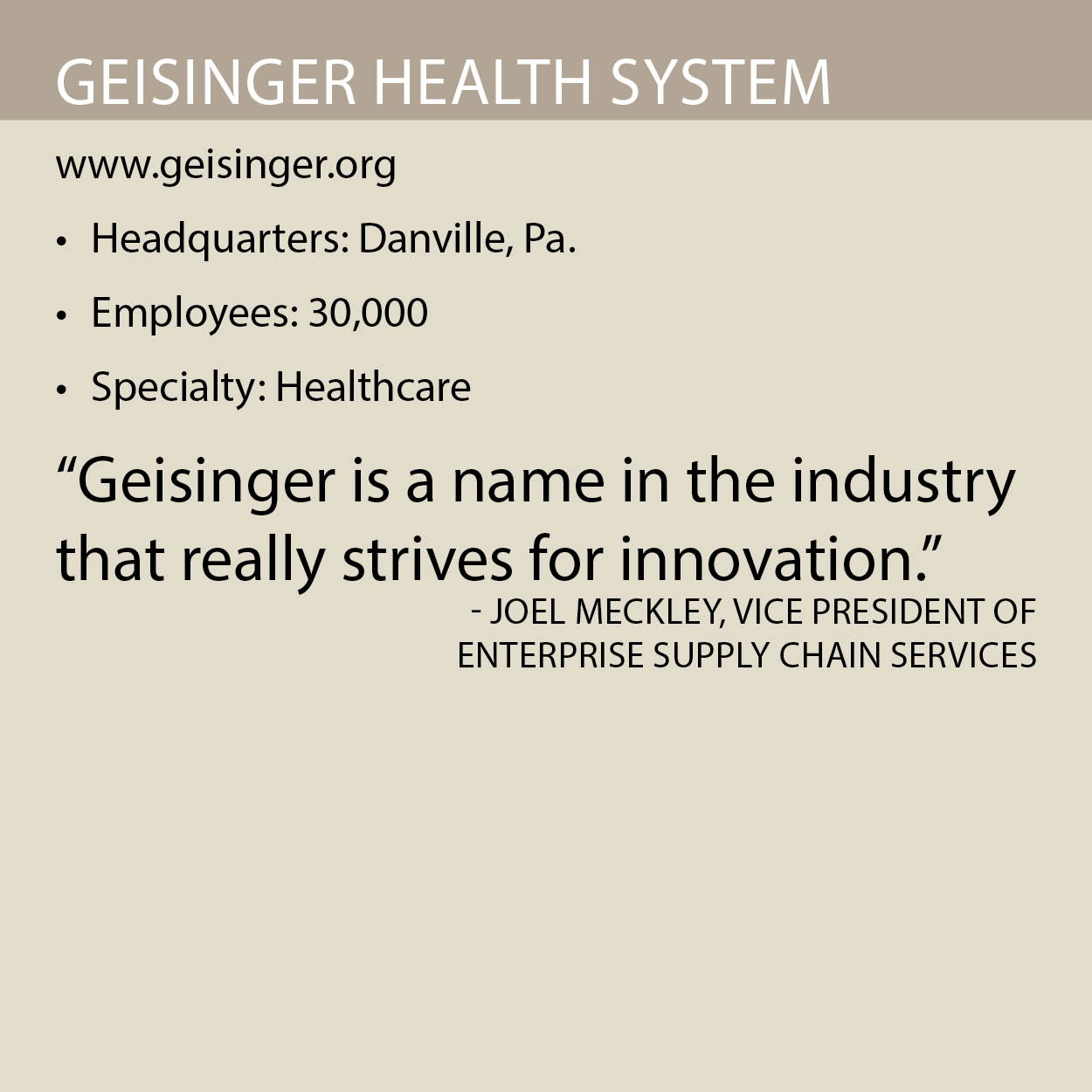 Foss designed Geisinger Health in the mold of the Mayo Clinic, and since then, it has followed its founder's philosophy. "Abigail's living legacy statement is 'Make my hospital right, make it the best,' and we live for that," Meckley asserts.
The system also focuses on using state-of-the-art technology. "We were one of the first to adopt the electronic health records and develop some innovative care paths," he says. "We also have one of the largest databases of human genomes and testing."
Aiming for Improvements
Meckley joined Geisinger Health's strategic sourcing department in December 2000 after operating in a very different field. "I worked for a company that designed and built wooden rollercoasters around the world," he recalls.
Under his tenure, Geisinger Health has strived for improvements in its supply chain. Its current projects include consolidating its warehousing into a single location. "We're opening up a new location that's all about making sure we have the right product and the right quantity going to the right place," he says.
This will include the implementation of a new warehouse management system. "We currently use our ERP system for the vast majority of our inventory control," Meckley says, noting that new technology will allow it to maximize its inventory effectively with planning.
Geisinger Health's current projects also include the Healthcare Enabled Logistics Program, which aims to take nurses out of the supply chain process. The aim of the program is to reduce its clinicians' time that is spent on supply chain activities, Meckley describes.
"Current processes require clinicians to continually go back to a supply room and pull product to treat the patient in the bed," he says. "You would never ask the person that's on the [assembly] line to leave that line to go get parts and pieces."
Instead, Geisinger Health wants to increase the clinician's time with the patient. "Multiple studies across the industry show that healthcare providers spend 20 percent of their time doing logistical work," he says. "We want to effectively reduce and minimize that so our caregivers are giving the best possible care."
Geisinger Health also is redesigning its clinical-use evaluation teams that perform value analysis. "We're trying to better deploy our clinical engagement within a supply chain better than we ever have before," Meckley describes.
Traditionally, he says, teams are asked to look at individual products to determine if the system should utilize them. "We're looking to change that methodology to a formulary like they use in the pharmaceutical space," he says.
This would allow the teams to evaluate categories of products instead of judging one product at a time. "We're really redesigning those teams to help us do it much more efficiently and effectively," he says.
A Good Match
Geisinger Health recently agreed to an affiliation with AtlantiCare, a two-hospital system in southern New Jersey. "It's a great system," Meckley says, noting that AtlantiCare won the Malcolm Baldrige National Quality Award.
"They have a lot to share with their experiences," he says, noting that AtlantiCare had a desire to move into population health, which drew it to Geisinger Health. "It really seemed to be a match that fit well.
A New Vision
Geisinger Health is coping with the rising costs of healthcare. "We see both sides as the insurer and the payer," Meckley says. "It's an ever-changing time that we're in."
The system's new President and Chief Executive Officer Dr. David T. Feinberg, M.D., MBA has led the system to develop a new strategic vision for the organization to help it cope with these costs. "Our purpose is that everything we do is about caring for our patient, and we feel strongly that if we do that and we do that well, the finances will take care of themselves," Meckley explains.
"Our entire organization feels strongly about that," he continues, noting that all leaders and managers are expected to spend time walking through its hospitals and clinics to interact with patients and employees. "We're all empowered to fix issues and problems immediately and really do what's right."
Game Changers
Meckley is proud of Geisinger Health and its programs. "Geisinger is a name in the industry that really strives for innovation," he says. "We've really embraced that and leveraged that position in the industry."
The system also has been an advocate for healthcare supply chain data standards. "That was something that was sorely lacking across our industry for many years," he says, noting that Geisinger Health pushed for data standards early on.
It also partnered with Mayo Clinic, Kaiser Permanente, Intermountain Health and Mercy ROI to form the Healthcare Transformation Group. "That group is really trying to be a change agent for data standards," he says, adding that he currently serves as president of the organization.
More challenges lie ahead, but Meckley sees a strong future for Geisinger Health. "The data standards are going to be a big driver for the future," he predicts. "We need to get standardized data across our industry so we can drive a more efficient and knowledgeable supply chain.
"Right now, we spend a lot of time normalizing and cleaning data and trying to get it to the point where it's usable," he says, noting that industries such as retail and automotive have adopted these standards. "It's been a significant game changer for them."