3M Canada continues to improve its sourcing and sustainability practices.
By Jim Harris
Environmental stewardship and sustainability are relatively new components of the corporate responsibility policies of many companies. For 3M, however, going "green" has been a part of its identity since the 1970s.
"We're one of the few companies that's been included in the Dow Jones Sustainability Index for 17 consecutive years, since the inception of the Index in 1999, and we have a program called 'Pollution Prevention Pays,' or 3P, that we started here over 40 years ago," says Jeff van Geel, director of strategic sourcing for the global manufacturing company's Canadian operations. "We have been on the sustainability movement for many decades now."
The company's sustainability goals heavily influence its sourcing activities, as it considers the energy consumption and overall environmental impact of potential purchases such as equipment. Company car purchases are mindful of sales representatives' needs as well as fuel economy, he adds.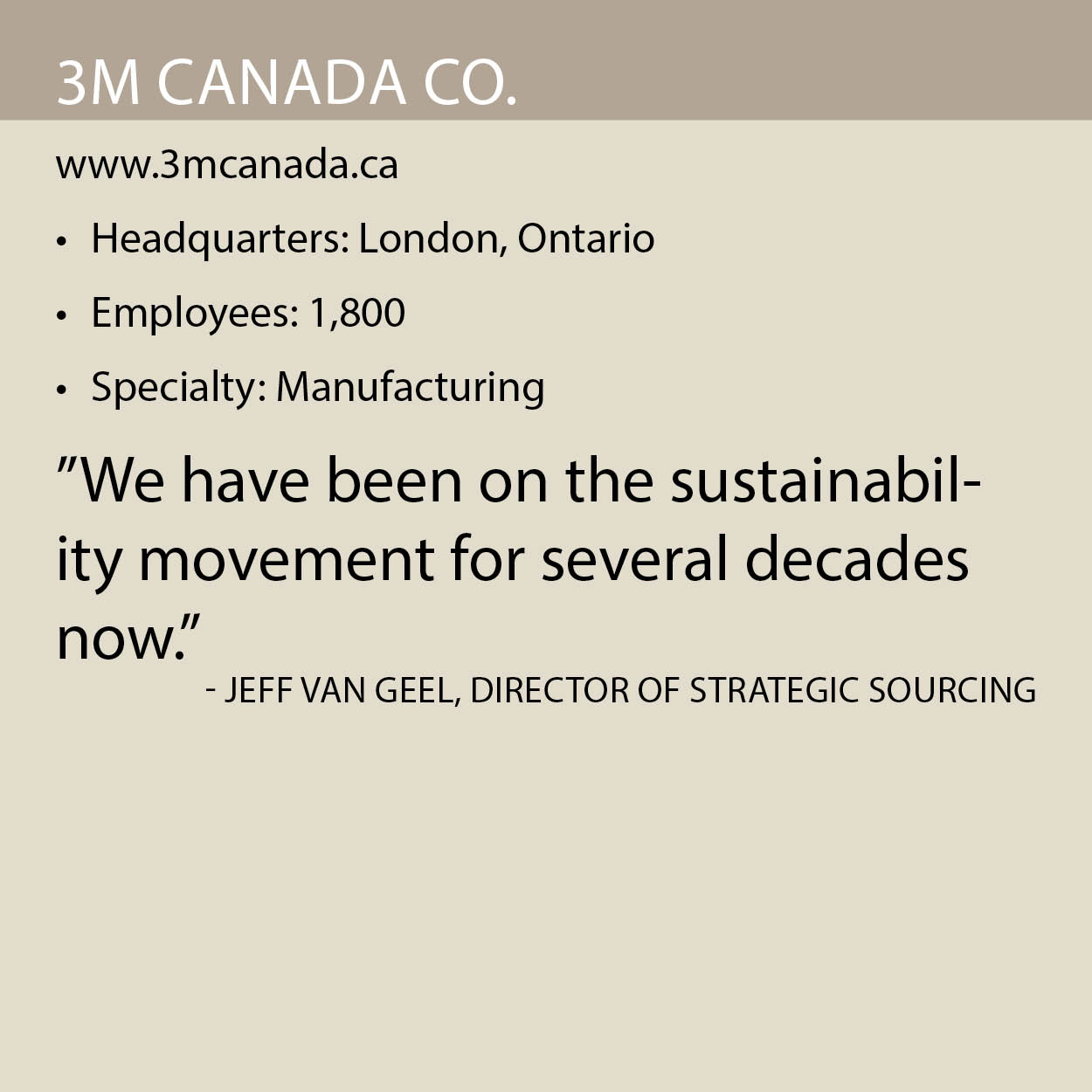 Many of the materials sourced by the company are sustainable in nature, including its shipping boxes made of 100 percent recycled corrugate materials. Several of the company's plants in Canada are ISO 50001 certified for their energy management systems.
Supporting Sustainability
3M Canada's sustainability strategy takes what it calls the "three pillar approach" – environmental, social and economic factors – into consideration. "We know we need to do our part to protect our natural environment, and we need to be profitable and return a profit to our shareholders to remain viable, but the social aspect of sustainability is also very important to us," van Geel notes.
The company's 3MGives program encourages employees around the world to donate time and effort to organizations including United Way by giving paid time to volunteer. Environmental-specific volunteer efforts include tree-planting events, participating in conservation protection projects and participating in environmental protection meetings that affect the community in which 3M's business resides, and in which employees live. Employees within the department also recently tracked their driving behaviors of their personal vehicles by participating in the MyCarma program, which uses a small tracking device placed in a car to track idling, pedal control and fuel efficiency.
"Our support of the three pillars of sustainability contributes to the company's financial sustainability, and helps make sure we spend company money accordingly," he says. "The work my teams do is very tied together with those three pillars.
"We continue using science to develop innovative products that address sustainability challenges facing our customers and our global community, including the use of renewable raw materials rather than using finite natural resources, promoting access to clean water, enhancing human health, increasing energy efficiency, and enabling safe work environments," van Geel adds.
The company highlights positive environmental practices at its annual Sustainability Fair, where it invites vendors to its Canadian headquarters in London, Ontario, to spotlight services or products that promote sustainability. The most recent event in April was attended by more than 300 employees as well as more than 40 students and teachers from different high schools in the area who were invited by fair organizer Mark Jacob, 3M Canada's compliance and sustainability leader. This is the first time the event, which has been running for 12 years, was expanded to non-3M Canada attendees.
"We wanted to give the young people in our community an opportunity to see first hand what our suppliers and our community partners are doing in term of improving sustainability," says Jacob. "The students are the employees of the future, ones who will be maintaining and leading the sustainability projects in years to come."
The teachers and students were given exclusive access to the event for one hour, during which they were able to ask questions of suppliers and 3M Canada President Mojdeh Poul. "Many of the students were quiet at first, but by the end of the hour, they had really opened up and were asking a lot of questions and telling us what they had learned about sustainability," van Geel says.
Increased Visibility
Being at the forefront of sustainability practices is just one example of 3M's visionary nature. The company – which has its international headquarters in St. Paul, Minn. – is synonymous with innovation because it is known for products that have positivity impacted people's lives including Scotch tape, sandpaper, Post-it Notes, Filtrete Filters and Meguiar's car care products. 3M's presence extends into several industries including electronics, healthcare and manufacturing.
3M's Canadian operations date back to 1951. Today, 3M Canada employs 1,800 people across the country. Van Geel's staff includes 30 people dedicated to strategic sourcing, package engineering and facilities.
Improving the way the company sources materials from its vendors is a high priority for the company. In recent years, 3M Canada has invested in ways to increase its level of collaboration with suppliers including implementing the SAP supply chain management software platform across its operations. The effort – a global initiative spearheaded by 3M President, CEO and Chairman of the Board Inge Thulin – is expected to take 10 years to complete. 3M Canada is in its fourth year using SAP.
The company adopted the SAP platform to ensure all of its division's work together, instead of operating as silos.
3M's previous legacy data system had been in place for more than 29 years and didn't provide the same level of data completeness that the SAP platform features. As a result, division leaders often found that data was incomplete or incompatible across different divisions. "SAP gives us better visibility into our inventory and supply purchase history," van Geel says.
In addition to keeping its divisions on the same page, SAP has played a role in helping 3M manage its contracts with its hundreds of vendors. The company recently began using the platform's Contract Lifecycle Management module to schedule and renew its contracts.
Improving Relationships
Over the past few years, 3M has taken several steps to improve the way it works with vendors. This includes establishing its Service Quality Supplier Awards program in 2015 to recognize suppliers for their service. All departments throughout 3M Canada nominate suppliers for each award, which are given based on what 3M terms the TQRDCS methodology. The methodology adds an "S" – for sustainability – to the established manufacturing industry key performance indicators of technology, quality, responsiveness, delivery and cost.
The company last year introduced a scorecard grading the performance of its suppliers on each category within TQRDCS. "We want our suppliers to get better every year, just as we want ourselves to constantly improve," van Geel says.
Supplier relationships were also at the heart of the company's first supplier summit event in May. 3M Canada invited 100 representatives from 32 suppliers to the London facility. Van Geel and his team met with suppliers in one-on-one meetings to negotiate items such items including cost and payment terms, efficiency, supplier managed inventory, rebate programs and discuss practices to help improve 3M's sustainability portfolio.
The summit led the company to another supplier communication effort – a supplier ideation portal 3M suppliers can log into to submit ideas to the company on ways both companies can improve their working relationship. Van Geel's team reviews those ideas and acts on the most beneficial suggestions. "Some of the ideas submitted through that process can be 1 to 2-year-long projects that can take some time to execute, while others are quick hits," he says.
Van Geel's team continues to find ways to improve 3M Canada's sourcing operations. The team recently began updating metrics such as cost, compliance with Canadian laws and company policies, and new product introductions on a lean continuous improvement board. These metrics are discussed amongst the team once a week, he notes.
In addition to working internally within the department, van Geel's team has also formed what it calls a matrix organization with other 3M departments such as manufacturing and sales. "I am proud of the work my teams do in support of 3M," he says.