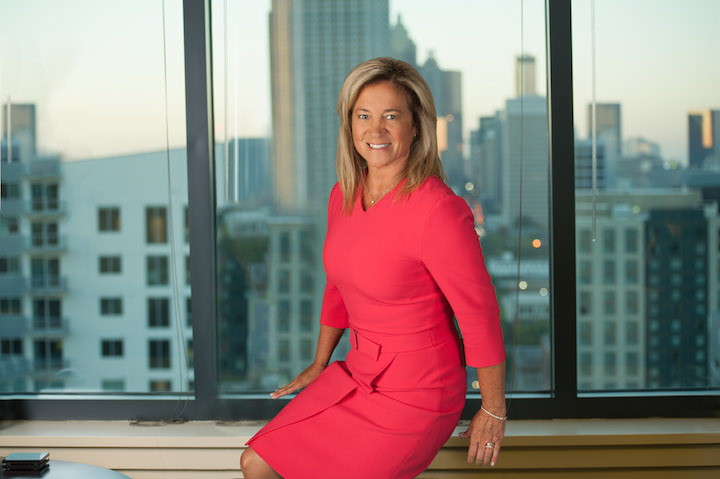 With a newly integrated supply chain in place, AkzoNobel aims to further expand its global presence.
By Bianca Herron
AkzoNobel is one of the leading global paints and coatings companies. The Dutch-owned company is also a major producer of specialty chemicals, specifically a Pulp and Performance Chemicals business that includes bleaching chemicals, sodium chlorate, and hydrogen peroxide. Additionally, the company is known for products distributed to chemical and pharmaceutical markets such as Colloidal Silica, Expancel and Kromasil.
The pulp and performance chemicals division supplies a wide array of industries globally with high-quality ingredients that are essential for manufacturing thousands of everyday products, such as tissue, smartphones, wine corks, concrete, wallpaper and pharmaceuticals.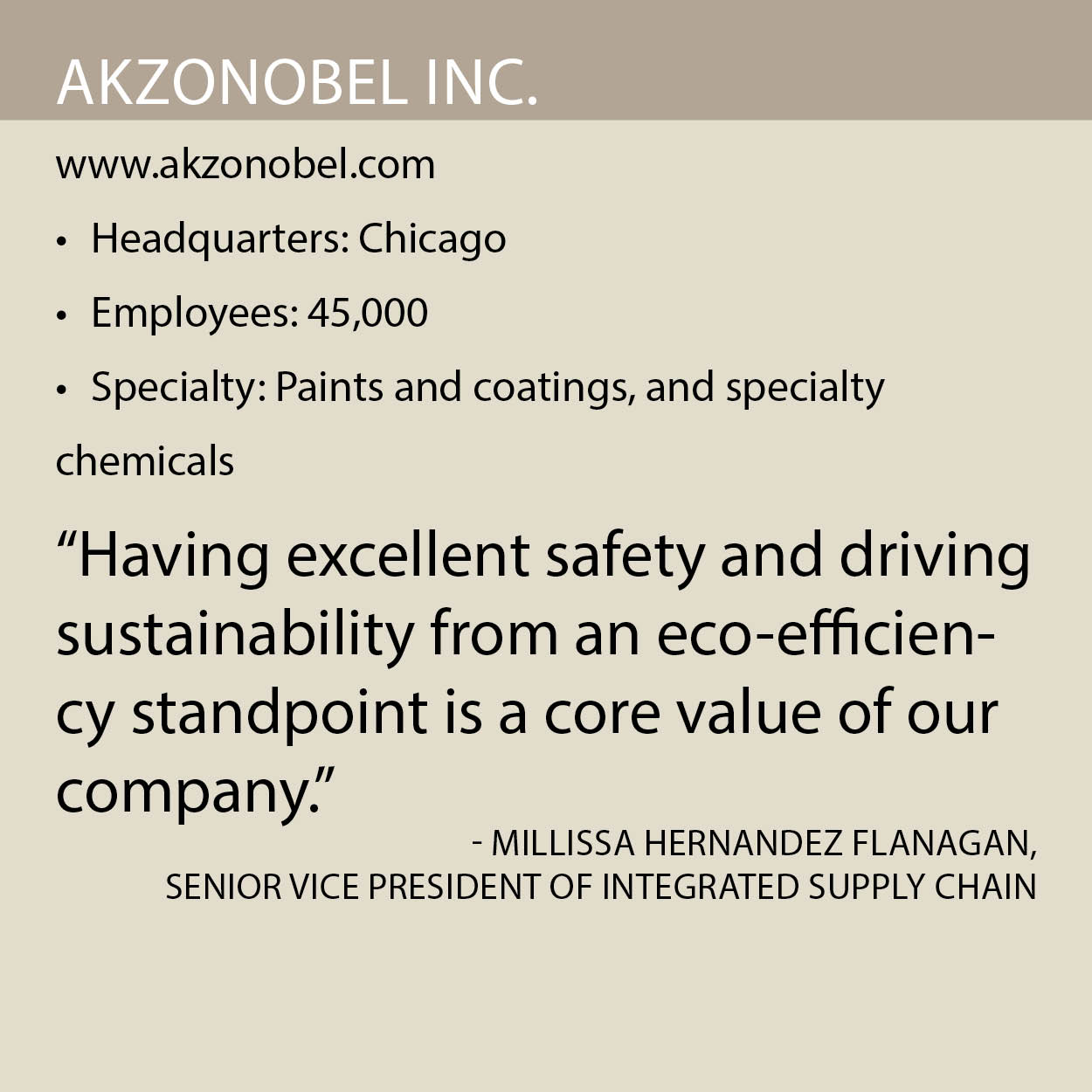 Performance Driven
Although AkzoNobel is headquartered in Amsterdam and the Netherlands, its North American headquarters is located in Chicago with additional offices in Atlanta. Millissa Hernandez Flanagan, senior vice president of integrated supply chain, is based in Atlanta and is part of the company's specialty chemical division.
"I oversee 29 sites across 19 countries, including North and South America, Asia and Europe," Flanagan says. "Our integrated supply chain team consists of approximately 1,600 employees who focus on health, safety and environmental, procurement, supply chain, operations, order processing, logistics, capital projects and asset management across the globe."
When Flanagan joined the company 18 months ago, she and her team developed an integrated supply chain strategy with the goal of aggressive growth globally.
"We focused our strategy in three key areas," she explains. "Our people's safety was our first priority. We looked at processes and the way our employees do their jobs to ensure everyone was operating in the safest way possible. Next, we have to run our business in the most cost-effective manner, so we took a close look at our procurement, manufacturing and supply chain operations. Finally, to improve our performance and growth, we leveraged AkzoNobel's continuous improvement methodology and proven process for successfully managing capital projects."
Ultimately, Flanagan says her goal with the strategy was to build a globally integrated supply chain, but to also keep things simple. "AkzoNobel's specialty chemical business is an end-to-end, integrated supply chain from order management to getting product to the customer," she explains. "A lot of companies struggle going global and fail to keep it simple. We became laser focused on this because our model in the past was too complicated, which can easily become very expensive and difficult to manage globally.
"In other words, when the tide is high, you want to be prepared for when it gets low," she continues. "You need to ensure you have an integrated business that can flex as economics change. That's why we now have a supply chain with lean and standard processes, simple tools and more accurate data. With good data, we can use analytics to adjust to the market as needed. Lean processes and tools is a standard across all 29 sites in 19 countries."
Operating As One
Not only did Flanagan and her team implement standard processes, simple tools and more accurate data, she also focused on developing talent. "Our goal is to ensure that safety is every employee's first priority, followed by productivity and growth," she says. "A culture centered around safety is our license to operate as well as the key to driving business excellence. This starts with a strong safety program and a culture of zero incidents."
AkzoNobel is "very focused" on safety and sustainability, according to Flanagan, adding that the company partners with suppliers who have strong safety programs. "We take pride in driving sustainability, specifically carbon footprint reduction," she says. "It's also not just a partnership between us and our suppliers, but our customers, too, as they ask the same thing of us. We require that we work with teams that are as focused on safety and sustainability as we are.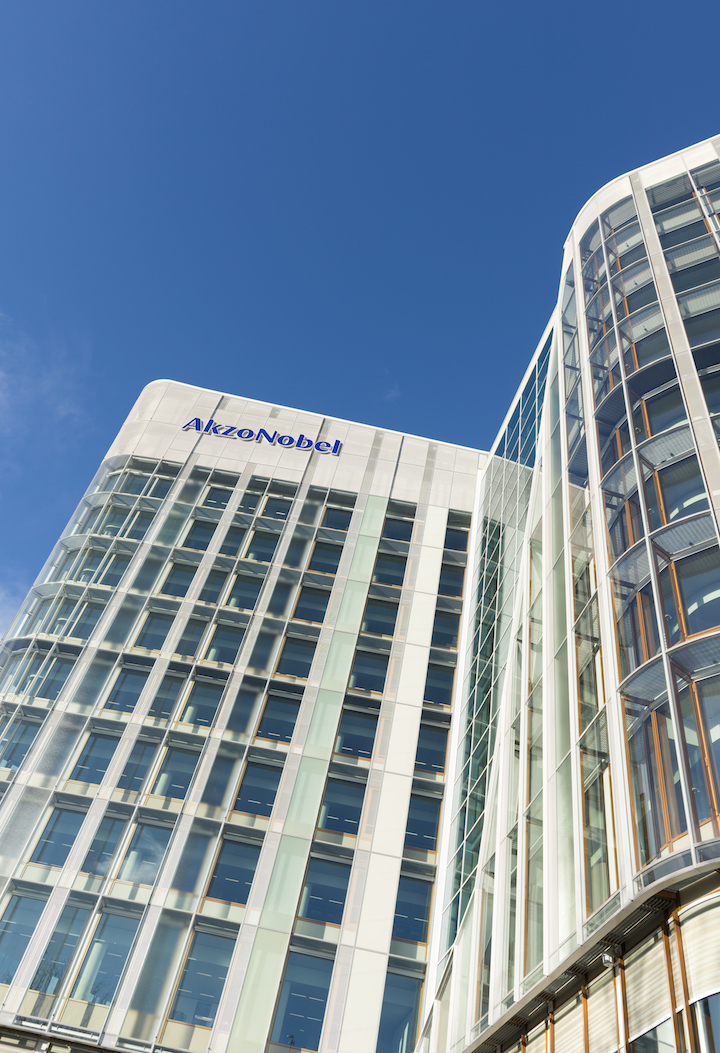 "Having excellent safety and driving sustainability from an eco-efficiency standpoint is a core value of our company," she continues. "For AkzoNobel and the specialty chemical business, process and performance excellence comes from having this mindset which in turns drives growth and strong productivity. All of our employees are thinking about safety and sustainability in every decision they make on a daily basis."
With safety, Flanagan notes AkzoNobel is keeping its people safe not only at work, but also athome, with the number of incidents reduced over 30 percent. "As far as productivity, we've given back €14 million Euros to the business' bottom line, which maximizes our investor and enterprise value," she explains. "In addition, we have deployed a continuous improvement process and achieved new capacity, in some cases a 20 percent increase, globally, on high contribution margin businesses with minimal capital. If we need to expand our key business lines into a new region, or if we need additional capacity, we now have the capability to build it, run it, and optimize it quickly to go to market."
Maintaining a business with such aggressive safety, productivity, and growth standards takes a great team. When it comes to her direct reports, Flanagan has a blend of new and existing employees. "The existing team in AkzoNobel is very experienced, passionate and are long-term employees that are very knowledgeable and dedicated," she says. "As newer employees join to help us build our global supply chain and project and asset team, our existing employees proactively mentor and guide to help onboard new employees quickly."
According to Flanagan, this blend of existing and new employees was critical to driving operational excellence within the company's integrated supply chain. "Having a new set of eyes to help deploy our processes has led to new innovations and continuous improvement," she says. "Having the right talent in the right place at the right time has been key.
"Giving our team access to industry leading systems is also essential to drive business success," Flanagan adds.
AkzoNobel has one standard ERP system and is looking to integrate more technology into its supply chain. "As part of our strategy to keep things simple, one model, one tool, and one set of data with everyone training on the same standard processes, keeps the organization aligned and focused on the same outcomes," Flanagan notes. "Otherwise, managing in a global environment becomes very difficult."
Overseeing a team of 1,600 in 29 sites across 19 countries is not an easy task, she adds. "From the very beginning, in a global environment, words matter," Flanagan says. "So even before we talk about processes and tools, or even the company, we talk about groups from different countries where just one word may mean something different. So words and actions matter.
"For instance, we have an integrated toolset that we deploy across each country the same way, but we have teams within the countries that modify them for the correct language and current data profile," she continues.
Although AkzoNobel deploys globally, it executes regionally. "On my team, I have a global supply chain leader, but I also have a regional leader under them," Flanagan explains. "In order to drive this type of change, time zones matter and culture and language matter. We built the supply chain platform globally, but we deploy regionally so that employees share the same language and time zones, and can leverage knowledge sharing across the region and ultimately be more productive."