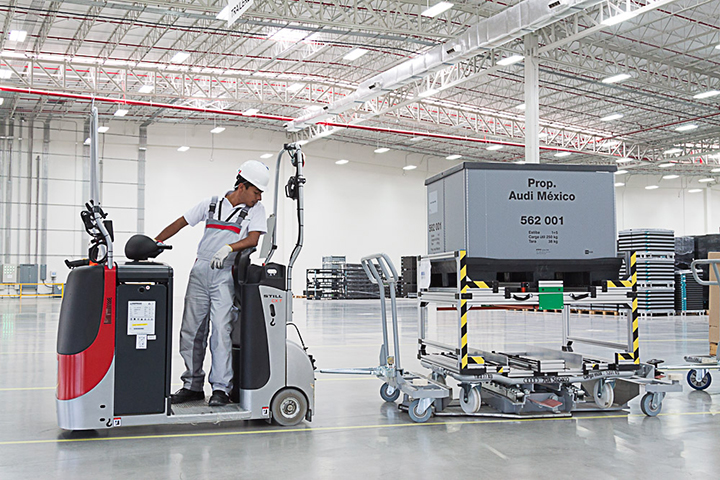 Audi becomes the first luxury carmaker to expand its operations into Mexico.
By Chris Kelsch
Like any carmaker, luxury or otherwise, Audi has seen great demand around the globe for vehicles in the crossover and SUV segment. Indeed, the carmaker's Q5 luxury SUV has been a key driver of its sales and marketshare growth in recent years, and remains one of Audi's most successful models. With the all-new 2018 model in showrooms Audi has continues as one of the dominant players in the German luxury car space.
To meet demand while increasing profitability, Audi for the first time in its history ventured outside of Europe in looking for a location to build the Q5. The company decided to build a new plant in San Jose Chiapa, about a three-hour drive east of Mexico City.
The significance of both the Q5 and Audi's first venture into North America isn't lost on Peter Koltai, director of production control and logistics for Audi's Mexico operations. "This is a factory that produces for almost the entire world," Koltai states proudly. "The Audi Q5 will write a global success story"
To fuel its global growth, Audi needed a location that was not only conducive to shipping throughout the world, but one that could reduce its tariff costs and expand its global footprint. The country of Mexico supplies both. It has 12 free trade agreements with almost 50 countries, and its labor costs are lower than other countries as well.
"With its qualified workforce, good infrastructure and strong trade agreements, we know in the next few years Mexico can become the fifth-largest carmaker in the world," Koltai adds. "Mexico is a very important place."
Ramping Up
The plant, which utilizes a little more than 200 acres, opened in September 2016 and after a brief ramp-up period is operating at full capacity, which equates to about 150,000 vehicles annually. But to say that there were challenges that had to be overcome doesn't begin to tell the story.
First and foremost, an entirely new factory had to be built in a new country and continent, which naturally involved cultural and language barriers. "We had to recruit a completely new staff," Koltai recalls. "And while there were language differences, more importantly no one had been exposed to the Audi culture and Audi production system."
To meet those challenges, Koltai and his colleagues contracted over 750 Mexican experts that were sent to Germany for about one year before the plant opened. Over the course of that year they learned a new language and were exposed to the Audi manufacturing standards through advanced training with experienced mentors at the brand´s German factories.
Koltai says teaching the new staff about the Audi production system was crucial. "We have a very important strategy," Koltai notes. "It doesn't matter in which country you are producing, we have the same quality standards as well as a standardized production process everywhere around the world."
In addition to certain cultural barriers, Audi had to virtually establish a new supply chain. If the new plant had been constructed in Europe, it could have easily tapped into an existing Audi supplier and logistics network. In North America, however, that network didn't exist, so an entirely new one had to be created.
A supplier park was built adjacent to the new factory to accommodate seven key Audi suppliers and logistics providers from all around the globe. This guarantees short distances from the suppliers to the assembly line, and allows timely delivery for components. At the start of production, Audi was sourcing around 70 percent of its components from the NAFTA region amid plans to increase the level of local sourcing over the long term.
Another challenge was the remoteness of the factory location. According to Koltai, the municipality has very little industrial background, so even basic infrastructure such as roads to the factory had to be constructed. "We built the factory in a completely new area with no industrial history," Koltai recalls. "The government was very helpful in building roads and other infrastructure to make the plant more accessible."
To mitigate some of its logistics challenges, Audi chose the site because it wasn't far from parent company Volkswagen's existing operations, also located in Puebla. "We pushed strongly for this location," Koltai says. "We do have some suppliers in common with Volkswagen and with this location we can benefit with some common inbound logistics carriers."
For Koltai, the completion and subsequent success of the plant are proud achievements. The plant itself only took three-and-a-half years to complete, which is stunning because it is complete with a press shop, body shop and paint shop. The use of building information modeling software allowed the plan to be built virtually, with many kinks worked out before actual construction even began.
But once the building was finished, it still needed the skill of a highly trained workforce. "We had to teach our staff not just the production steps in manufacturing, but in engineering as well," Koltai says. "Our customers expect a very high standard, so our workers need to understand that and feel a passion for making a great product.
"We had to use all of our knowledge to make sure this factory would work," Koltai continues. "It has been successful, but we knew from the beginning we didn't have a chance to fail."