Carter's Inc. manages many different product lines for multiple retailers, including Walmart and Target.
By Alan Dorich
Some might think of the business of children's clothing, gifts and accessories as mere child's play, but it is often more challenging than it appears, Peter Smith says. "Babywear has some unique complications that require very specific responses in order to remain competitive," he says.
For 150 years, Atlanta-based Carter's Inc. has coped well with those complications and become America's leading brand in its niche, with more than 10 products for every child born in the United States. Smith, who is the executive vice president of supply chain for the company, says its business is split between Carter's own retail operations and wholesalers.
Currently, the company sells its products via its website and through nearly 1,050 stores in the United States, Canada and China. The other 50 percent of Carter's volume, he notes, is sold to wholesale accounts, including Macy's, Target, Walmart, Kohl's "and just about anyone you can name."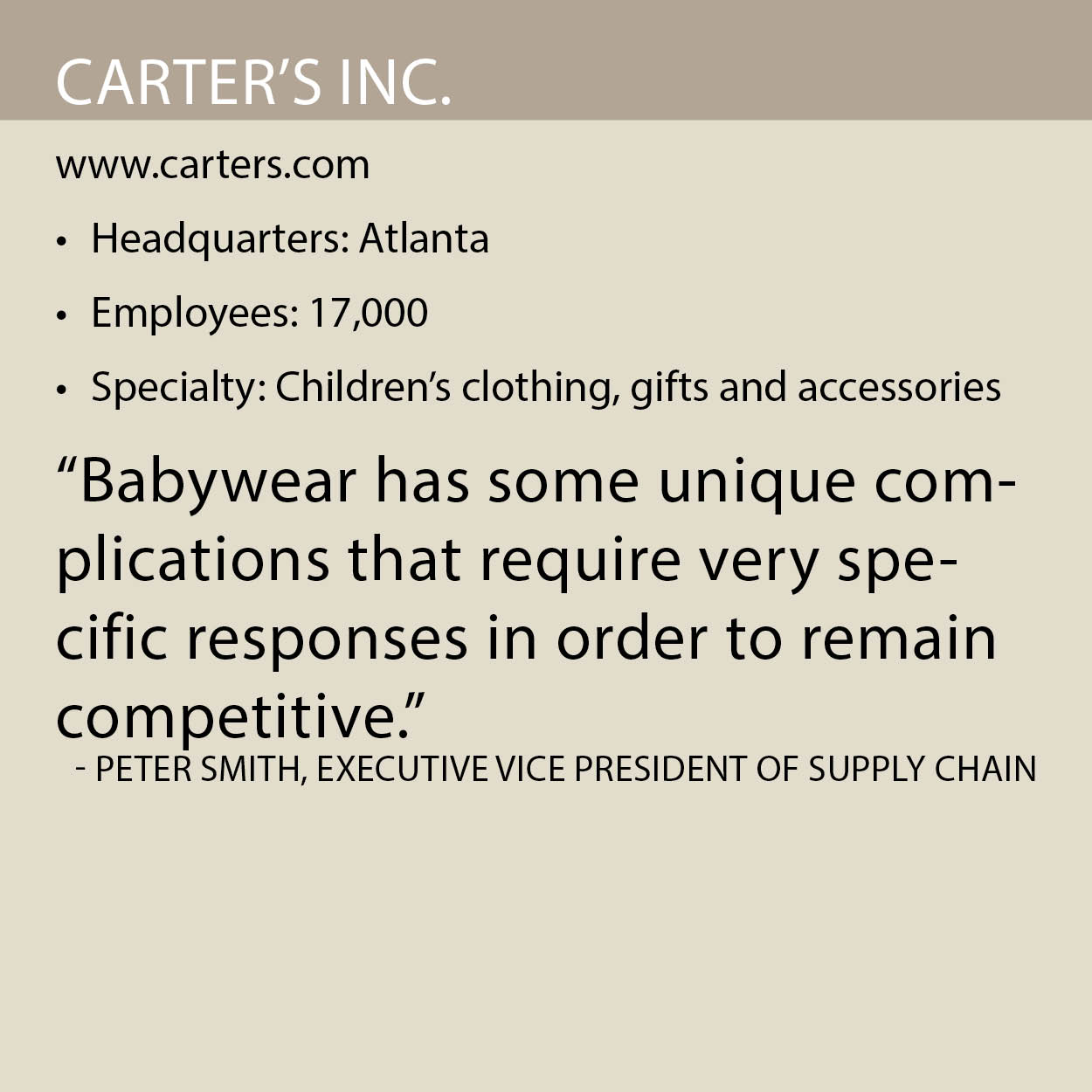 Coping with Complexity
Carter's has become a leader in the babywear industry by creating responses "to meet the niche peculiarities of our space," Smith says. "It's hard to move the staggeringly large number of units that we move to the incredibly diverse customer base that we serve."
Very few competitors can do it, he adds. "There are regulatory barriers and mine fields you need to be aware of," he says, noting that the number of places where kids wear is sold is even broader when compared to other markets, such as branded sportswear.
"Most men's and women's sportswear companies and outerwear companies don't want to deal with the complications that kids wear presents," he says, noting that Carter's ability to do so has enabled it to grow by 6 to 8 percent annually. "[That] is better than most of the apparel industry."
The company accomplished this by customizing its offerings for its retailers, including Walmart, Target and Amazon. Although it was initially challenging for Carter's to create such a system, "Supply Chain professionals at Carter's figured out ways to do it efficiently," Smith says.
"On the heels of executing these micro-supply chains, we've figured out ways to refine them and make the execution of it more efficient and repeatable season over season," he continues. "If you want to grow, you have to be able to manage mass customization complexity."
Manufacturing and differentiating 25,000 to 30,000 new products (styles) every year in the fashion business is not an easy thing to do, particularly when trying to stay efficient, Smith admits. But Carter's accomplished it by using a different type of ERP system.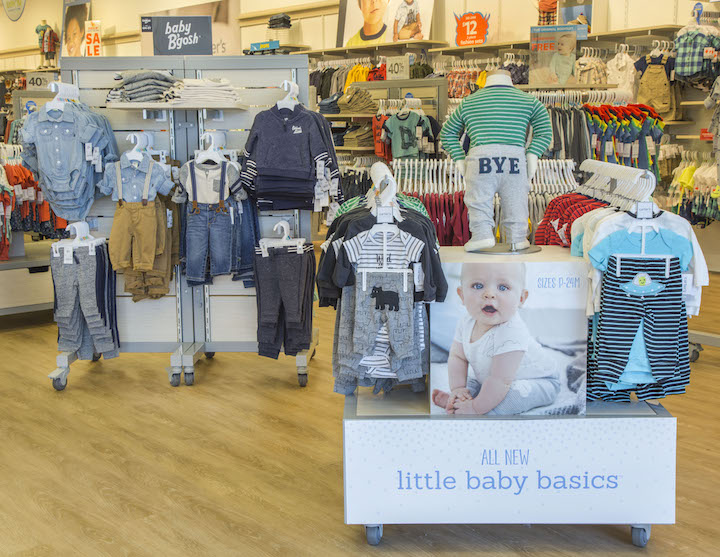 "Most apparel ERPs are set up to manage things [per] size, color and style – at the SKU level," he says. The team at Carter's, however, used the dimension code (dim code) in the software to help factories distinguish over two dozen versions of each style to meet particular end customer's needs.
"Our use of the 'dim' code field in the ERP allows our factories to customize or tweak styles, content, labeling, packing configurations, etc.," he says, noting that most apparel companies would many of these value added services when the product reaches U.S. shores. "We get that customization done overseas, in the source factory, at the lowest possible costs."
This has been a critical innovation for Carter's, which produces more than 750 million units a year. The company also changes its entire style offering every three to six months to meet "the never-ending drum beat for freshness and newness in fashion apparel," he says.
Nimble and Fast
To manage Carter's complexity of mass customization, is migrating to an IT/IS platform where transactional systems are separated from decision support and knowledge systems. Rather than implementing very large, complex, high capital cost and rigid ERP system, Carter's finds its approach to yield a much more agile and nimble operating model. "This is a 180 degrees from what the Oracles or SAPs of the world have been promoting," he says.
Thanks to the system provided by Anaplan, Carter's can look at demand from 30 different places and decide how it will execute, based on its data analysis. "When we determine what an optimal supply plan is, we push that supply plan into the transactional systems, and off and running we go," he says.
"Historically, that comparison would be done in the more rigid and less flexible 'mainframe' type ERP systems, which would be less dynamic than what we're able to do," he adds, noting that this allowed Carter's to gain efficiency. "We're nimble, fast and can benefit from state-of-the-art processing power and technology."
Aiming to Grow
Carter's has plans to grow its e-commerce business while it continues to refine its portfolio of retail store locations. "We're relatively rare in that we continue to open retail stores," Smith says, acknowledging that many other retailers (Sears, JCPenny and Kmart) have or are closing stores.
However, 89 percent of Carter's retail sales still occur in its brick-and-mortar locations. "We also find that retail stores are an excellent marketing venue to our product and brand," he says.
Carter's website also has added lines that it sells, including the Carter children's wear brand, the OshKosh children's wear clothing and products from Skip Hop, which the company acquired earlier this year. "Skip Hop's product lines are durables, [such as] backpacks and lunchboxes," Smith describes.
The site, he notes, takes a high number of orders from customers who can have the product delivered to Carter's or OshKosh store locations or to their home. "We ship it to our store for free and they can pick it up at their schedule," he says.
Carter's also recently launched its Simple Joys brand, a line of babywear sold by Amazon. "Given that the world likes to shop at Amazon, that brand is off to a really robust start," Smith says.
"It really does speak to our ability to further mass customize product to meet market demand," he says. "It's also great to have product suitably built for the Amazon environment that is a little bit different than what we do for more traditional brick and mortar retailers."
Vital Experience
Smith, who holds more than three decades in the apparel supply chain world, joined Carter's two years ago. His previous experience includes such brands as PVH, London Fog and VF Corp. in both the United States and Europe.
"Most of my career has been with wholesale branded companies most of which run retail businesses as well," he says. " I've run meaningfully sized retail chains and I've run complete supply chain and pieces of retail chains."
This has made him more knowledgeable and sympathetic of the problems that are often encountered within supply chains and need to be solved. "I'm thankful for the experience I've had," he states.
He also is thankful for Carter's supply chain team, which has successfully adjusted to supply chain challenges while growing. "Necessity has been the mother of invention here. I'm proud of the Carter's team that find ever more ways to manage the outsized complexity in a cost-efficient way."
Smith predicts a strong future for Carter's, which will continue using current technologies. "I see much greater utilization of cloud applications that are dynamic, scalable and very agile," he predicts. "I think the future will see more and more enterprise systems migrate to the cloud, especially as AI begins to contribute to decision support."
But the challenges will increase "as we spread Carter's, Skip Hop and OshKosh into more foreign markets," he states. "We need to have processes, people and systems that support managing outsized complexity, because that's where the growth is coming from."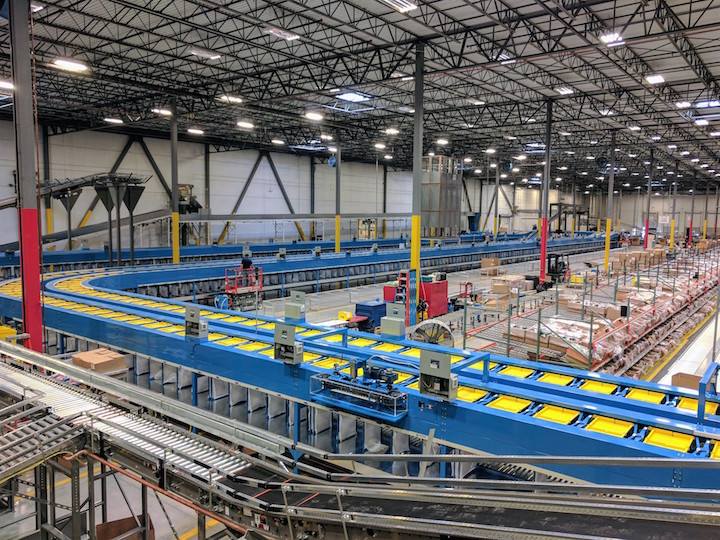 Bringing Warmth
Carter's Inc. not only makes clothes for children, but also helps those in need, through such initiatives as its Pajama Program. Genevieve Piturro started the program more than a decade ago, after bringing new pajamas into a children's center in Harlem, N.Y., and discovering one child did not know what they were.
"At Carter's, we believe all children deserve to feel warm and loved at bedtime," the company says. "Because we make and sell more children's pajamas than any other apparel manufacturer, it just makes sense that providing children in need with pajamas is our signature cause."
High Values
Carter's Inc. ensures that its manufacturing is in compliance with legal and ethical standards. "More than 10 years ago, as part of this commitment, we launched our social responsibility program," the company says.
Factory audits, the company notes, are a critical pillar of the program. "Since we do not own any of the factories that produce merchandise for our stores, regular audits are conducted to verify that a supplier is complying with our policy as well as to strengthen working conditions and labor practices in factories," it says.
The company has developed a supplier-training program, which is updated and communicated annually through Carter's global supplier summit. "Additionally, merchandising, sourcing and supply chain teams are trained on our social responsibility program to enhance program awareness and foster more active engagement," Carter's says.