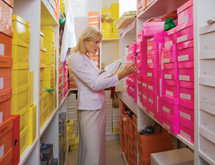 No business hurdle is harder to jump than clear communication that's in line with business strategy. This is true in retail, as supply chain communication is the difference between profit and loss. Logistics and the number of participants in the system make communication a challenge.
Due to the complexities, it's amazing that products and materials from far away make it to retailers' shelves.
The efficiency and reliability of modern supply chains is thanks to technology, leadership and sound strategy. But conversation enables and empowers participants throughout the supply chain to optimally accomplish tasks and meet goals.
The way humans relate to one another – in person or through technology – is conversation at its most basic level. Good communication provides trust and allows coworkers and partners to discuss the needs, changes and perspectives required to keep goals and expectations aligned.
Retail leaders like Costco, Starbucks, Sephora and Crate & Barrel, as well as supply chain specialist HAVI Global Solutions, rely upon supply chains to thrive. These companies see the tangible benefits of better conversations throughout supply chains.
Encourage Autonomy
Employees aren't interested in being cogs in the machine. They want to be part of the big picture. Autonomy contributes to motivation and trust.
When employees do not feel that they can drive growth and create plans for long-term development, organizations lose talent. To retain top people, offer cross-departmental training or allow employees to work on different teams or new projects. Autonomy is built through daily conversations. Leaders must engage in frequent communication with staff regarding desires, responsibilities and job satisfaction.
Empower Risk
Companies can be poisoned by risk aversion, which can cripple innovation and collaboration. At HAVI Global Solutions, workers were not proactively addressing problems, resolving conflicts or making recommendations. Avoidance of risk negatively impacted productivity, teamwork and growth. When employees learned to foster transparent, effective conversations, they began to resolve issues.
Through coaching and clarity of roles, employees began to trust their instincts, becoming proactive. "People are more prepared to take smart risks," says Mark Salisbury, HAVI Global Solutions' senior HR director.
Encouraging risk means giving employees tools to resolve conflict, discuss issues and share ideas. Empower them to embrace opportunities by promoting candid communication. Invite teams to ask questions, give feedback and support colleagues.
Involved with Decisions
Retailers that want supply chain managers to respect and value workers' opinions must establish guidelines for communication. When decisions must be made, invite multiple levels of employees to the table. Managers should report regularly on results of staff input. Ongoing engagement demonstrates that employees were heard and encourages teams to continue to provide better answers.
Employees who are heard are more productive, engaged and connected. "Care about the people that report to you or work with you," says Nancy Spratt, manager of training and development of Crate & Barrel. "Care about what they believe and think; let them know that their ideas are important."
Empowering supply chain staff to take part in decision-making boosts work quality. Investments in new technologies can be implemented and accepted better – and deliver faster ROI – when employees are involved.
Continuous Feedback
Encouraging employee feedback positions you to make more money than those that don't, according to a corporate executive board and Harvard Business Review study. It found that organizations rated highly in communication delivered a 10-year total shareholder return of 7.9 percent, compared to 2.1 percent at others.
To boost communication, do away with annual performance reviews; provide ongoing feedback during the year. For errors or issues, encourage leaders to hold impromptu meetings to find solutions. Leverage technology like online forums or chat rooms.
Better conversations allow organizations to assess multiple perspectives in the supply chain, leading to process improvements and competitive advantages. Effective communication boosts productivity and engagement, benefitting the bottom line.
Halley Bock is CEO and president of Fierce Inc., a leadership development and training company that drives results for businesses by improving workplace communication. For more information, visit www.fierceinc.com.