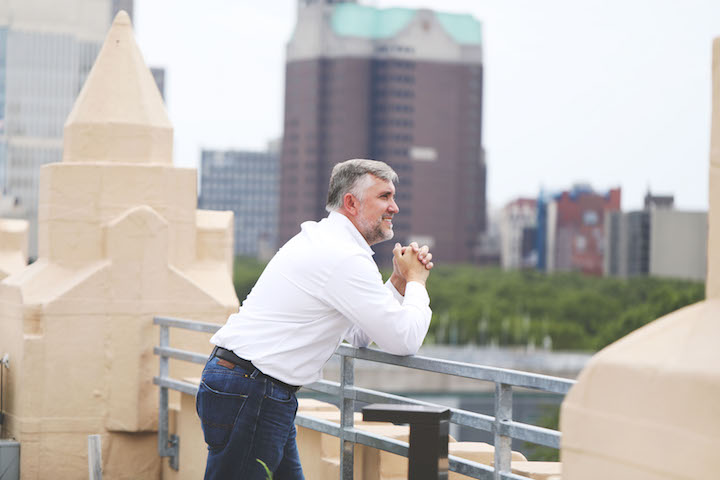 Etsy hires a rocket scientist to run its shipping department.
By Kat Zeman
If you call Roman Sobieri a rocket scientist, it won't be an exaggeration. He started his career in aerospace as a mechanical engineer in 1990. For 10 years, he worked for Pratt & Whitney, the East Hartford, Conn.-based aerospace manufacturer with global service operations.
With a job that took him all over the world, his exploits included Africa and the Middle East. He zigzagged his way through China and Japan and made stops in Zimbabwe, Yemen and Israel.
"I've been every place where there's been an airline," says Sobieri, who is the new head of shipping and orders at Etsy, a Brooklyn, N.Y.-based peer-to-peer e-commerce website focused on handmade or vintage items and supplies. "When I started, I focused on jet engines. I was helping the airlines maintain those engines. I would go to their airports and look at what they were doing. It was enjoyable work and I liked traveling."
But when the 1990s ended and aircraft manufacturing profits started to take a nosedive as the country headed towards recession, Sobieri decided to split. It was time for a new adventure. A global computer network, called "the internet," was all the rage. "I saw that the airline industry was going to go through some downturns and I decided to get involved with the internet," he says.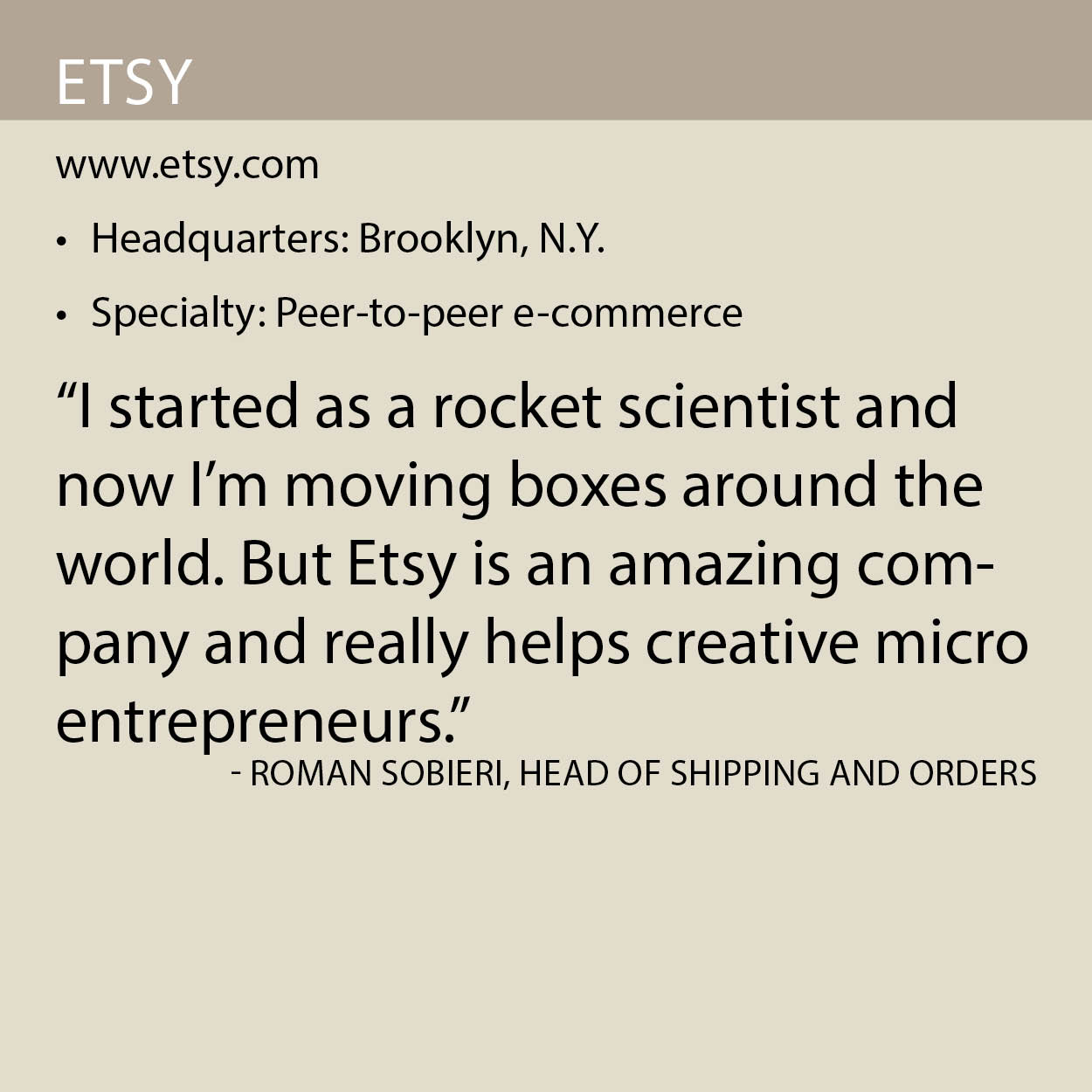 The Digital Age
Before the smartphone brought digital photography to the masses, there was the digital camera. The early 2000s were a time when people still valued a paper print. But since the digital camera has no film, companies needed a venue for developing their photos. Enter Fujifilm.
The company hired Sobieri as its director of product management and operations. During his eight years with Fujifilm, he led the company into e-commerce and the digital imagining business. "They were used to making money from printing photos," he says. "But they wanted to see if they could make money on digital images."
Sobieri helped Fujifilm grow its digital business from zero to more than $100 million in annual sales. "In the beginning, I would go to a sales meeting and they would say they made $50 million developing film and I would say we [digital] made more like $50," he says. "In five years, it almost flipped to where digital was making $50 million and film developing was disappearing. It was an amazing time to watch something that had been around for almost 100 years disappear."
His responsibilities included managing all e-commerce product strategy, online marketing and business aspects of new products, services and technologies within Fujifilm's
consumer products market. That included 33 websites for a variety of web partners and portals and several exclusive customer print websites, including Walmart.com, Walgreens.com, MSN.com, Sprint.com and Fujifilm.net.
In addition, he developed and launched several custom downloadable computer application software titles to view, organize, edit and print images from consumer digital cameras. The company sold more than 25 million copies of this software per year, he says.
He also designed operations for and managed 28 wholesale digital printing and distribution facilities in the United States and 20 external production vendors supporting more than 5,000 North American retail locations.
But all good things must come to end. After eight years, Sobieri saw the wind change direction again. "In 2008, I was watching consumer behavior," he says. "Now people started looking at digital imagines on their phones. So, the printing of imagines started to drop and I realized that it was time to look at another industry."
Groundbreaking Direction
A new opportunity took Sobieri in the direction of a New York-based email marketing services firm. He accepted a position as the director of product management operations at CheetahMail Inc., a company owned by Experian, a database marketing and credit reporting service.
During his brief stint at CheetahMail, he built a new agile based multinational product management organization. Prior to his arrival, CheetahMail did not have such an organization. Even today, that organization is still being used to develop and launch new Experian Worldwide product lines. In addition, Sobieri was responsible for product lines that included multichannel marketing and Experian Marketing Services Database products. But then the winds changed again. This time, they would blow him in a groundbreaking direction.
"An opportunity presented itself with a new startup," Sobieri says. "It was an e-commerce currency exchange." He found himself as the new director of product management for FiftyOne Global Ecommerce, a company that helped online retailers sell their products across international borders. Here he helped develop and launch an international e-commerce checkout solution that offered international retailers product prices in the currencies of their choice.
"We built a solution that could attach itself to any retailer's website and convert their customer's price into their country's currency," he says. "So any retailer attached to our service could suddenly ship to another country without a problem. This was huge. We dominated the market with that solution."
The solution included all aspects of the international order lifecycle including checkout promotion tools and tracking, multi-currency pricing and payment processing, landed-cost calculation, customs clearance and brokerage, global logistics orchestration, international fraud management and multilingual customer-experience development. This solution increased company revenue ten-fold, he says.
Today, the solution is utilized by roughly 130 of the top online retailers in the United States including Aéropostale, Barneys New York, Bloomingdale's, Crate and Barrel, DKNY, Gap, Gilt Groupe, J.Crew, JC Penney, Johnston & Murphy, Macy's, Overstock.com, Saks Fifth Avenue, Sears, Shoes.com, Tilly's, True Religion and Williams Sonoma. "It is a fantastic product," he says. "I'm really proud of what we did."
In 2011, FiftyOne Global was bought by Borderfree, another global ecommerce company and adopted its name. Sobieri stayed on and was promoted to Borderfree's vice president of operations and logistics. In this role, he transformed the company's international e-commerce solution from startup mode to a high-efficiency operation by re-thinking all processes, software tools and its workforce.
Also at this time, he made a presentation before the U.S. Senate Finance Committee and the U.S. House of Representatives Ways and Means Committee about promoting favorable e-commerce legislation that would stop U.S. citizens from being taxed twice on international goods. "It took almost four years but we were able to make an impact," Sobieri says. "The bill was signed into law in 2016."
In 2015, Borderfree was acquired by Pitney Bowes, another provider of global e-commerce solutions and shipping and mailing products. Sobieri stayed on with the company, keeping his title, for about two years.
At Etsy
Just as before, the wind soon blew Sobieri in another direction. "I found a great opportunity with Etsy," he says. "It just kind of happened."
It's not rocket science, but Sobieri likes his new job even better. "I started as a rocket scientist and now I'm moving boxes around the world," he jokes. "But Etsy is an amazing company and really helps creative micro entrepreneurs."
Founded in 2005, Etsy caters to an online community that allows crafters and artists to sell handmade and vintage goods and craft supplies. Etsy's founder, Rob Kalin, and two friends started the company in a Brooklyn apartment.
The Etsy website has since evolved into a sophisticated technology platform that connects Etsy sellers and buyers across borders, languages and devices. Sobieri is looking forward to a long-lasting relationship with the company.