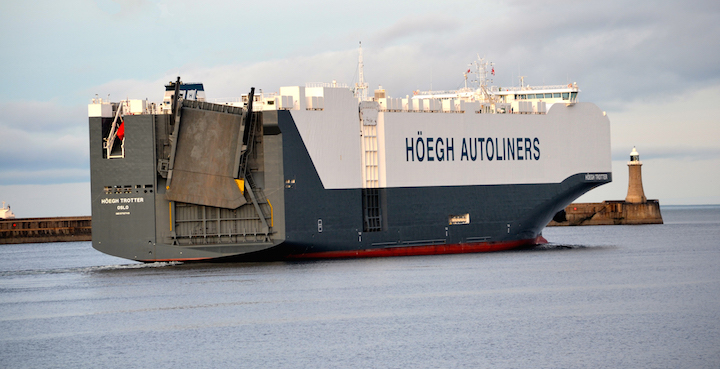 By better understanding its customers' needs now, Höegh Autoliners is positioning itself for the future to expand in the automotive supply chain.
By Janice Hoppe-Spiers
Höegh Autoliners strives to be the go-to roll-on/roll-off [RO/RO] carrier in a globalized marketplace by remaining flexible and reliable while developing creative solutions at competitive prices. As its customers needs continue to evolve, the company is working to offer a wider range of services in the automotive supply chain.
"I think that what sets us apart is our flexibility and our relentless dedication and focus on customer excellence," Head of Region Americas Shane Warren says. "We are not the biggest RO/RO carrier, but that helps us because we have more flexibility to meet their needs. It's about understanding the customers' needs, helping them understand where they have waste in their system and how we can help them to be more efficient."
Höegh Autoliners operates 12 trade routes in global trade systems alone or in partnerships and handles about 3,000 port calls annually. Höegh Autoliners is also engaged in regional trade directly and through joint ventures in Europe and the Caribbean, engaging 18 vessels in seven regional trade routes. The company is one of the world's leading RO/RO operators, carrying two million standard car units annually worldwide through its trade routes.
The strength and stability at Höegh Autoliners' core, along with its dedication to quality make the company a leader in its sector, it says. Höegh Autoliners is active in three main cargo segments. The first and largest is factory-new cars and light vehicles. It carries new cars around the world for most of the major manufacturers.
"A lot of what we see now is globalization; OEMs building cars closer to market," Warren says. "Maybe an OEM starts building in Mexico and needs new logistics solutions from there. We are adept at meeting challenges and creating solutions by expanding or contracting the trade systems. Five years ago, one OEM was building in India and shipping small volumes to Mexico. Now we see four OEMS doing it and will move 180,000 cars next year. That's one way we meet the needs of our customers by not having rigidity built in, but having the flexibility to create new solutions."
The second and most specialized market the company serves is high heavy machinery and project cargo, including agricultural machinery, oil and gas infrastructure, transportation and railroad projects. This segment consists of both rolling vehicles and breakbulk.
The last segment is used cars, which includes transporting them from the United States to markets such as the Middle East.
Based in Jacksonville, Fla., Höegh Autoliners Inc. prides itself on a diverse portfolio, serving customers in its three main market segments from Canada down through South America. "We want to be the preferred RO/RO carrier for our customers and spare no effort to ensure top quality of our services in the worldwide market," the company says. "We acknowledge that we are not only judged by the quality of our services and the results we deliver, but also on how they are delivered. Therefore, Höegh Autoliners is committed to uphold a business model where we support the growing world trade through sustainable service offerings."
Competitive Advantage
Höegh Autoliners has developed a reputation among its clients for delivering creative solutions and doing so at competitive prices. "Being on time and delivering on what you promise is extremely important," Warren notes. "If I promise four sailings a month and some months only do two or three, that's not well received. Our customers define quality as being competitively priced, offering flexible service and doing what we say we are going to do and being reliable. In this industry, that's not as common as you may think."
Developing creative solutions for customers can even mean launching a new division. Horizon Terminal Services, a wholly owned subsidiary of Höegh Autoliners based in Jacksonville, Fla., started two years ago and specializes in terminal and logistics solutions.
"We created a solution for one of our customers down in Freeport, Texas, who was shipping product to the Middle East from the East Coast," Warren explains. "Because of the supply chain cost to get cars halfway across the country by rail and then ship to the Middle East, we created a solution which reduced cost and lowered their lead times. This also opened for the opportunity for imports to access the South and Central states West of the Mississippi more cost effectively than by rail across the Rocky Mountains or from U.S. East Coast ports.
"There is a tremendous push from OEMs to lower supply chain cost and that is difficult by just squeezing margins and taking out unit cost," Warren adds. "We rather try to look at the entire supply chain and look for inefficiencies and improvements. The Freeport terminal is a typical example of that. "
OEMs need transparency and visibility into their product from the moment it rolls off the plant to the discharge port and finally when it is delivered to the dealer, Warren adds. "How can you tie that together for complete transparency and visibility?" he says.
Today, Höegh Autoliners main focus is still on ocean transport and expanding into terminals, but the company is also offering supply chain management services through its daughter company Autotrans in France. There are usually four to six entities involved from the time a product rolls off the plant floor through to delivery, Warren says. "Allowing one entity to manage the entire process can be a positive for the OEMs," he adds. "It's all about systems and gaining efficiency and who can give full visibility to the OEMs."
Unlike its daughter company in Europe, however, Höegh Autoliners does not yet offer end-to-end logistics in North America. "The competence and technology is there, but it's about selling it to the OEMs, making them see the benefit and it has to be cost-effective," Warren says. "For us today, it's about having a deep-seated relationship with our customers that we have been working with for 15 to 20 years, sitting down with them and understanding their needs, challenges and how can we integrate."
Short-Sea Shipments
Today's global economy has changed Höegh Autoliners' business from predominately deep-sea to also include short-sea shipments. "The biggest market change in our business is globalization, meaning we are seeing a lot of car manufacturers building closer to where they sell," Warren explains.
"Historically, the main deep sea volumes were moving from Asia. Now OEMs are increasingly building on fewer platforms, which means they can start building a car in Spain today, stop and start building it in Russia tomorrow due to common platforms," he continues. "Lead time for major shifts in production is much less and we've seen a decline in the need for deep-sea and more need for short-sea shipments."
About 2.1 million vehicles come to the United States from Mexico today and Warren says that production is expected to increase over the next 18 months. "Moving vehicles by rail and truck has become strained, so OEMs see the need to find alternative solutions for moving their vehicles," he adds. "The challenges that creates is instead of going by rail, you have to go from the plant by rail or truck to the port for sea transportation to the U.S. Inland, you have to get from the port to the distribution market. Globalization and the rapid change in OEM sourcing and distribution of vehicles has changed the market."
Höegh Autoliners remains flexible to meet these changes in the market. "I think for us, that's one of the reasons we feel it is necessary to be viewing the OEMs' full supply chain," Warren says. "A lack of growth in pure deep-sea transportation requires more creativity on how we are deploying our fleet. For example, we would not put a Post Panamax vessel that carries 8,500 cars on a short-sea run because it's not efficient. Those vessels gain efficiency on long voyages."
For its deep-sea shipments, Höegh Autoliners took delivery of six Post Panamax vessels in the last two years. "That's something we are extremely proud of," Warren notes. "The automobile industry drives our business, as well as high heavy and break-bulk cargo. These new vessels have 6.5 meter door height and 375-metric-ton ramp capacity to allow us to load much bigger and heavier cargo."
Moving forward, Höegh Autoliners will continue to engrain itself within its customers' full supply chains. "The evolution and development of our short-sea business will be a major focus," Warren says. "We see strong opportunities for shipments from Mexico to the United States over the next 18 to 24 months."