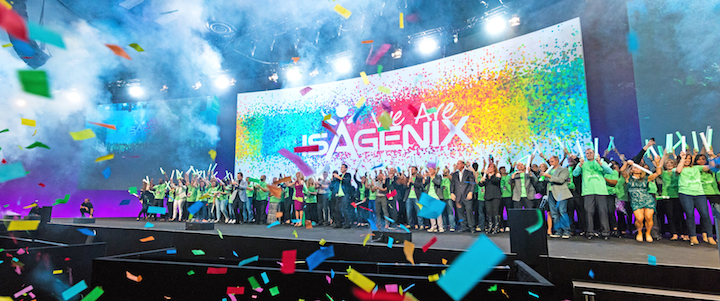 Isagenix aims to be the leader in the health and wellness sector.
By Alan Dorich
When some people try weight-loss products, they need guidance on how to use them, or even support to stay committed to their goal. Isagenix International offers both, Senior Vice President of Operations Chantal Chaput says.
Based in Gilbert, Ariz., the company provides transformational products and systems for weight wellness, energy, performance and healthy aging. CEO Jim Coover co-founded Isagenix with his wife, Executive Vice President Kathy Coover, and Formulator John Anderson in 2002.
Since then, Isagenix has grown to employ 850 people worldwide and offer a wide range of products that include cleanse and fat burning systems, meal replacements, sports performance gels and drinks, and even coffee to more than 550,000 customers. The products, Chaput notes, are sold through a direct-selling model that allows people to start their own business and connect them directly with the end users.
Today, "We're present in 13 different markets," Chaput says. "The company has been taking a lead in helping the customer lose weight and sustain their healthy lifestyle."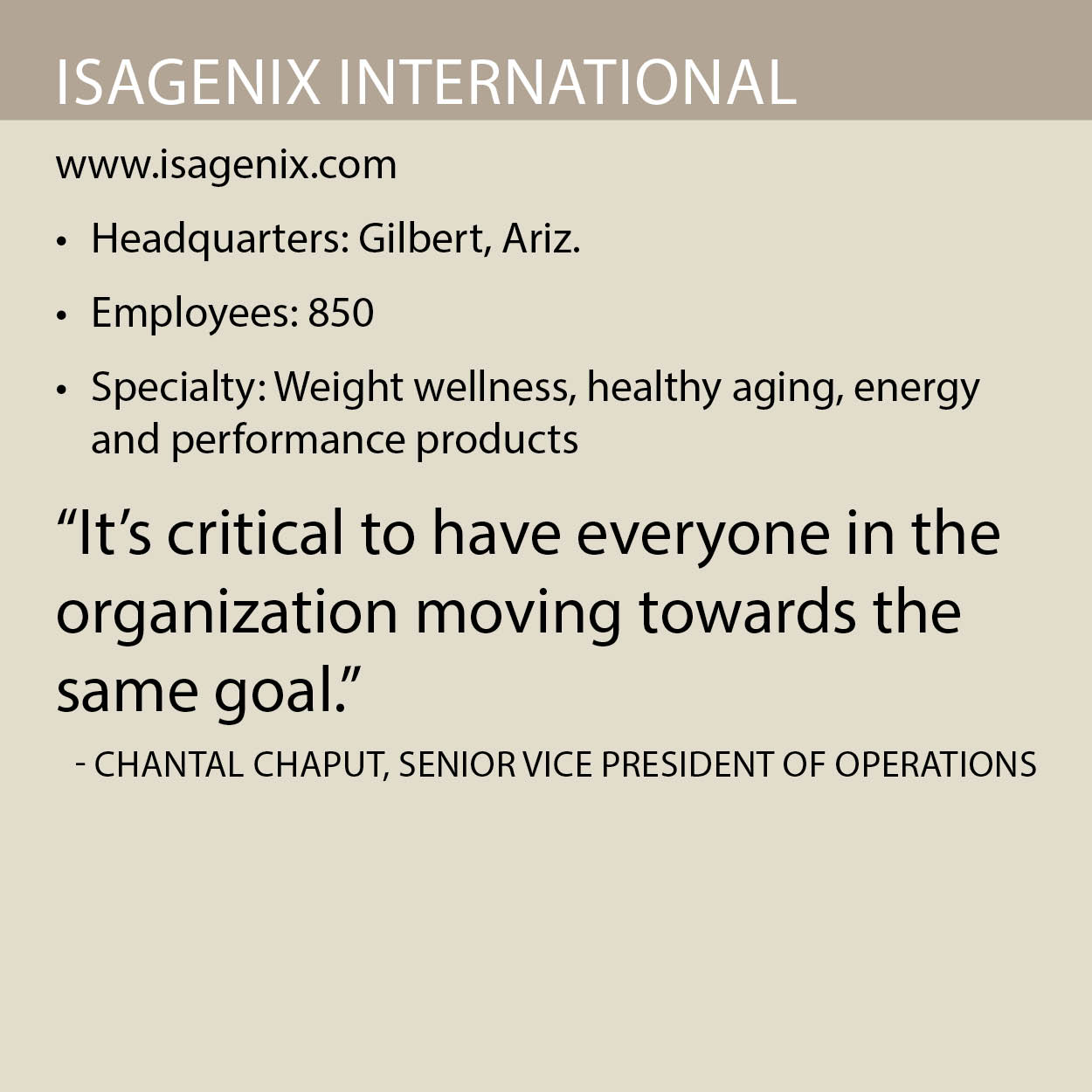 Isagenix also has won recognition for its work, which included being ranked on the Inc. 5000 list. "We were one of only 73 companies to make the list 10 times," she adds. "We're very proud of that."
The company also recently placed No. 13 on the Direct Selling Association's list of the top 20 companies, based on its revenues. "It's very impressive for a company that only started with 10 employees and five products in 2002," Chaput says.
An Ideal Opportunity
Chaput joined Isagenix last year, bringing more than 25 years of global manufacturing experience to the company. Previously, she was the vice president of integrated supply chain for EU Coffee in Zurich, Switzerland.
"When I came back to the United States, this opportunity came up," she recalls. "After meeting with the owners, Jim and Kathy Coover, I was totally amazed by [how] they've built this company, their vision and their values.
"I loved the opportunity to make a difference and leverage my knowledge base," Chaput continues. "I wanted to work in a company with values that aligned with my own, and I found that at Isagenix.'"
Today, Chaput manages multifunctional teams, including several external manufacturing facilities and projects that drive Isagenix's direction. She praises the leadership of the Coover family, which includes son Erik, who is a co-owner and senior vice president of global field development.
All three, Chaput says, share the vision of an all-inclusive and positive work environment and are involved in the day-to-day operations of the company. Recently, "Jim Coover got a 97 percent positive rating by the [employees]," Chaput says. "Everyone just loves him."
Meeting Expectations
Isagenix reaches a global audience looking for long-term health and wellness solutions. Oftentimes, Chaput says, its customers have been unsuccessful with its competitors' products.
The company ensures that it formulates and manufactures nutritious products by investing more than $3 million annually in product research and development. "We're also guided by a scientific advisory board," she adds.
Each month, the company meets with the scientists for research and development. "The way we operate is really what our customers expect, and that's what they want," Chaput says.
Client Connections
Isagenix also distinguishes itself with its peer-to-peer coaching programs. After people start their own independent business selling Isagenix's products, they can coach customers on how to use them via social media and one-on-one sessions.
This gives the end-user someone to connect to so they are not "left with products they don't know how to use," Chaput says. "We have a very strong team in sales and marketing that works with our customer base."
That team, she explains, gives the independent businesses the necessary tools for coaching end-users. "We also have training from a science standpoint on the products," she adds. "Whatever they need in terms of support, we can [give]."
The company also supports end-users through its IsaBody Challenge program, a total body transformation competition which operates continuously throughout the year, allowing committed customers to complete up to three challenges a year. "It is a program where people coach each other to use our weight-management systems," Chaput explains.
Fifteen finalists, she notes, are chosen based on their compelling transformation stories and invited to Isagenix's annual celebration, where the grand-prize winner shares his or her story. The challenge finalists compete for a chance to win the Grand Prize of $25,000 or runner-up prize of $10,000. "This is what people absolutely love," she says. "They are very much engaged and inspired by it."
Over the past two years, more than 140,000 people have entered the challenge and 62,000 have successfully completed IsaBody's 16-week program. "Once people get into the lifestyle program, it's a change they maintain," she says. "It's not a one-time bit."
Excellent Results
Isagenix has a long-term strategy for its supply chain operation. "I've evolved different types of models through my career," Chaput says. "The integrated [model] is the best approach to develop excellent results."
In an integrated supply chain, she explains, all supply chain functions are under one umbrella and silos are eliminated. "Your key performance indicators [KPIs] become interdependent, which creates very close collaboration," Chaput adds.
This way of working has aligned employees' skill sets with the company's goals, and led to the implementation of a sales and operations plan (S&OP). "These are some key elements that allows a healthy supply chain to develop," she says.
"It doesn't only translate into excellent results, but a morale boost, which drives productivity," she continues, adding that Isagenix's supply chain organization works closely with R&D, finance, and sales and marketing which benefits the entire organization.
Isagenix also conducts monthly executive reviews as part of the monthly S&OP process. "These sessions are extremely productive. They allow many functions to clearly align on forecasting per country enabling Supply Chain to better serve our customers," she says. "This has been the most successful S&OP implementation that I've done which was greatly facilitated by a very strong support from the top!"
Reaching Out
Social media has impacted Isagenix's forecasting plan. "This is something that didn't exist a few years ago," Chaput says. "There are huge opportunities for us to leverage social media."
It also can bring challenges. Many of Isagenix's customers, she explains, are active in social media and may decide to promote one or a group of the company's products. This can drive "unexpected demand beyond our plan," Chaput says, adding that it can be challenging for the company to replenish its products overnight.
But social media also offers Isagenix the chance to speak with customers and plan in advance for spikes in demand. "In one situation that happened not too long ago, we had the ability to reach out to the person who was building a strong business with promotions," she recalls.
"We said, 'In the future, if you would like to promote a certain product let's work together to create a plan and make sure we have enough product available ahead of time,'" Chaput recalls. "That's the beauty of direct selling."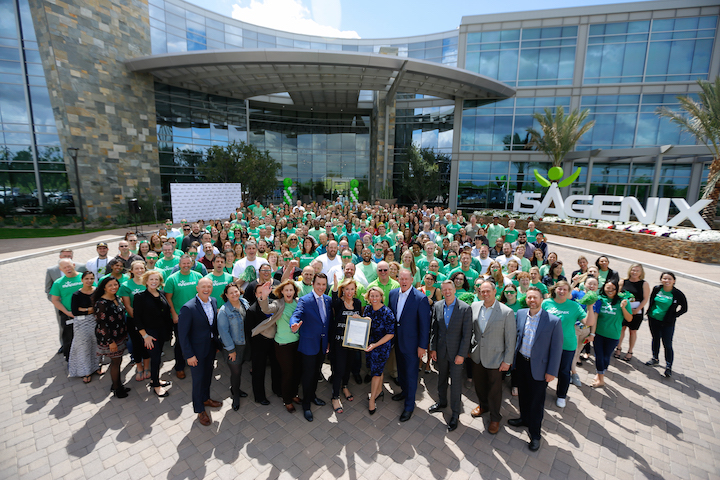 Integral Parts
Isagenix puts a strong focus on its relationships with suppliers. "We rely on external manufacturers to produce all of our products," Chaput states. "It's critical to develop very good relationships."
The company facilitates these with constant communication. For example, "We plan weekly calls where we review our KPIs and our products to stay connected," she says. "They're an integral part of Isagenix for sure."
Isagenix also recognizes its suppliers annually with a list that ranks them based on different criteria. "They're extremely proud to be part of that list as they have worked hard to earn it" Chaput says. Criteria such as quality, customer service, on time delivery, amongst many others are being considered for the selection.
The company also proudly sources the majority of its raw material from North America. "With the exception of one, all of our finished goods vendors are located in the United States and Canada," she says. "All of our packaging comes from the United States, as well."
Dynamic Contributions
Isagenix contributes to charitable organizations. "We're very, very proud to be one of the largest global sponsors of the Make-A-Wish Foundation," Chaput says. "It's grown to be one of the largest and most respected charities."
Since 2012, the company has donated $7.3 million to the organization and has granted 730 wishes. "We also sponsor a number of other organizations and have annual give-back days where our employees and members can work together to make a difference," she says. "We do that in all of our countries where we're present."
Isagenix also has its START program, which is operated by a group of more than 68,000 members who are also customers, with a focus on contribution and giving back. "We take part in community giving and events globally and here locally as well," Chaput says, noting that Erik Coover started the group. "They are a really exciting and dynamic group of people."
Walking the Talk
Chaput is proud of Isagenix's culture. "Every time Jim and Kathy are talking about their vision, they're really walking the talk," she says. "It's impressive to see their son, Erik, now as energetic and positive as his parents are."
She sees a strong future for Isagenix. "Jim Coover wants Isagenix to be the undisputed leader in the health and wellness sector and these are very clear and aggressive goals," she says.
The integrated supply chain approach will help the company achieve these dreams. "It's critical to have everyone in the organization moving towards the same goal," Chaput says.
Backed By Science
With more than 60 individual health and wellness products and systems, Isagenix International delivers products that are made without any compromises. "Since its inception, Isagenix has led with science-backed products, and now will continue to put Isagenix products to the test in discovering how they can benefit health," it says.
The company partners with renowned universities and laboratories in clinical studies, allowing it to contribute to an evidence-based nutrition research. Isagenix also provides clinical substantiation for its systems for healthy weight management and living.
But this research and development could not happen without the company's Quality, Regulatory, Technology and Science Department. "The department consists of numerous scientists – including nutritionists, dietitians, food scientists, chemists, microbiologists and biologists," Isagenix says.
The company also has a Scientific Advisory Board, which features prominent professionals in the nutrition, medicine, health and wellness fields. "Collectively, they represent the leaders in their respective fields and the Isagenix commitment to excellence – to guide people safely along the path to optimal health and wellness," Isagenix says.
Strong Standards
Isagenix says it has a global commitment to quality. Formulator John Anderson and the Isagenix International Regulatory Team ensure that its products meet quality and safety standards.
The team, Isagenix says, works with Anderson to reformulate products and ensure they meet regulations in international markets. "Their goal is to maintain the overall integrity of the original formulation, as well as its purpose for use while staying compliant to each country's rules and regulations," it states.
Each country has its own regulations on ingredients, processing methods and delivery systems implemented by agencies, including the FDA, Australia's Therapeutic Goods Administration and Health Canada. "There are also rules regarding labeling of products and claims that can be made," Isagenix says.