Leggett & Platt fosters an entrepreneurial spirit within its logistics team.
By Chris Kelsch
In 1883, J.P. Leggett, an inventor who already had several patents to his credit, developed an idea for a spiral steel coil bedspring. He turned to his future brother-in-law and Carthage resident C.B. Platt for his manufacturing expertise.
Together, the pair invented the Leggett & Platt bedspring, offering the best night's sleep available. The partnership prospered and eventually the company grew to where it is today: a member of the S&P 500 with 17 business units and 130 facilities in 19 countries.
The company's diverse array of products can be found in any home, office or vehicle. They include formed wire, office furniture, car seating and tubes used in aerospace and automotive products. And yes, Leggett & Platt still makes mattresses and bedding components.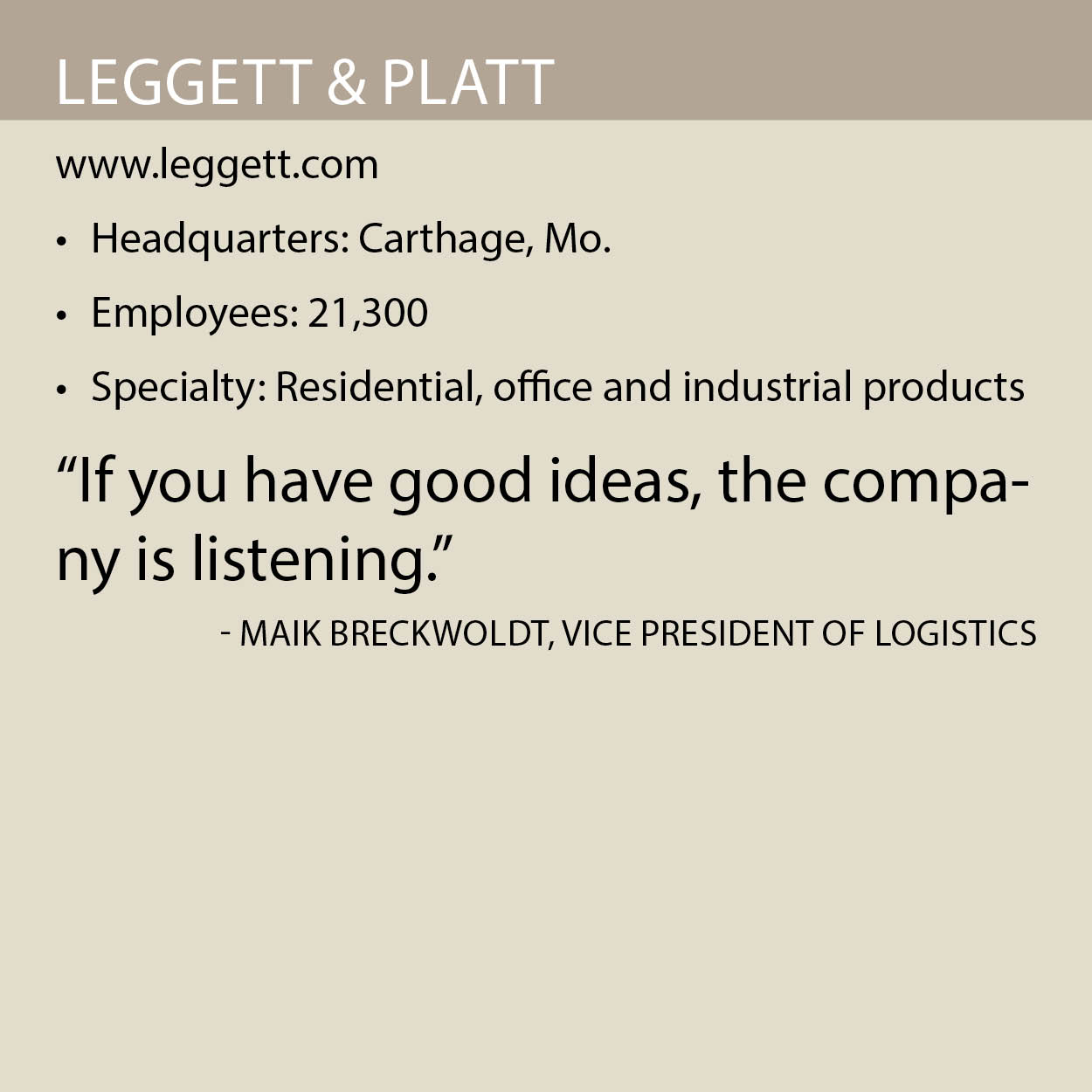 To manage its massive logistics operation, Leggett & Platt relies on a seasoned logistics team of 80 employees headed by Vice President of Logistics, Maik Breckwoldt. He oversees a group with an annual spend of $250 million.
Breckwoldt has implemented systems that give Leggett & Platt's logistics team complete visibility as to transit times, where shipments and costs are at all times. "It's challenging because we need to have our own visibility tools," Breckwoldt notes. "We don't want someone else between us and the carrier." The execution of these systems helps ensure Leggett & Platt's branches and factories receive their goods timely to service their customers.
Streamlined process
To understand the magnitude of Breckwoldt's job it is important to know what he has accomplished already. He came aboard Leggett & Platt in 2005 after being in the freight forwarding and automotive industry for over 15 years.
At the time, Leggett & Platt had never centralized its logistics teams. For example, for less-than-truckload shipments, the company was using 40 carriers for 3,500 shipments a week with no visibility into the whereabouts of cargo. Within two years, Breckwoldt and the team slashed the number of carriers to nine and all shipments were centrally controlled, including auditing and payments.
Although that helped operations domestically, the ocean carrier services needed to be centralized as well, as international shipments were executed by each branch's local freight forwarder. In addition to the Chicago logistics office, a staff was deployed to China, to manage the origin process. Further, a global, corporate-wide transportation management system (TMS) was implemented and electronic communication with carriers was strengthened.
Fast-forward 12 years and the logistics team is a well-oiled machine. In addition to a core group of LTL carriers, the company also has its own fleet of 420 tractors and 1,400 trailers with 100 tractors and 225 trailers in the for-hire Leggett & Platt transportation fleet. These assets help ensure that Leggett & Platt's branches and factories receive their goods timely to service their customers.
Jeff Jinks, staff vice president of domestic logistics for Leggett & Platt, oversees the fleet and is leading a company-wide upgrade of its fleet in 2018. "Going forward, we are looking at replacing our tractors with new technology," Jinks says. "We are looking at adding collision-avoidance technology, as well as other technology to keep the public and drivers safe."
In addition to managing the fleet, Jinks is responsible for managing the 2,500+ truckload carriers that Leggett & Platt uses that hauls over 1,000 loads per week. The logistics team also ensures that carriers are in compliance with the Federal Motor Carrier Safety Administration guidelines as well.
Breckwoldt and his international team provide real-time visibility where cargo shipments are at all times. It currently has contracts with 10 ocean carriers, overseeing shipments to over 100 countries and Leggett & Platt branches in 19 countries as well. Additional logistics offices are located in Hong Kong and Belgium. Wayne Kaminski, staff vice president of international logistics, says this is crucial. "We have global platforms that we use for visibility status," Kaminski explains. "When one of our facilities needs to know where a shipment is, the transit time or what their costs are, we have that capability." The global platform tool is vital, considering Breckwoldt's team manages upwards of 50,000 containers (TEUs) annually.
To maintain that capability, the logistics group has its own IT team. That team works in conjunction with the software Leggett & Platt uses, such as McLeod and Oracle for its TMS systems. The TMS system also manages domestic intermodal shipments, which Jinks estimates to be 5,000 containers a year. All domestic carrier invoices are audited and paid centrally in the U.S. and all international carrier invoices are audited and paid centrally in Hong Kong.
Entrepreneurial Spirit
Though Leggett & Platt may be a vast manufacturing entity, its individual units are given the freedom to address problems with often unique solutions. "Nowhere is that more evident than with the logistics group," Breckwoldt notes. "Our main focus is to always service our branches and customers in our very diverse manufacturing environment. Instead of focusing on price alone, we also focus on service and visibility. It's a balancing act."
Breckwoldt was given the freedom to address carrier issues, but since then the unit has evolved into something more than that. In 2007, to replace lost volume when a division was sold, Breckwoldt started an association where shippers outside of Leggett & Platt can participate without a membership fee or minimum volume requirement. Instead, they pay a flat fee per container only after that container is shipped.
In addition, Leggett & Platt's logistics division has grown to become a thriving third-party logistics (3PL) business called Leggett & Platt Global Supply Chain. Its formation was similar to other corporate logistics groups that have started their own 3PLs.
Breckwoldt credits a senior management team that is open-minded about trying new ventures, and a strong corporate environment. "If you have good ideas, the company is listening," Breckwoldt explains. "They will let you succeed."