Manhattan Beer Distributors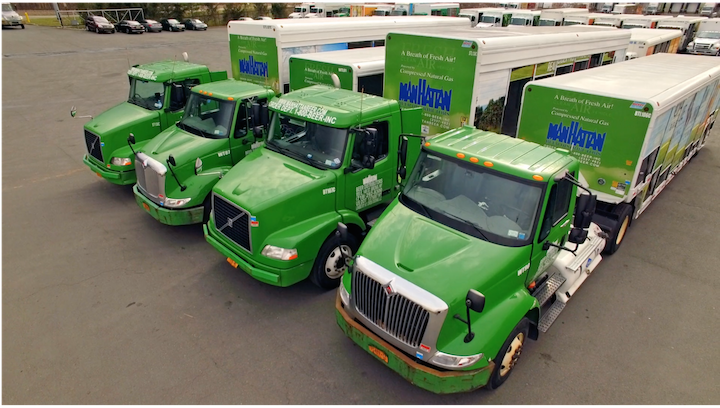 Manhattan Beer Distributors uses technology to ensure its customers get what they need just in time for happy hour.
By Jim Harris
Distributing beer and other beverages to more than 25,000 customers daily in the New York City metro area is no easy task. Inventory levels as well as truck scheduling and routing, among other factors, all need to be taken into consideration before consumers can enjoy a pint at a bar or take a six-pack home from the store.
The city's premier distributor manages the complicated logistics of delivering to the nation's largest city through a large fleet of trucks as well as state-of-the-art warehouse and computer systems that enable it to meet its customer service goals.
"To be successful in this business, you need to understand customers and partner with good suppliers and great brands," says Mike McCarthy, senior vice president of operations for Manhattan Beer Distributors. "We make sure we're getting the right brands to our customers where and when they want it and how they want it.
"The people who do well in this business all concentrate on the same factors such as accuracy and timeliness," he adds. "The people who aren't doing as well are those who miss those factors."
Staying Stocked
Manhattan Beer distributes more than 46 million case equivalents of beer and other beverages including water, wine and spirits to grocery stores, restaurants and bars annually. It serves a 4-county area that includes the five boroughs of New York City, Long Island, and the Hudson Valley.
The distributor owns and operates a fleet of 400 trucks that deliver products from five warehouses with a combined 1.5 million square feet of space. Manhattan Beer's largest warehouse, located in the Bronx, stocks all 2,200 SKUs offered by the company. Four other warehouses located in Brooklyn, Queens, Long Island and Suffern stock 500 to 600 SKUs of high-volume selling products.
Low-volume items can be shipped from the Bronx facility to one of the other facilities as needed to complete an order. "That allows us to keep products in their best order from a code dating and quality standpoint," McCarthy says. "We have a hub-and-spoke model that works well for us."
The inventory in each warehouse is monitored through a warehouse management system. "Our WMS is in real time – our inventory is always changing, so at any time we can see what's coming in or going out by SKU," he adds.
The company uses a racking system and voice-pick selection system to stock and load products. Warehouse employees wear headsets through which they receive directions as to which rack they can find a product in. Once products are picked, they are staged, tagged and, ultimately, loaded onto the trucks.
Meeting Needs
Scheduling and routing its deliveries in a manner that best meets customer needs is a high priority for Manhattan Beer. "Our customers have limited time windows when they want deliveries to be made," McCarthy says. "We want to send our trucks out exactly when they expect us. We want to make sure that when our customers think of us, they are thinking, "I want to do more business with this distributor because he understands our needs.'"
Manhattan Beer operates four delivery schedules: a day route, which leaves a warehouse between 4 a.m. and 8 a.m.; midday trucks, which leave between 10 a.m. and 11 a.m.; late afternoon trucks that leave between 2 p.m. and 4 p.m.; and "night owl" deliveries, which leave after 9 p.m. "We deliver at different times to match up with our customer needs," he adds.
Many grocery store and drug store chain customers with locations in Manhattan receive deliveries in the middle of the night since streets are less congested at that time. Although many clients receive deliveries to shipping docks, others receive drop-offs to less traditional locations. "We have some places where we have to go through narrow passageways, and others where we are delivering into basements," McCarthy says. "We have to find the best and most fluid way to get the customer's order to them without disrupting their business."
The company is fortunate to have a staff of drivers who understand the particulars of each of their customers. "We breed that kind of understanding here," he adds. "Our drivers know how to take care of our customers."
Manhattan Beer uses a hybrid of dynamic and standard routing software to plan its deliveries. The routing system helps staff plan truck capacity and route based on the time of day products need to be delivered, the number of stops trucks have to make that day, and the volume capacity of the truck.
The company tracks on-time deliveries and other key performance indicators (KPI) through its use of the EoStar route accounting software. The system integrates information including WMS, voice pick, forecasts, surveys, web orders, mobile sales and deliveries into a single database. The system produces a daily scorecard. "We are a big company that serves a lot of customers," McCarthy says. "We want there to be no mystery about what we were successful in and what our misses were on any given day."
Manhattan Beer also uses technology to track when shipments are arriving from its suppliers. "We are pretty wide-open to our suppliers," he adds. "They can see what their inventories here are, how much we've sold and where we've sold it to. I can see when my products are going to be released for shipment, or when they've left the brewery."
Safety First
Manhattan Beer stresses safety throughout its warehouse, delivery and other operations. "We are always drilling on ways to keep our employees safe," McCarthy says. "If you walk through our buildings, you will see everyone in high-visibility safety wear such as hats, vests and steel-toe shoes."
Managers and staff are empowered to enforce personal safety by following a checklist of safe work behaviors. On-site training is also regularly provided. This includes OSHA and U.S. and state department of transportation safety training as well as forklift training.
Each of the company's trucks is equipped with GPS and driver cameras, which enable the company to regularly interact with drivers and determine their current location. "If there is an incident that happened in or near a truck, we would have instant video of what's happening inside the cab and around the vehicle," he adds.
Going Green
Roughly 25 percent of Manhattan Beer's truck fleet runs on compressed natural gas (CNG) fuel. The company also operates three CNG fueling stations. "We got involved in CNG very early," McCarthy says, noting the company started using the fuel in 1999 after the state introduced a subsidy program promoting its use. "We thought getting involved in CNG would be great for us from a sustainability standpoint. We let our customers know it was important to us, advertised our use and had our employees talk about it."
The company has seen a significant return on investment from its use of CNG. "It is less expensive to run than diesel fuel, and is a steady and reliable cost to us," he adds. "Many more companies in the area have gotten into it in the past five years, but not as deeply as we have."
The roofs of Manhattan Beer's corporate headquarters and its Queens and Suffern facilities are covered with a solar panel array that produces more than 2 MW of power annually. The array is the largest privately owned solar installation in New York City, according to the company.
"We also received some help from the state to install solar panels," McCarthy says. "A lot of our roof space was unused, so it made sense for us to do. We are proud that, at most of our buildings, we can produce 60 to 70 percent of our total energy needs."
The company's other environmentally minded initiatives include receiving roughly 75 percent of the deliveries to its warehouses by rail, reducing its need for suppliers to use tractor-trailer trucks. Manhattan Beer also uses LED lighting in its facilities.
The Next Steps
Simon Bergson founded the company following the closing of the Rheingold Brewery in 1978. Bergson obtained the local distribution rights to Carling Black Label and Tuborg beers – This started him on the path of becoming a franchised beverage distributor.
Since its founding, Manhattan Beer has grown significantly from its initial holdings of three delivery trucks and a 4,000-square-foot warehouse in lower Manhattan to become the 28th-largest privately owned company in New York state And one of the largest beer distributors in the U.S.
Manhattan Beer continues to look at ways to improve its operations, including possibly investing in automatic storage retrieval systems for its warehouses. The systems would add more speed and accuracy to the company's receiving and delivery operations and allow it to better manage rapid SKU growth within the beer industry.
"We are constantly evolving and improving, and we're not finished yet," McCarthy says. "There are many things happening on the technology side that will make us better in the next three to four years.
"We believe the best way to remain successful is to take care of customers," he adds. "That's what keeps us in business, so we want to do everything we can to be better and faster."