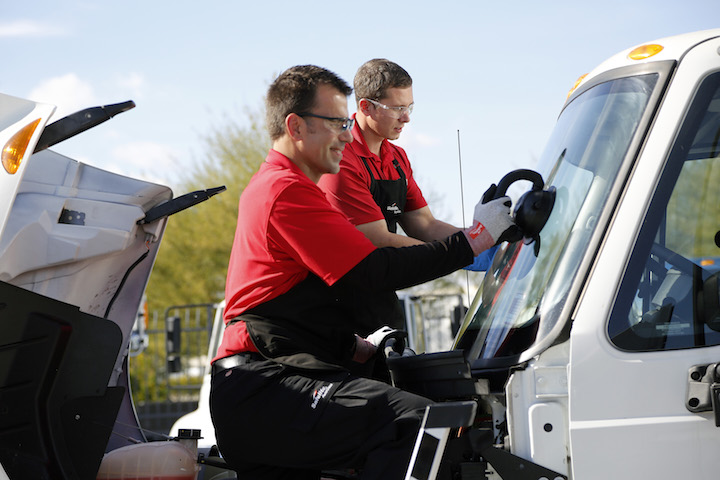 With innovative technology and a customer driven mentality, Safelite AutoGlass aims to continue to grow further.
By Bianca Herron
Safelite® Group exists to make a difference and bring unexpected happiness to people's everyday lives through an array of services. It is comprised of three major businesses: Safelite AutoGlass®, the largest provider of vehicle glass repair and replacement services in the U.S.; Safelite® Solutions, the nation's leading fleet and insurance claims management service partner; and Service AutoGlass®, a sophisticated vehicle glass wholesale supply chain and distribution operation.
Together, the businesses serve 10 million customers annually through more than 9,200 MobileGlassShopsTM and facilities. Safelite Group employs nearly 14,000 people throughout the United States. Based in Columbus, Ohio, the company has been in business since 1947.
Although Safelite is a 70-year old company, the company likes to think of itself more like a startup, according to Senior Vice President of Operations and Supply Chain Steve Miggo. He notes that the company revitalized its strategy about eight years ago to become people powered and customer driven.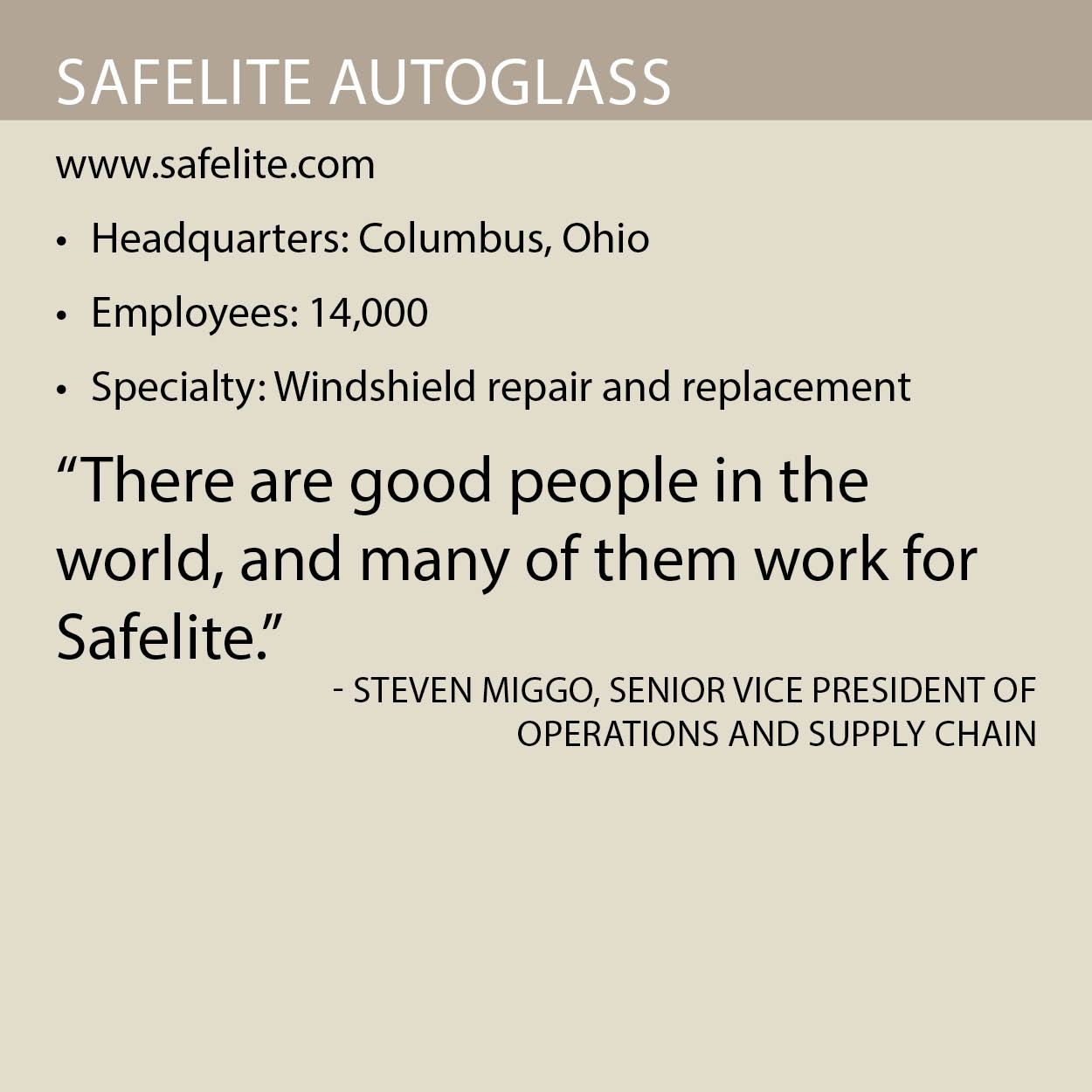 "Our People Powered strategy means putting our people first and developing great leaders," Miggo explains. "I'm proud of the caring culture we have at Safelite, our people make a difference every day, which permeates down to our customers and into the communities where we live and work."
Miggo explains that everything starts with purpose at Safelite and that the company delivers on that purpose through something they call '"Safelite Spirit.'"
"We look for and hire people that have a service mindset, can-do attitude and a caring heart," Miggo explains. "We can train people on the technical skills, but truly value and expect these three characteristics in our associates."
Safelite carries out its '"Customer Driven'" strategy by listening to customers, focusing on their needs, creating solutions based on their feedback and delighting them with service so great, its memorable. "We want to be the most trusted and admired service brand, and that means doing the right things for our customers and making it easy for them to do business with us," Miggo explains.
Tech Impact
Part of creating a memorable experience is allowing customers to contact Safelite however they prefer, and the company knows that customers want to conduct business digitally. Safelite is tailoring its operations to meet their needs by providing an omnichannel experience.
"Customers can start the process of scheduling their service on their phone, come back to it on their computer and then finish it on their tablet. We want to be very agile in this digital world so we can meet our customer demand, which is a top priority," Miggo explains.
Changing technology on vehicles has also impacted the auto glass replacement industry. "Many of the new safety features on cars rely on cameras behind the windshields," Miggo explains. "If your car beeps when you get too close to something, that's likely coming from that camera and technology."
These new vehicle features need to be recalibrated after the windshield is replaced, and Safelite has developed technology and systems to best serve customers that need these services.
Valuing Partnerships
With 95 warehouses and two distribution centers across the country, Safelite AutoGlass is the core of Safelite Group's supply chain network.
"Our glass partners are very important to us and our business," he says. "These partnerships allow us to have the best selection of glass in the U.S., which differentiates us from our competitors."
Safelite has developed relationships with several OEMs and partners only with the glass manufacturers who supply them. This helps to ensure stores have the right windshield at the right place at the right time.
"Having the right part at the best quality, and delivering it to our customers in a timely manner is a big part of our customer service model," Miggo says. "Our glass manufacturer partners are a critical piece of that model."
Additionally, the company is strategically aligned with its glass partners to develop products for today's sophisticated vehicles.
"For example, when a brand-new car hits the market, the supply of that windshield is limited," Miggo explains. "So when we see or anticipate a part in short supply, we partner with one of our manufacturers to develop a part. Often times it's exclusively for us, which provides us another strategic advantage."
Miggo notes that Safelite is prepared to meet future challenges head-on. "We believe that if we continue to deliver on our purpose to make a difference and operate with our People Powered, Customer Driven strategy – there is a lot of growth on the horizon for us," he concludes.