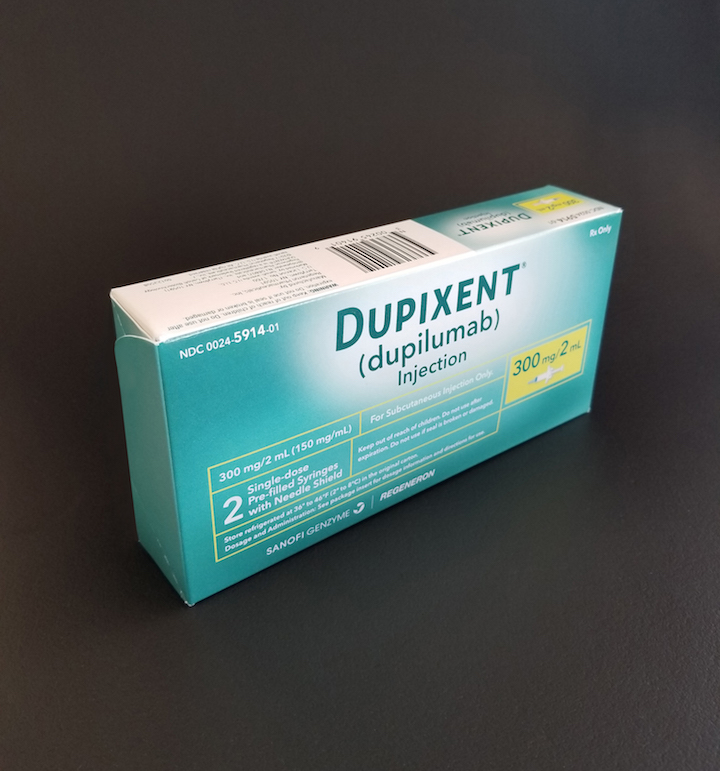 Sanofi prides itself on providing patients with on time, quality products to help them live healthier lives.
By Bianca Herron
As one of the largest pharmaceutical companies worldwide, Sanofi takes pride in making a difference in its patients' lives and ultimately enabling them to enjoy a healthier life.
Sanofi's U.S. headquarters are in Bridgewater, N.J., and it employs more than 15,000 people domestically. It consists of four key businesses: Sanofi Genzyme (specialty care), Sanofi Pasteur (vaccines), Pharma (prescription drugs and generics within the diabetes cardiovascular and general medicines franchises) and Chattem (consumer healthcare division).
"We are a major healthcare provider of pharmaceuticals," Stefan Roehr, Vice President of North American Supply Chain, says. "In 2016, we had net sales of more than $33 billion. On a global scale, we have over 100,000 employees working in more than 100 countries."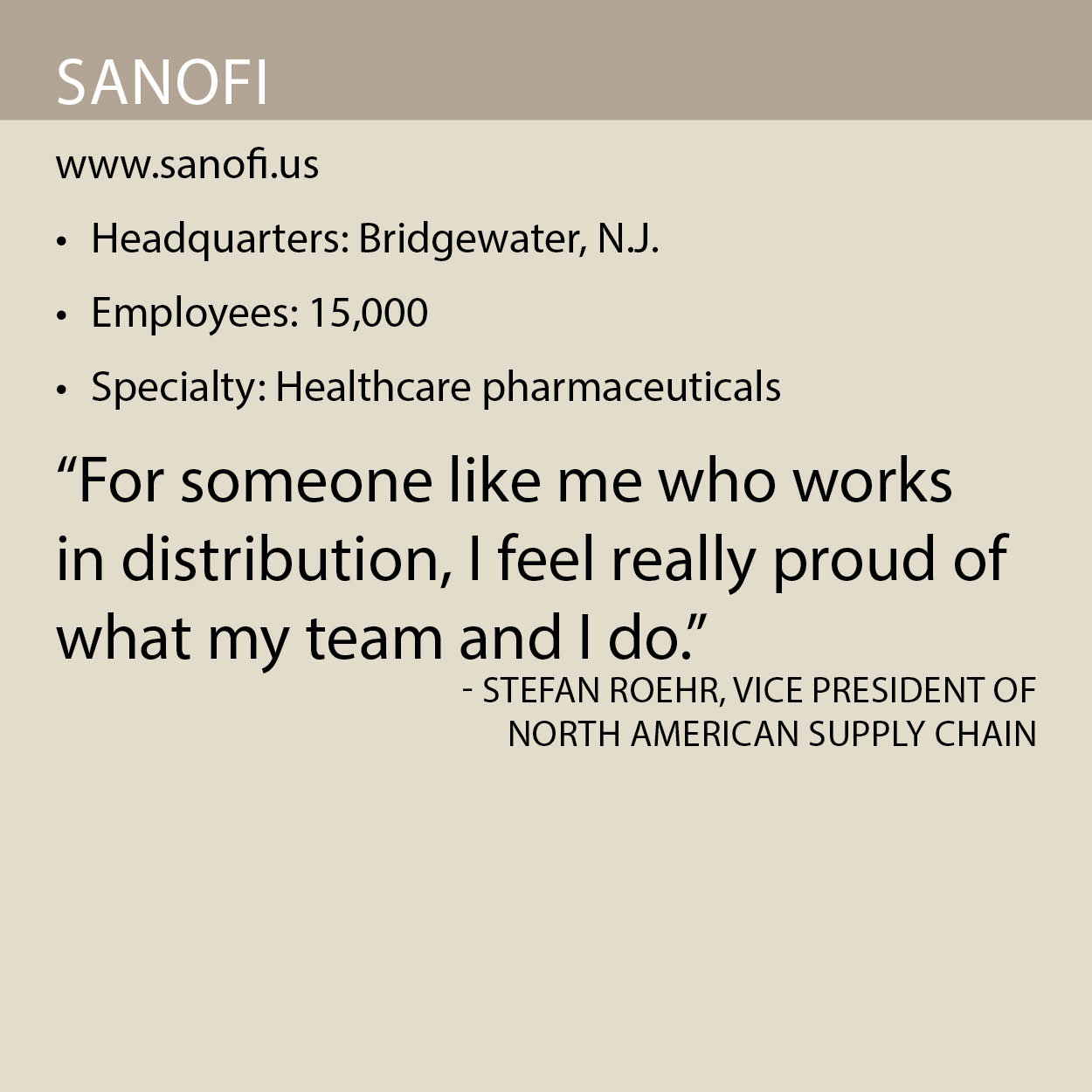 Making A Difference
Throughout its rich history, Sanofi has experienced many mergers and acquisitions to become the global presence it is today. From prevention to treatment, the company is not only committed to improving access to healthcare but also transforming scientific innovation into healthcare solutions for its patients, Roehr notes.
"Our CEO and chairman has us working towards a 2025 vision," he says. "He sees Sanofi becoming one of the top innovative global and diversified human healthcare companies. In order to support and help the company achieve this vision, supply chain, not only in the U.S. but also at a global level, will ensure it has the talent, processes, and systems to deliver our medicines. It's about focusing on and allowing the patient to take control and manage a better lifestyle with diseases that may unfortunately affect them."
As an example, Roehr cites the patients who now have access to one of Sanofi's newest products, Dupixent. The drug treats severe atopic dermatitis, a type of inflammation of the skin and results in itchy, red, swollen and cracked skin.
"These are patients whose entire life is affected by this disease," Roehr says. "In severe cases, they can be limited in their movements, sleeping becomes painful, and everyday movements become challenging. Our product is helping them to live better lives and be excited about all the opportunities they didn't think they could have.
"For someone like me who works in distribution, I feel really proud of what my team and I do because we ensure that people that are affected with atopic dermatitis, as well as the millions of other people that take our products, have them when and where they need them," he continues.
Roehr adds that Sanofi's partnership with FedEx is another key factor allowing the company to get its products to patients on time, especially in today's instantaneous marketplace. "Because of Amazon Prime, for example, people have a natural expectation to receive whatever they want overnight or the next day," he explains. "By partnering with FedEx, we have the ability to manage our distribution and ship to any zip code in the U.S. within 48 hours or less. So this strong partnership is extremely beneficial as it allows us to do what we need to, when we need to for our customers."
Tech Impact
Sanofi's four U.S. distribution centers are in Pennsylvania, Nevada, Tennessee and Georgia (not including Canada or Puerto Rico). "We also have smaller distribution centers that manage products on a more export-limited basis," Roehr says. "However, those four are the bulk of where we move our more than 300 million-plus units per year through."
About 50 percent of the company's pharmaceutical business products are managed through an EDI system, or what Roehr calls "hands-free orders." "Everything is done electronically from the time we receive the order," he explains. "The order gets validated through our financial systems electronically and is then passed to the warehouse. From there, the order is then filled and put on a truck. So these orders are very quick and non-labor intensive."
The other half of the company's orders are not processed in the same manner because they come from hospitals or government agencies that do not have the necessary technology, or they want to converse with another person and ask questions, Roehr adds. "Our goal is to become more innovative and electronic-based," he says. "However, I think it's a step-by-step process and we will get there with websites and other aspects as we move forward."
Valuing Growth
With 15,000 employees in the United States and more than 100,000 globally, training has not only played a key role in Sanofi's supply chain, but also in the company itself. Sanofi offers employees various in-house programs on topics such as management and presentation techniques.
"There are a number of programs that teach us how to work better together," Roehr says. "Additionally, there are a lot of opportunities to advance and grow at Sanofi. For example, for someone just coming in, there are entry-level manager programs. Whereas for someone that has been in the company for 20 years or more, they may want to take a training course on how to motivate staff. So there are a lot of different options to maintain skill sets and techniques that are on trend, or get refreshed on."
Roehr's background with Sanofi is certainly inspirational as he joined the company in 1985 as in intern. Four years later, he was offered a full-time job when he graduated. Today, having worked his way up to his current position, Roehr has been with the company for 32 years and has worked not only in New Jersey, but also all over the world, including in Kansas City, Frankfurt, Paris, Venezuela, Panama and Brazil.
"I've had the opportunity to either teach or attend seminars in more than 60 countries for this company," he says. "It has been phenomenal. Sanofi allows its employees plenty of growth if they want it. Today we live in an age where it's very rare and uncommon to have someone work for a company for 10 years or more. So this is a testament to this company because I've had such a rich and complete experience.
"Sanofi gives me every opportunity to grow and take on challenges and opportunities as I see fit, or as the company needs," he adds.
Roehr notes that he's not only proud of the team he works with, but also proud of Sanofi and the products it sells. "From a supply chain perspective, our primary focus has to be the patient," he concludes. "We have to do whatever we can to not only ensure that we get the product to the patient on time, but also ensure they have the medicine they need to empower their life and build upon their future."