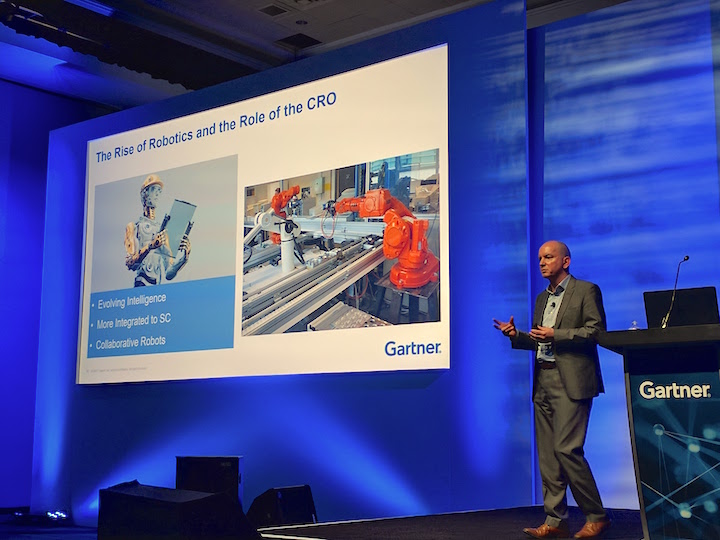 The Gartner Supply Chain Executive Conference gave practitioners the knowledge to cope with the data-driven future.
By Tim O'Connor
There may not be a large amount of intersection between supply chain and professional football, but Hall of Fame quarterback Troy Aikman said both fields require strong leadership and a good mixture of talent to create sustained success.
"If you assemble the most talented group then that immediately translates into success," Aikman said during a fireside chat at the Gartner Supply Chain Executive Conference, held in Phoenix this past May. Just as in football, the best organizations must recognize intangible skills. "It's given me a much better appreciation of being able to identify those who lack in a particular area or don't have particular skills, but if they continue in other ways those guys are invaluable.
"Tough times is when leadership comes out," Aikman noted. "It's easy to be a great leader when times are well."
The former Dallas Cowboys quarterback, who was 0-11 in his first season as a starter, noted that failure and hardship create opportunities. "When I've had setbacks, good things usually seem to come off of that. I try to keep that in mind." Aikman recalled when he broke his ankle at the University of Oklahoma during the fourth game of the 1985 season, causing him to miss the remainder of the year. The Sooners went on to win the national championship behind the play of backup quarterback Jamelle Holieway, creating uncertainty over Aikman's future with the team. He ended up transferring to UCLA the next year, where he became a Consensus All-American and was the first overall pick of the 1989 NFL Draft.
"I've been able to gain a healthy outlook because of having success off those setbacks and knowing good things are around the corner," he told the packed crowd. "If you work hard and surround yourself with good talented people, and you make the decision for the right reasons, you're on your way."
Staying Prepared
Another speaker with extensive knowledge about leadership and quick thinking was Major General Vincent E. Boles, who oversaw logistics operations and readiness for 1.1 million soldiers during the 2000s. During Boles' 33-year Army career, he saw the number of active division fall from 28 during the Cold War to 18 following the fall of the Berlin Wall, even as the number of conflicts the United States was engaged in increased.
Providing the materials, equipment and supplies for those dispersed worldwide deployments was never an issue of stock availability, but an issue of readiness, he said. It's a lesson he asked the supply chain professionals in attendance to keep in mind as they deal with sudden challenges. "Remember, in times like these, there have always been times like these," Boles said.
Boles talked about how quickly the world can change, pointing out that in 1970 Iran was the United State's No. 1 ally in the Persian Gulf – a very different relationship than present day. Likewise, in 2000, Barack Obama was denied admittance to the Democratic National Convention events because he was not a senior enough member of the party. Eight years later he was president. Countless events have changed the course of history, from the Sept. 11 terrorist attacks to the rise of the World Wide Web. "Who could have predicted that future?" Boles asked. "Whether I was ready for it or not it happened. I don't know what the next 40 years has for you, but it's coming."
Boles shared some advice on how supply chain professionals can adapt to that uncertainty. "Remember what your job isn't," he said. "You're job is not to predict the future. Your job is to build a team that is resilient enough to handle the future."
Changing Future
Preparing for that future requires a grasp of advancements coming down the pipeline. Many speakers focused on how new technologies will alter the supply chain organization and operations: technologies such as 3-D modeling and generative design, which Pete Basiliere, research vice president at Gartner, said mimics the evolutionary process of nature. Components and products can go through thousands of iterations to create an ideal design created entirely by a computer. "Now we are going to start seeing parts designed truly by the computer with no human intervention," Basiliere said during his talk on the impact of 3-D models on the supply chain.
Technology also is changing consumer behaviors in ways that benefit the supply chain. In traditional e-commerce websites, potential customers that place an item in their virtual shopping carts fail to proceed with that purchase 70 percent of the time, Gartner Research Director Andrew Downard said in his presentation on the internet of things [should it be Internet of Things?] in supply chain. Devices such as Amazon Dash buttons are removing that opportunity for hesitation and converting more product inquiries into sales.
Similarly, IoT-connected printers can reorder paper, and digital grocery store kiosks placed in subway stations let customers shop virtually then deliver their goods just as they arrive home. "It's not a matter of predicting anymore," Downard said, "it's a matter of responding in real time to that data."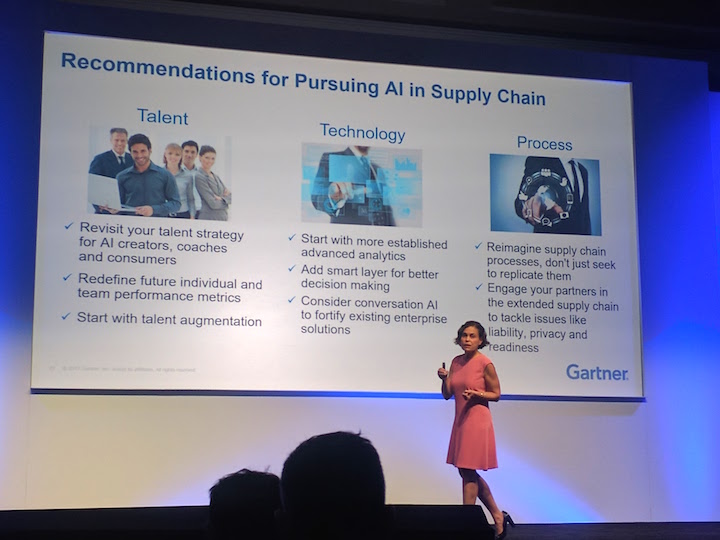 Kathy Wengel, worldwide vice president of supply chain for Johnson & Johnson, gave a presentation showing how that data and new technologies connect to the supply chain. Creating digital twins of its products, for example, helps the medical and consumer goods company model its supply chain to improve the handoff between Johnson & Johnson, its suppliers and its hospital customers.
"Today our products touch a billion people on the planet every single day," Wengel said during her address. "But we're not satisfied with that because there's 6 billion more people we need to find cures for."
To serve its 1 billion customers, Johnson & Johnson's supply chain moves 350,000 SKUs across more than 350 distribution centers. Emerging markets and longer lifespans are creating a huge demand for healthcare that can only be met by embracing new technologies. "Digital is going to allow us to connect these things and solve these things in a completely different way," Wengel said.
The Gartner Supply Chain Conference was full of real-world case studies and forward-thinking discussions on how advanced technologies such as artificial intelligence and greater access to data will influence the evolution of supply chains in the coming years. Next year's event is scheduled to return to Phoenix and promises to bring with it another strong lineup of speakers and networking opportunities.