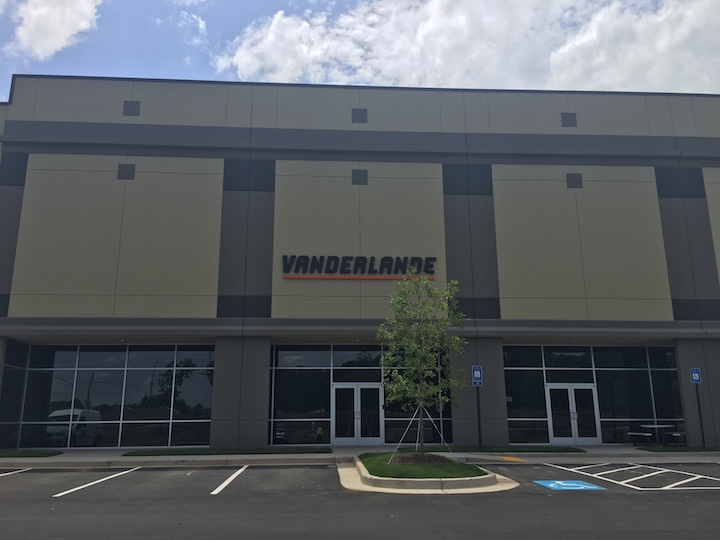 Vanderlande's new facility reduces the lead times and costs of delivering its turnkey baggage and parcel systems.
By Tim O'Connor
Whether it's a key airport hub like Boston's Logan Airport or an Amazon warehouse, sorting systems must meet three primary criteria: speed, energy efficiency and accuracy. That last item is especially important to travelers, who expect their luggage will follow them on their flight. A misdirected or lost bag can leave customers without fresh clothes or important travel papers.
It's one of the reasons many U.S. airports are switching to European-style baggage systems. These place every piece of luggage with its own individually tracked tub carrier, then route the luggage to an early bag storage area, where it is held until the flight calls for that bag. The process results in fewer errors because bags don't arrive at a gate ahead of time only to be mistakenly placed on an earlier flight.
"People don't get too happy when their packages or bags don't arrive with them," notes Blake Mathies, vice president of supply chain and procurement for baggage handling systems manufacturer Vanderlande Industries.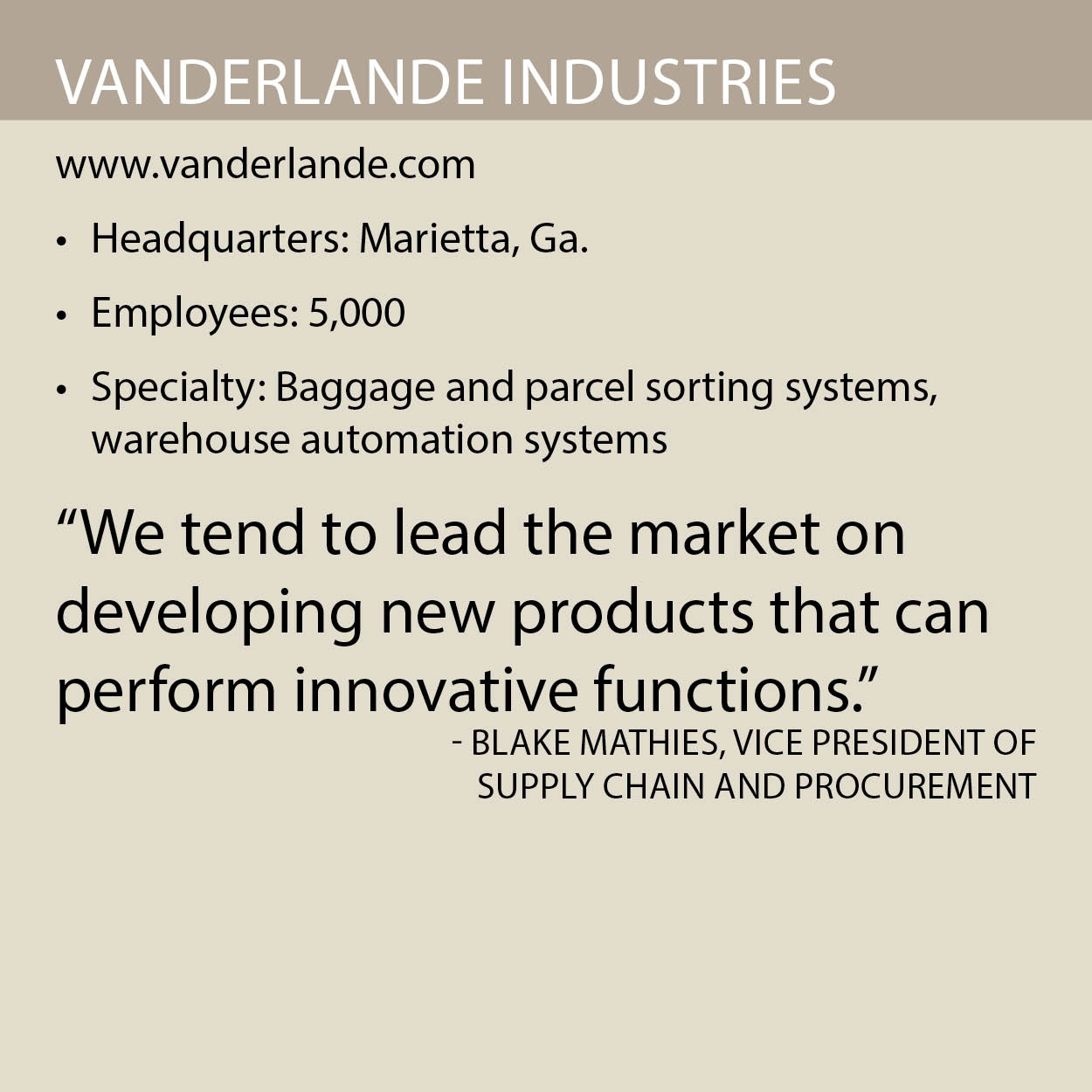 Vanderlande recently started working on a European-style baggage system at LAX in Los Angeles and also a 1.1-million-square-foot UPS facility near Atlanta that required over 12 miles of conveyor and automated sortation equipment. Large projects like those can take as long as five years from concept to installation, but smaller sorting systems can be completed in as little as a year.
The goal of these systems is to remove human error from sorting while achieving faster speeds than previously possible. Vanderlande must offer increasingly efficient system to keep up with the rising demands of the industry. The number of commercial flights in the United States has increased the past two years, according to the FAA, and Amazon has trained online shoppers to expect delivery in two days or less at no additional cost. It all combines to put more stress on the sorting industry and the best way forward is innovation.
Vanderlande believes its systems offer the technology and accuracy to meet that demand. Its new SCANNOJET system, for example, makes airport security lines more efficient by having passengers place their luggage in a tub. It automatically takes the bags through security screening and returns the tubs to the start of the security line without the need for a TSA agent to handle the bins. "We tend to lead the market on new products coming out that can do new things," Mathies says.
Turnkey Solutions
Vanderlande started in 1949 as a Dutch manufacturer of baggage handling systems for airports. Over time, the company moved into the parcel sorting industry, a natural addition because of the similarities between moving packages and luggage. In recent years, it has further evolved to offer warehouse automation.
Today, Vanderlande systems annually sort 39 million parcels and move 3.7 billion pieces of luggage at 600 airports worldwide. Every single one of those systems was custom made for its specific facility. "Nothing is really cookie cutter because most facilities aren't cookie cutter," Mathies says. "It's really built to customer specifications."
Every system is a turnkey solution designed, engineered, manufactured and installed by Vanderlande. In some cases, the company even provides long-term service and maintenance of the systems. But just because Vanderlande handles the entire design and manufacturing does not mean customers are limited to its technology. Vanderlande is an integrator capable of implementing other OEMs' software or equipment into its systems.
Consolidating Functions
Mathies' challenge is delivering those innovative products to customers. Vanderlande's integrated supply chain is responsible for sourcing all of the products and services, from the components that make up the machines and the contracts with the electrical installer to arranging the on-site dumpsters used for waste disposal. It is also charged with managing the assimilation of third-party intellectual property and components and handling any aftermarket spare parts.
Vanderlande operates three supply chain centers located in The Netherlands, Shanghai and Marietta, Ga. "From those three centers, we basically cover the globe," Mathies says.
The new manufacturing facility near Marietta, Ga., in Acworth is the newest addition to Vanderlande's supply chain network. The 173,000-square-foot facility opened June 28 and consolidated the company's manufacturing and distribution operations, previously housed in their own buildings separated by a 35-mile drive.
Bringing manufacturing and distribution under one roof eliminated the time it took to move systems between the two facilities, making Vanderlande more responsive to customers and accelerating delivery schedules. Product can now be made and stored in a shared warehouse. Further, strategic sourcing and category managers and purchasing have better access to their colleagues on the manufacturing side.
"We've already gained some efficiencies in our manufacturing," Mathies said of the first few weeks of operation in the new building. "We're not having to transport things an hour down the road from factory to distribution center so that's a huge gain."
In addition to manufacturing and distribution, the facility also brought in Vanderlande's spare parts operations, giving the supply chain team a more complete view of all the requirements for procurement.
Combining all those functions into one building required extensive planning. Vanderlande has a certified lean Six Sigma master black belt-trained person on its supply chain team who developed many of the processes that enabled those three divisions to work in unison. The company also invested in technologies such as bar coding and RFID to improve visibility into its production and supply chain and provide real-time data on performance.
It also instituted a TMS system so it could track the estimated time of arrival for inbound shipments from suppliers and outbound deliveries to customers. "We really have visibility of everything from end-to-end in our supply chain," Mathies says.
The new consolidated facility and the increased visibility granted by technology upgrades help Vanderlande deliver on its goals of reducing customers' lead times and costs. "What we're continuing to do is we're developing newer, faster products," Mathies says. "We're bringing more products into the U.S. market to satisfy more customers. Because of the growth of e-commerce, we're matching the market."