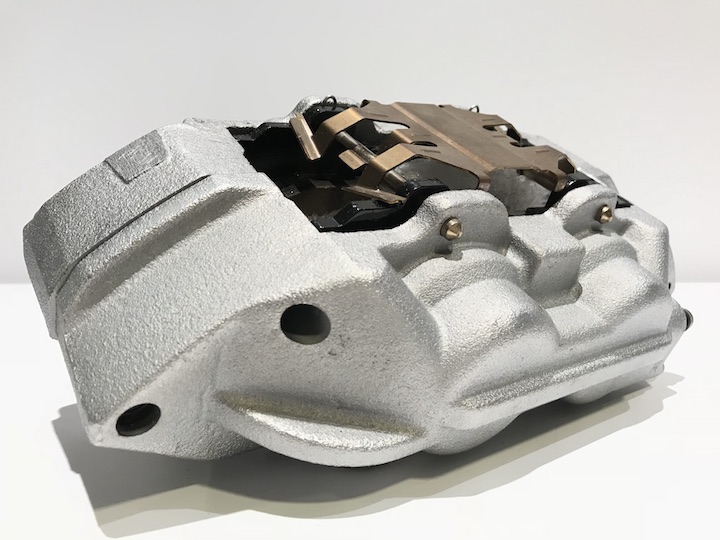 After 88 years in the automotive industry, Akebono aims to continuously exceed customer expectations with innovative, quality products.
By Bianca Herron
Akebono Brake Corporation has been manufacturing brake friction materials for 88 years. Established in Japan in 1929, Akebono's commitment to innovation, process improvement, quality control and customer service has positioned it as a key resource for leading OEMs and Tier I brake suppliers.
Some of the company's key automotive OEM customers include Audi, Chrysler, Ford, General Motors, Honda, Nissan and Toyota. Additionally, the Akebono Production System (APS) features proven quality control techniques to guarantee minimal process variation in all phase of production, which allows the company to consistently achieve a nearly zero defect rate per million parts produced.
According to Grant Church, vice president of supply chain North America, Akebono's focus on brake technology and quality products have resulted in its success.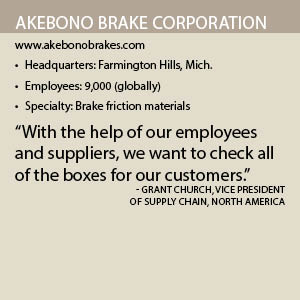 "Today, we control 20 percent of the global market for friction pads," he says. "Our North American operations contribute 55 percent of our global revenue. We also have footprints in Europe, Thailand, Mexico and Southeast Asia. Akebono's headquarters and many of its world-class operations are in Japan, where the company controls 45 percent of Japan's friction market."
The company has an R&D center in Farmington Hills, Mich., as well as others in Japan and France. Akebono manufactures brake friction materials and components in 30 facilities worldwide.
Team Effort
Akebono employs more than 9,000 worldwide, with more than 3,500 in North America. "Our reputation is based on the ability of our employees," Church says, noting that Akebono's training starts when an employee is hired. The company provides each person with a handbook that details its rules, regulations and expectations, but training and employee development require much more.
"It's like launching a spacecraft," Church explains. "If you're off by some degree, there's a high probability that the aircraft will not take [proper] flight. So it's our job to ensure our employees have the correct systems around them so they can launch."
Akebono's training is continuous throughout an employee's tenure not only to keep its staff up to speed, but also to retain its people. "We want to continually train people throughout their career because everyone wants to do more," Church says. "If you don't give them the opportunity to do that they'll be frustrated or find some other avenue to grow."
To keep employees engaged, Akebono offers tuition reimbursement programs, one specifically for interns. "You don't want to educate someone for the next [company's] job; you want to educate them for your job and company," Church notes. "We believe if you have a vibrant and dynamic organization, people will want to stay. So that's what we're striving for at Akebono."
Additionally, Akebono encourages its employees to submit feedback about cost reduction ideas and continuous improvement efforts. "Everyday we invite people to bring in ideas for material changes, lighter weights, or something that lasts longer," Church says. "We embrace those improvements and try to foster a system that generates those improvements as well. We also believe this is the way to become more competitive and make a better product."
Akebono looks to its more than 600 suppliers for cost reduction ideas, too. "We have found that when developing a product it's more beneficial to bring suppliers in to work together on a system, instead of working with suppliers on an individual basis," Church says, explaining individual suppliers may draw different conclusions from, and solutions for a problem.
"For example, if I'm having a quality issue, one supplier may say it'll take one dollar per part to fix the problem, while another may fix it for less," Church says. "So by working with more than the immediate supplier at hand we're more likely to generate a real improvement or cost reduction."
Valuing Relationships
Akebono has longstanding relationships with many of its suppliers. "Twenty percent of our suppliers account for 80 percent of our total spend," Church says. "We have many suppliers who sell us specialty tools and multiple service parts, or service our machines."
Many of its suppliers are based in Japan and have worked with the company for decades, according to Church. "We maintain these relationships with regular meetings," he says.
Akebono also sends its suppliers scorecards, which are marked in green, yellow or red to specify if they are meeting the company's expectations.
"If they aren't where we'd like them to be, we'll call a special meeting with their senior level management to help get them back into a green state," he explains.
Ultimately, Akebono strives to make the best, most cost-effective, high-performance product for its customers. "With the help of our employees and suppliers, we want to check all of the boxes for our customers," Church says. "There's an added value to your company when a product doesn't have to be replaced often."
Continuous Improvement
As Akebono looks ahead, it's working on products to expand into the electric parking brake segment. "That's a market where we see more vehicles moving in the direction of versus the mechanical brake," Church says. "We offer those solutions as well, but we see that as an evolving market."
The company already offers copper-free products, but is currently working on expanding its product offering in that segment as well.
"We were the first to market with a copper-free product with Chrysler," Church says proudly. "Copper-free is being driven by the fact it not only generates brake dust, but also when it rains copper particles wash into water systems. Copper can inhibit some of the biological functions of small animals."
He adds that Washington state and California have mandates to eliminate copper. "Copper-free is something we have had a lead on in the market, but we're working to expand on it in terms of both our offerings and product mix," Church concludes.