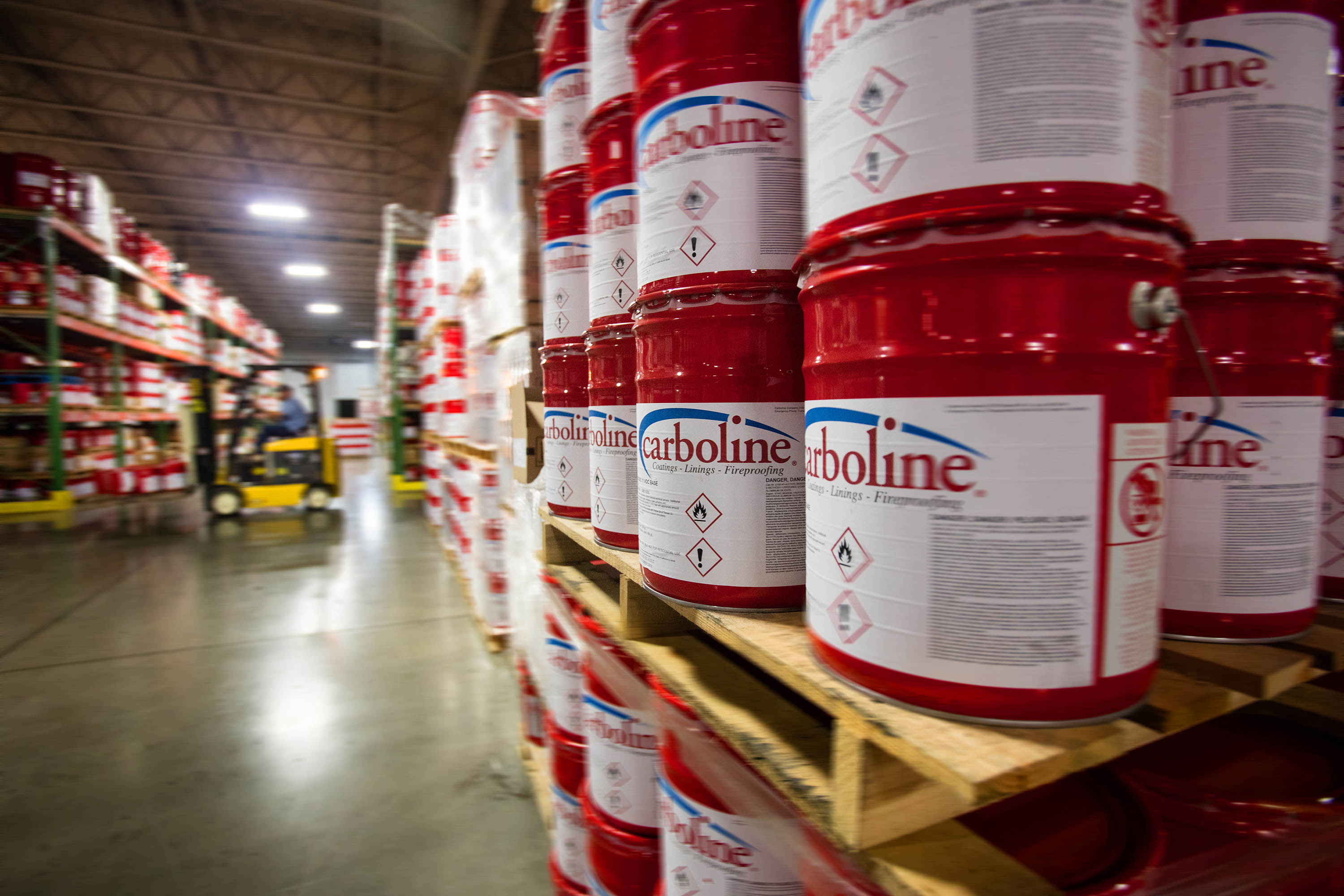 Carboline's innovation efforts are paying off for the coatings company.
By Alan Dorich
Carboline Co. may not be as large as some of its competitors, but that provides it with an advantage, President and COO Chris Tiernay says. "We can do things much quicker and without the bureaucracy of larger companies, from a customer's perspective," he says.
As an example, some of its competitors may take weeks to make custom, made-to-order batches for their clients, but Carboline can do it much faster. "We can make as small as a five-gallon batch in as little as two or three days," Tiernay says. "It's our nimbleness and reaction to the market and our customers that sets us apart."
Based in St. Louis, Carboline offers coatings, linings and fireproofing products. Chemist Stanley Lopata started the company in 1947 and helped his first client with a carbon-based tank lining. "Thus, [the name] 'Carbo – line,'" Tiernay says.
Today, Carboline supplies multiple markets, including the commercial and industrial sectors. He notes that its clients include Trinity Rail, T.F. Warren Group, Brand Energy & Infrastructure Services Inc., Apache Industrial Services Inc., PK Industrial LLC, Union Tank Car Co., Siemens and The Modern Group.
The Way Back
Tiernay has worked in the coatings industry for 31 years. "I've spent the last 10 years on the protective coating side," he says, noting that he managed the North American operations for both Devoe High Performance Coatings and for International Paints, an AkzoNobel company.
He joined Carboline 10 months ago, when he was offered the opportunity to take the roles of president and COO. Over the past few months, Tiernay has ramped up the company's efforts in innovation.
"We lost our way a little bit in the last few years," he admits, noting that the company recently boosted its efforts by renovating Carboline's research development and innovation building in St. Louis.
"We acquired some new testing equipment, new electronics and ultraviolet light exposure cabinets," Tiernay says. "We also put a new safety protocol in place in the building, painted every square inch of it and rebranded it so when you walk through it, you can see what areas are working on what."
Carboline also is building an in-house full scale fire lab in St. Louis to test fireproofing products. "It'll be ready for its first fire test probably in 2019," he predicts. "That will allow us to test formulas on a very rapid rate."
The Sweet Spots
Carboline also is re-evaluating its plants in Green Bay, Wis.; Lake Charles, La.; and Dayton, Nev.; that produce liquid coatings. All three, Tiernay notes, each have different capabilities.
"We're lining up each plant's specific set of skills and determining where the product lines should be produced," he says. "What they've done in the past is shared all product lines across all plants.
"I've made them step back and find the sweet spot between capability and the cost of freight," he says. So far, the company determined that its Green Bay plant is especially skilled at making small batches, and its Lake Charles location is better at making large amounts.
But Tiernay sees advantages for the company once it has finished evaluating the locations. "That will maximize yields in terms of batches and probably drive some freight dollars down," he predicts.
Carboline also invested in automation at the Green Bay and Lake Charles locations, with new filling lines. "[We moved] from two-head fillers to a four-head fillers," Tiernay says.
Both locations also added labeling machines, which helped make them more efficient. Previously, "A lot of that was done by hand or an archaic way," he recalls.
New Paths
Carboline also invested in its staff. "We acquired two world-class chemists in the last two months," Tiernay says, adding that the company has created a full, in-house training program.
"We also will send people to outside courses if we think there's something specific we need," he says, noting that Carboline is developing a performance management system that will allows it to evaluate employees for promotions or succession plans.
"Our system will allow for better career pathing by determining how many levels they can move up," Tiernay says. "That will pay off in spades."
Healthy Dialogue
Tiernay is proud of how Carboline has re-energized its "entrepreneurial" spirit. "Carboline's way is having an energetic work place," he says, noting that the company keeps its salespeople energized by paying them a 100 percent commission.
The company also reopened communications lines with its workers through monthly "town hall" meetings and surveys. "We're getting all kinds of feedback," he says, adding that he has collected many good suggestions.
"We're having some healthy, two-way dialogue," he says. "In 10 months, that's the most encouraging thing that's happened. It's make them feel a part of the company and that captured their hearts."
He sees a strong future for Carboline. "We've got a very aggressive innovation platform backed by the people and assets we've invested in," he says.