Dover Downs Hotel & Casino

Dover Downs' sustainability focus drives it to work with other companies that think green.
By Alan Dorich
Dover Downs Hotel & Casino has kept people coming back for fun and entertainment for over 20 years, and its service keeps them loyal, President Ed Sutor says. "In the hospitality industry, customers vote with their feet," he says. "If you don't treat them right, they're not coming back."
Located in Dover, Del., the Four Diamond hotel features 500 hotel rooms and suites, 40,000 square feet of convention and meeting space, 13 restaurants a, regional spa, seven retail stores and a performance hall that has featured such acts as Credence Clearwater Revisted and Boyz II Men. Its casino has more than 2,300 slot machines, table games and a poker room. "This gives us a physical presence that outdoes our local competition," Sutor says.
Dover Downs started operations in 1969 with motorsports and harness racing operations. Over the years, Director of Purchasing Jerry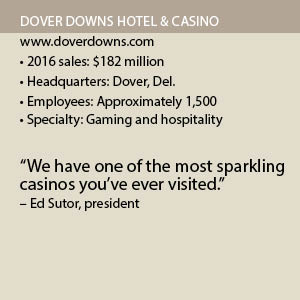 Lawrence says, the location added slot machines, its hotel and conference center, a sports book and table games.
Today, Dover Downs serves a clientele that largely consists of empty nesters. "They may not be able to do the rock wall climbing, scuba diving and surfing like they used to, but they still like fun," he says. "We provide an entertaining experience that they're looking for."
It also provides them with a safe and clean environment, Sutor says. "We have one of the most sparkling casinos you've ever visited," he says. "We've hit all the marks for our primary database of customers."
Keeping Green
Dover Downs focuses strongly on sustainable initiatives. Seven years ago, it performed an analysis to determine how much of the casino's waste was being recycled.
"We found we recycled about 10 percent," Sutor recalls. "The state government came out and said they would like everyone to get to about 30 percent waste in the next 10 or 20 years."
But Dover Downs set its goals higher, aiming for 50 percent. "I'm proud to tell you most months we are at over 60 percent," he reports, adding that 54 percent of the casino's waste is food.
"We're able to get that into a compactor and take it for composting," Sutor says. "We do everything possible to keep the trash from going to the dump."
Other initiatives include not changing linens and towels in its hotel rooms, unless the guests request it. "Our customers and employees embrace that," he says. "They don't mind staying in the hotel two or three days with the same sheets."
Wise Investments
Dover Downs also invested $3 million in energy efficient light bulbs. "We changed over 20,000 bulbs to LEDs," Sutor recalls. "To this day, we spend hundreds of thousands of dollars trying to do efficient things."
The casino also incorporated energy efficient equipment, including copiers and RATIONAL ovens. "On energy alone, [we've saved] $4 million to $5 million," Lawrence says. "There's a lot of little projects that add up to major savings."
Dover Downs also strives to use freight carriers that have their own green programs, including YRC Freight and FedEx. Both are a part of recycling programs for pallets, cardboard and packaging materials.
The casino also recently earned the Silver level of Green Concierge certification from HospitalityGreen, an authority on green operations. "Dover Downs was the first to receive the Silver level," says Evadne Giannini, the founder of HospitalityGreen and program director for the certification.
She praises the work of Lawrence, Sutor and their team, which worked with HospitalityGreen to make modifications throughout their entire operations from electrical systems to the consumption of paper goods. "They really embraced it 100 percent," Giannini says.
Weighing Options
Dover Downs has maintained strong relationships with its vendors under Lawrence's tenure. "We've only lost one supplier since I've been here," he says, noting that the casino chose to end the partnership. "The supplier was trying to dictate how much we were going to buy."
The casino strives to keep costs down by utilizing multiple sources. "Even though we have standard vendors, we get quotes on everything, with or without freight," he says.
The company also uses a Stratton Warren System to help keep its costs low and make purchasing decisions. "We're always looking for new ideas in terms of food, energy, equipment, employee benefits, partnerships, discounting programs, rebate programs, entertainment and overall operational excellence," he says.
Fair Share
Sutor sees a strong future for Dover Downs, but asserts that the casino needs to grow its revenues with the help of the state. "We have some of the highest gaming taxes in the country," he says.
"We believe there is a lot of sympathy down in legislative hall," he says. "If the economy of the state improves and they're able to balance their budget, we're confident the state will give a more fair revenue sharing model to us."
That will allow Dover Downs to add amenities and keep Delaware citizens employed. "A lot of those people depend on us staying in operation and so far, we've been able to do it," he says. "We have no plans on going out of business."