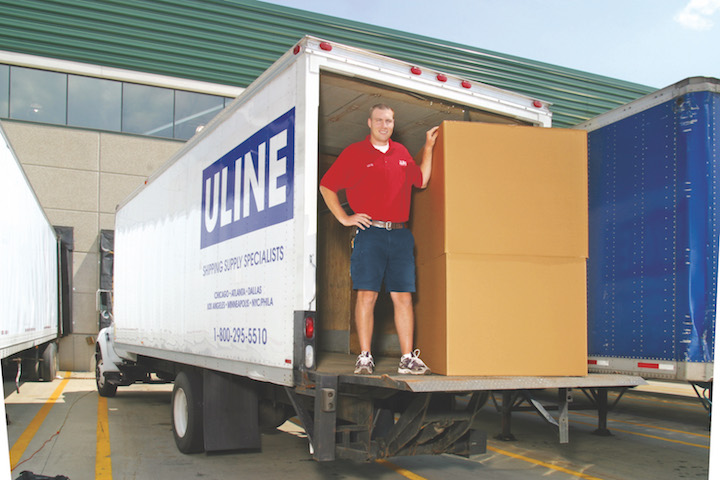 Uline's reputation for fast deliveries has helped it grow into a North American powerhouse.
By Kat Zeman
As a prominent distributor of shipping and industrial supplies throughout North America, Uline knows how to move fast. In the package delivery business, speed is a large factor in determining customer satisfaction.
"When customers order from us, they order because they need it and they want it right away," says Angelo Ventrone, vice president of logistics. "We are able to fulfill their orders quickly and undamaged."
In an industry where same-day shipping time is generally cut off at 4 p.m., Uline takes orders until 6 p.m. "That is something that puts us apart from our competitors," Ventrone adds. "We ship 100 percent of our orders the same day and about 95 percent get delivered the next day."
Uline, a Pleasant Prairie, Wis.-based, family-owned business with operations throughout the United States, Canada and Mexico, partners with more than 20 carries to help make this happen. "Our carriers are a very important part of our supply chain," Ventrone says. "If the delivery goes wrong, the customer will look at Uline, not the carrier. So it's important that our carriers represent the Uline service offering. We look for companies that have the same culture that we do."
Uline does not bid its carriers out on an annual basis. Once it decides to establish a relationship with a desired carrier, it often becomes permanent. "When we partner with them, it becomes long-term," Ventrone says. "Most of our carriers have been with us a long time."
Ventrone implements the use of scorecards to rate his carriers and meets with them frequently to review results. One of the biggest challenges facing the industry today is the lack of truck drivers, he says. Uline works with its carriers to help them improve capacity, especially its many less-than-truckload carriers. "We work hard with them to increase capacity so that they can continue to provide the level of service our customers expect."
Stocking Up
Aside from having long-standing and dependable carriers, Uline also attributes its ability for speedy deliveries to keeping its inventory fully stocked.
The company's 700-page catalog contains more than 32,500 packaging, shipping, industrial and janitorial products – all ready to ship same-day. "Our advantage is that we don't use third-party vendors. Every one of our locations carries 100 percent of our stock inventory," Ventrone says. "So we have everything in stock and ready to ship with very little back orders. We believe that's why our customers come back and order from us."
All products – with the exception of a few drop-ship and heavy items – come from an Uline warehouse. The company's eleven branches throughout North America speed up delivery and minimize freight costs. Aside from its headquarters, Uline has seven branches throughout the United States, two in Canada and two more in Mexico.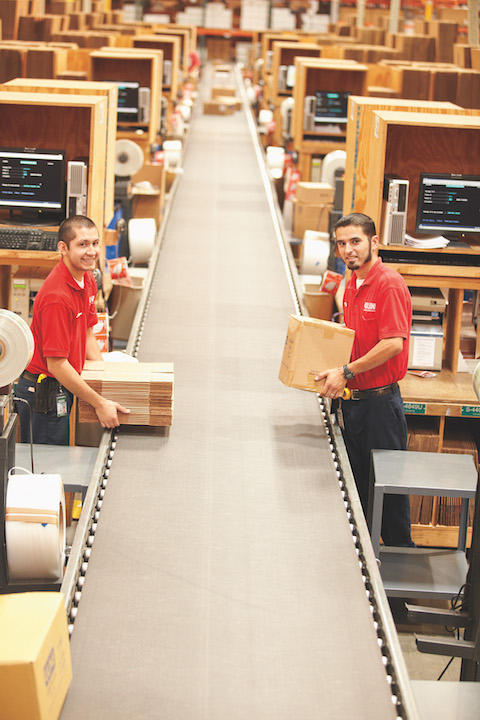 Quality and Value
When it comes to products, the company prides itself on quality, value and competitive prices. Some of its most popular products include moving boxes and shipping supplies. Its catalog features anything from boxes for wardrobe, dishes and glass to those for TVs, bicycles and mattresses. Uline also sells a large quantity of sand bags, burlap and cloth bags and gusseted bags.
"The majority of our products are bags and boxes but we go across many different categories," Ventrone says.
Other categories include bubble wrap, cushioning, Styrofoam peanuts and foam, envelopes and mailers and facility safety supplies. The company also has a large selection of retail and safety products.
Retail products include t-shirts, fabric bags, clothing racks and accessories, gift wraps and bags, foodservice packaging, wine boxes, retail marking guns and jewelry boxes and displays. Its safety products range from gloves, glasses and hearing protection to first aid kits, hard hats and traffic safety cones.
One of the company's hottest categories is its material-handling products. This category includes an array of hot sellers like shelves, bins and storage boxes along with more than a dozen varieties of pallets. "Shelving and bin storage is definitely one of our fastest-growing categories," Ventrone says.
Faster Than 911
Although every business stresses the importance of customer service, not everyone can claim that a living person will pick up the phone if a customer calls. Uline can. "We answer the phones faster than 911," Ventrone says. "And you will get a rep on the phone that is well trained and familiar with our products."
When it comes to customer satisfaction, Uline offers them a trial of 30 days. If not completely satisfied, they can return it for a no-hassle refund or credit. "Our customer service along with our quality products sets us apart from everyone," Ventrone says.
To further improve its service, the company is working with its carriers to offer real-time delivery tracking. These are generally cloud-based solutions that allow businesses and/or customers to get real-time access to event data through a custom mix of open source and proprietary tools.
"We're interested in offering better visibility for our customer's shipments – knowing when and where that customers will receive that delivery," Ventrone says. "Logistics technology is improving as we speak. We plan on changing with it."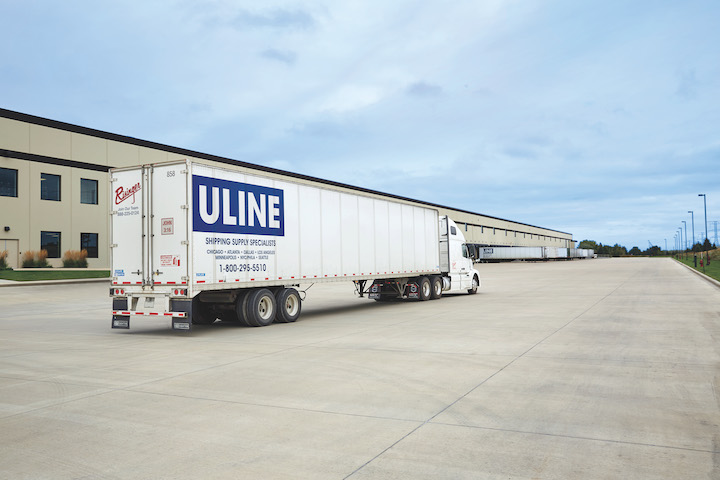 Of All Sizes
Founded in 1980, Uline got its start in a basement. Its founders, Liz and Dick Uihlein, recognized a need for a shipping supply distributor in their hometown in Wisconsin. They launched their business by selling carton sizers that reduce boxes to a desired size. Their H-101 carton sizer is still being sold today.
From a carton sizer, the Uihleins grew their business far beyond their own expectations. Their company, still family-operated, has grown into North America's leading distributor of shipping, packaging and industrial supplies.
As business grew, Uline expanded its product lines to include retail, safety, material-handling, industrial and packaging materials. The company's extensive catalog reaches businesses nationwide, offering thousands of products with quick delivery.
The company believes that offering good service means offering the finest quality and best selection of products with the quickest service in the industry. Its customers come from all walks of life.
"We cross many different industries," Ventrone says. "We are proud to say that we have thousands of customers. We don't rely on any one particular segment. We have many large Fortune 500 companies but we have many small customers as well."