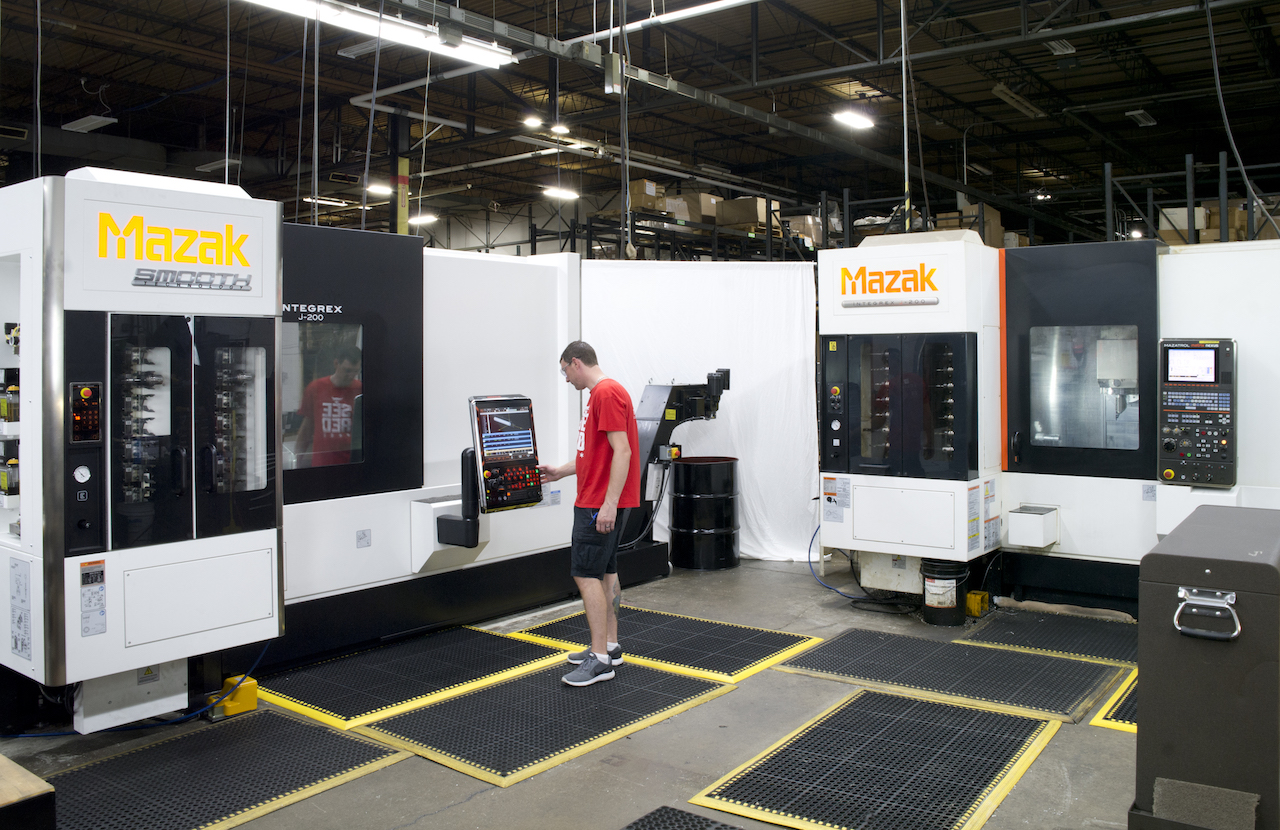 Dukane offers in-house tooling and machining for its plastic assembly equipment.
By Tim O'Connor
Dukane has touched many industries since it started 1922 as Operradio, a radio manufacturer. It was an early pioneer in commercial speakers and communications equipment before getting into the manufacturing of plastic assembly equipment in the early 1970s, which remains its primary business today.
Today, Dukane machines can be found on the shop floors of a wide range of manufacturers, used in everything from the assembly of automobile components and consumer devices to welding the plastic bonding for juice carton packaging. "Anybody that needs to put two pieces of plastic together could be our customers," President Mike Johnston says.
The variety of applications means that every machine is a little different even if the underlying equipment is the same. "The customer base is so broad and they all have different requirements," Johnston continues. Each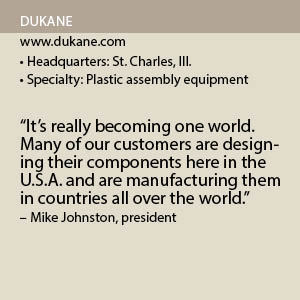 machine has at least some level of customization, whether it's in the tooling or how it is integrated into the client's assembly station.
No matter what the industry, Dukane works closely with its customers to ensure its machines match their specific application. The company is purposely built and organized to support its customers with extensive internal capabilities. "One of the things we do that is unique is we're all under one roof," Johnston explains. "The design of the custom tooling and the manufacturing of the machine is done in-house."
Because it is an all-in-one tooling and machine shop, Dukane is better able to fine-tune its assembly machines to improve the quality of the resulting plastic components. If a customer comes to Dukane needing to manufacture car taillights, for example, the company will assist their customers with production of a small batch of the components to test the quality and then modify the tooling or machine until the product meets specifications.
"We like to manage the customer's project from their initial concept of what they are going to build all the way until it gets to their production floor and then their customers," Johnston says. "It's important that we help them bring their products to fruition."
Global Reach
Although it is headquartered in St. Charles, Ill., Dukane's reach extends around the world. The company's facilities in the Czech Republic, Japan, China and India source standard machines from the main St. Charles plant and then manufacture custom parts to create solutions for international clients. The Chinese facility, located in Changzhou, also builds some of Dukane's standard equipment line.
Dukane's international presence grew even more with the recent opening of a facility in Santa Catarina, Mexico. The location opened as a technical office, but Dukane has purchased several CNC machines for the facility and plans to begin manufacturing custom tooling there before the end of the year.
The expansion in global operations is a reaction to rising international demand for plastic assembly equipment. Most of the tooling and design work still occurs at Dukane's St. Charles facility, but those plans can now be sent to other facilities that are either closer to the customer or located in countries where it is cheaper to manufacture products. "It's really becoming one world. Many of our customers are designing their components here in the U.S.A. and are manufacturing them in countries all over the world."
In those cases, communication is critical to overcome any differences that might arise between the design in Illinois and the manufacturing overseas. Here too, Dukane benefits from its size and ability to make adjustments using in-house resources. "We're small enough to have really good communication with our international facilities to make sure what you buy here is what our customers are going to get there," Johnston says.
That kind of global network requires a reliable shipping and logistics partner. Dukane found that partner in FedEx and made the courier company its global carrier for parcel packages. All Dukane locations now use FedEx to ship parts such as power supplies and generators, resulting in reduced costs and improved global service, according to Director of Operations Mike Breseman.
Extended Forecast
With a solution in place for global parts shipping, the most difficult challenge facing Dukane's supply chain is the scarcity of certain components. The company used to make many of its components in-house, but in the early 2000s it sold off several of its extraneous divisions and had to find outside suppliers to produce items such as printed circuit boards (PCB).
Vendors such as PCB maker Creation Technologies have scaled up their operations to keep up with Dukane's growth. But the emergence of new technologies such as drones, driverless cars, etc., have increased demand for PCBs and made it more difficult for suppliers to secure manufacturing materials.
The difficulty of securing materials has made forecasting even more critical. "If we don't have those PCBs on hand; we're not shipping any generators," Breseman says.
Dukane's lead-time to manufacture its standard plastic assembly equipment is two weeks. To ensure it has PCBs in inventory, the company is working collaboratively Creation Technologies to forecast demand nine months out.
It's not just PCBs, either. Dukane places blanket orders with its sheet metal provider for six to eight months of supply, and then receives regular shipments every month according to demand. By predicting demand so far in advance, the company strives to have three to six months worth of inventory for every component at its St. Charles facility. "We strive to keep optimum inventory levels to handle the fluctuations in customer demand," Breseman explains.
By locking in forecasting and supplies months ahead of delivery, Dukane mostly avoids last-minute requests. "We don't want to be the customer that is always pushing the panic button because that causes disruption in the supply chain," Breseman says.
Despite the use of blanket orders, parts aren't piling up in the warehouse. The company has maintained consistent inventory levels for the past five years even as it has grown. "Since I've been here we've grown almost 25 percent," says Breseman, who joined the company in 2012. "And from the supply chain perspective, we've met the challenge."