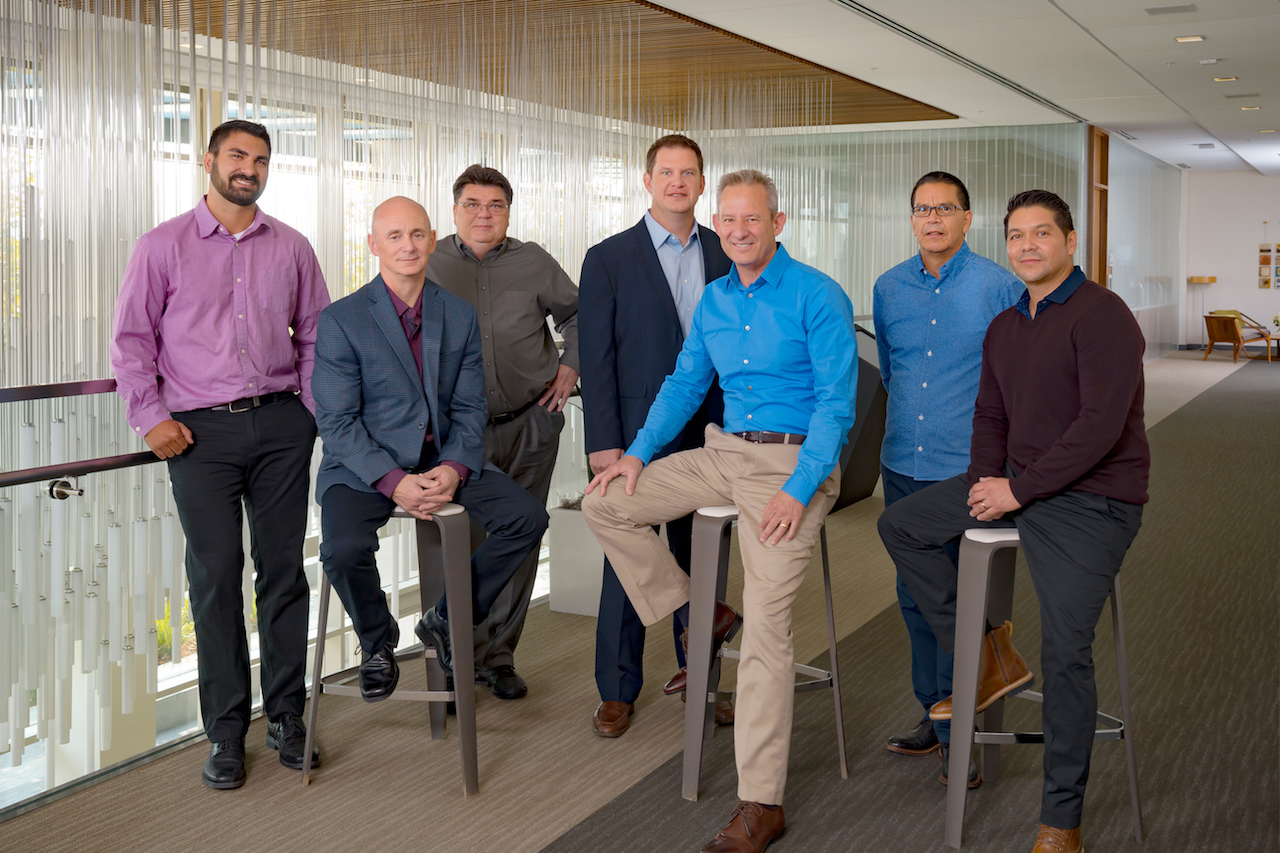 Combining logistics, repair, risk management and packaging operations
under one organization helped Juniper Networks
achieve operational efficiency and savings.
By Jim Harris
Combining four traditionally disparate functions into a single organization has enabled Juniper Networks to meet its mission to "connect everything and empower everyone." Within the past few years, The Sunnyvale, Calif.-based technology provider has expanded the role of its worldwide logistics team to also include repair operations, supply chain risk management and package engineering.
"Our operating model sets us apart," Vice President of Worldwide Logistics Rob Auslander says. "Integrating these functions allows us to leverage efficiencies, scale and people development."
The combined worldwide logistics organization has thus far saved the company between $2 million and $4 million.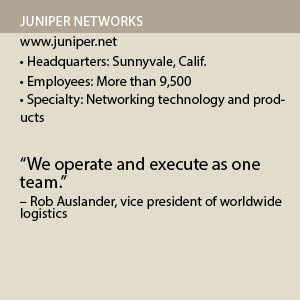 Some of this savings came as a direct result of merging logistics and package development functions.
"We ship the majority of our products by air, so our logistics cost is heavily dependent on the dimensional weight of our product packaging," Auslander says. "If the dimensional weight of our product packaging is greater than the actual weight, we pay freight premiums. Through package engineering, we can reduce the dimensional weight of our packaging and reduce freight premiums."
The 26-person logistics team operates across seven countries but shares resources and tools. Team members are trained across all four functions.
"We operate and execute as one team," he adds. "Instead of operating in traditional functional silos, we've been able to drive efficiency, scale and synergies across disparate functions that share similarities and commonalities."
Incorporated in 1996, Juniper Networks offers routing, switching and security products to many of the world's largest wired and wireless carriers, cable and satellite operators, content and Internet service providers.
Staying Predictable
Juniper Networks' worldwide logistics operation contracts with regional distribution centers in San Francisco; Laredo, Texas; Amsterdam and Hong Kong. The company also maintains a relationship with a third-party logistics provider (3PL) that handles shipping to and from the distribution centers as well as directly to customers.
Many of Juniper Networks' customers operate and build out large cloud and data centers that include equipment from multiple vendors. These customers require technical staff to be on hand to plan installations, making it critical for the company to deliver on time.
"Predictable delivery creates a competitive advantage for us," Auslander says. "Our ability to tightly manage in-transit, predictable deliveries is incredibly important for our customers."
To manage predictable deliveries, Juniper Networks created a dual logistics network that provides a standard and "expedited" delivery service to customers.
The company enhanced its logistics when it recently added SAP Event Manager capabilities to its existing SAP system. SAP Event Manager sends customers an advance shipping notice with a carrier hotlink that provides updates from its 3PL throughout the delivery process.
Juniper Networks uses lean and Six Sigma methodology such as key performance indicator tracking throughout the logistics operation.
Lowering Global Risks
The company's supply chain risk management operation focuses on three areas: crisis management, supply chain resiliency and business continuity planning. Risk management manages 350 suppliers across 2,800 manufacturing sites, and oversees 3,000 products with 37,000 parts.
Juniper Networks recently enhanced its ability to access and identify potential supply chain disruptions when it began using the Resilinc software-as-a-service (SaaS) platform.
"Calamities around the world necessitate an extended risk management team to vet incoming global events such as hurricanes, tornadoes or earthquakes against our supply chain network," Auslander says. "Data input from the Resilinc application is vetted by our centralized shared services risk management team located in Bangalore, India, who engages with our global commodity team to assess and act on risk mitigation plans."
The Bangalore team is located near Resilinc's technical support team. "This allows us to continuously optimize and refine the risk application against our supply network," he adds. "This is a fundamental step in our process to determine supply chain exposure, develop strategies and execute our mitigation plans."
Combined Volume
Recent improvements to Juniper Networks' repair operations include streamlining the company's number of repair partners and combining volumes.
"This meant transferring products manufactured by three different contract manufacturers to a single manufacturer," Auslander says. "The key efficiency play here was to establish a regional capability within the North America, [Europe, Middle East and Africa] EMEA and Asia-Pacific regions in order to reduce handling and transportation cycle time for product returns from global locations to a single repair site."
"The cost savings have been exceptional based on the cost per unit for repair and the overall reduction in logistics costs," he adds. "Combining the management of all partner sites has allowed us to more effectively leverage technical and project resources from our global contract manufacturing repair supplier."
Doing the Right Thing
Sustainability is a central focus of Juniper Networks' recent package engineering initiatives. The company is working with pack suppliers Reflex Packaging and Envision Plastics to supply material that would otherwise end up in the ocean or a landfill.
"[Envision Plastics] is committed to removing 10 million pounds of at-risk plastics from polluting our oceans by transforming at-risk plastic into reliable resin called Ocean Bound Plastic," Auslander says.
The material is used as cushioning within Juniper Networks' packages. "We are committed to drive environmentally friendly packaging solutions," he adds. "It's the right thing to do."