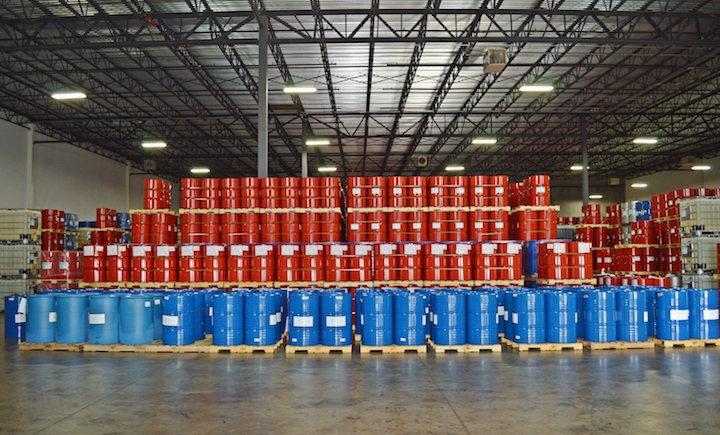 Palmer Logistics is willing to make long-term investments without trapping customers in lengthy binding agreements.
By Tim O'Connor
Because it is a privately owned company, Palmer Logistics can take the kind of risks and make forward-thinking investments that public corporations often dismiss for having a low return on investment. If a chemical company or drug maker needs more warehouse capacity, Palmer can buy more racking or sign a multi-year lease on a storage facility to scale up its operations without tying the client down with a lengthy contract that ensures it will recoup costs. "We're not beholden to the markets where I need a guaranteed rate of return," President Brett Mears says.
Customers recognize and appreciate the investment Palmer is willing to make on their behalves, making them more likely to form a long-term relationship. Most contract terms are one year or less, giving Palmer no guarantee that customer will become a profitable account. Instead, the company challenges itself to provide such a high level of service and value that customers will keep coming back. "Our goal is never to turn over a customer due to inferior service or value," Mears explains.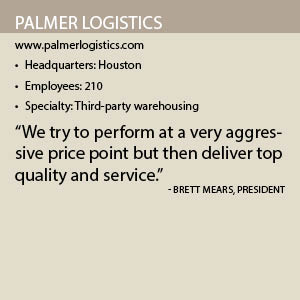 Investing in its customers is how Palmer grows. When a client finds success and needs more warehouse capacity, the expectation is that they will come to Palmer first. Its largest customer today, for example, started with only 10 truckloads of inventory. It now has 1,800 truckloads. "We're always trying to tailor value propositions around what our customer needs," Mears notes.
Custom Solutions
Palmer Logistics' roots date back to the 1920s when the Hermann family started a trucking company, Herman Services, in New Jersey. The family moved into warehousing in the 1960s, around the same time that Frank Rifeschlagger started Palmer Distribution Services as a warehouse and trucking company in Houston.
When Rifeschlagger passed away in the early 1980s, Union Carbide, a chemical company that was the top customer for both Palmer and Hermann Services, coordinated having Hermann Services' third-generation owner, William Hermann, take over management of Palmer. Hermann Services officially acquired the company in 1988 and it continued as a subsidy until 2000, when it was again spun off into an independent business.
Since taking over as president in 2002, Mears has turned Palmer into a $30 million company with 10 percent annual growth. He has done this by positioning it as a provider of the ideal level of value for customers in need of third-party logistics services. "We try to perform at a very aggressive price point but then deliver top quality as well," Mears says, likening Palmer to a department store that offers good value across a wide range of products.
Like many Houston companies, Palmer primarily serves the chemical, hazardous material and blending industries, but it also has customers involved in the forest products, food, pharmaceuticals and industrial goods markets. No matter who the customer is, Palmer builds its service offering around their needs rather than forcing the client to adopt processes or technologies that don't fit their systems.
Every relationship is unique. In some instances, Palmer might simply manage a client's ERP system while it helps another convert from a warehouse model to a turnkey cost model. "We take an open-minded approach to every part of the customer relationship to really give them what they want," Mears says.
Traditionally, 3PLs run off a complex WMS system that suits their operations but may not give customers all the information they want. Palmer has moved away from that model by utilizing its clients' ERP systems. "At the end of the day, they don't really care about our system," Mears notes. "They want it right in their system."
Embracing Automation
With more than 2 million square feet of warehouse space across a dozen warehouses in Houston and Grand Prairie, Texas, Palmer already has a major presence in region. However, preparing for the future will require even more space to support larger customers. But expanding its existing facilities or purchasing new ones is a difficult investment for a company trying to make a leap forward. Instead, Palmer is using new technologies to maximize its existing warehouse space.
The company recently took a major step forward in that regard when it invested $850,000 in a new pallet shuttle racking solution that uses an automated vehicle on rails to move goods to the back or front of a racking tunnel for retrieval or storage. The system, which is the first of its kind in Texas, was built to save floor space by allowing for deeper racking, but Mears also expects to see productivity gains because workers will spend less time pulling products from shelves. "You're getting a tremendous amount of labor savings in that run-time," he says.
Palmer has already installed 2,300 pallet positions and is planning another 1,700 before the end of this year. Between the space savings and productivity gains, Mears expects the system to pay for itself within two years.
Not content to stop at the innovation in pallet shuttle racking, Palmer recently brought in a consultant to evaluate its internal technologies and develop methods to provide customers with more data. "We're moving toward much more sophisticated solutions for our customers," Mears says. "We're basically transitioning from a small business to a mid-sized business."
New technologies will help Palmer make the most of its existing warehouse space, but there is still a physical limit to how much stuff can fit inside a building. To create more capacity, Palmer is planning to add one or two warehouse facilities each year and could even expand into other port markets such as Mobile, Ala., New Orleans or Savannah, Ga.
"We still see a lot of growth potential in Houston alone, but we're looking to spread our wings," Mears says. "We feel like our expertise with international shipping can be exported to other markets as well."