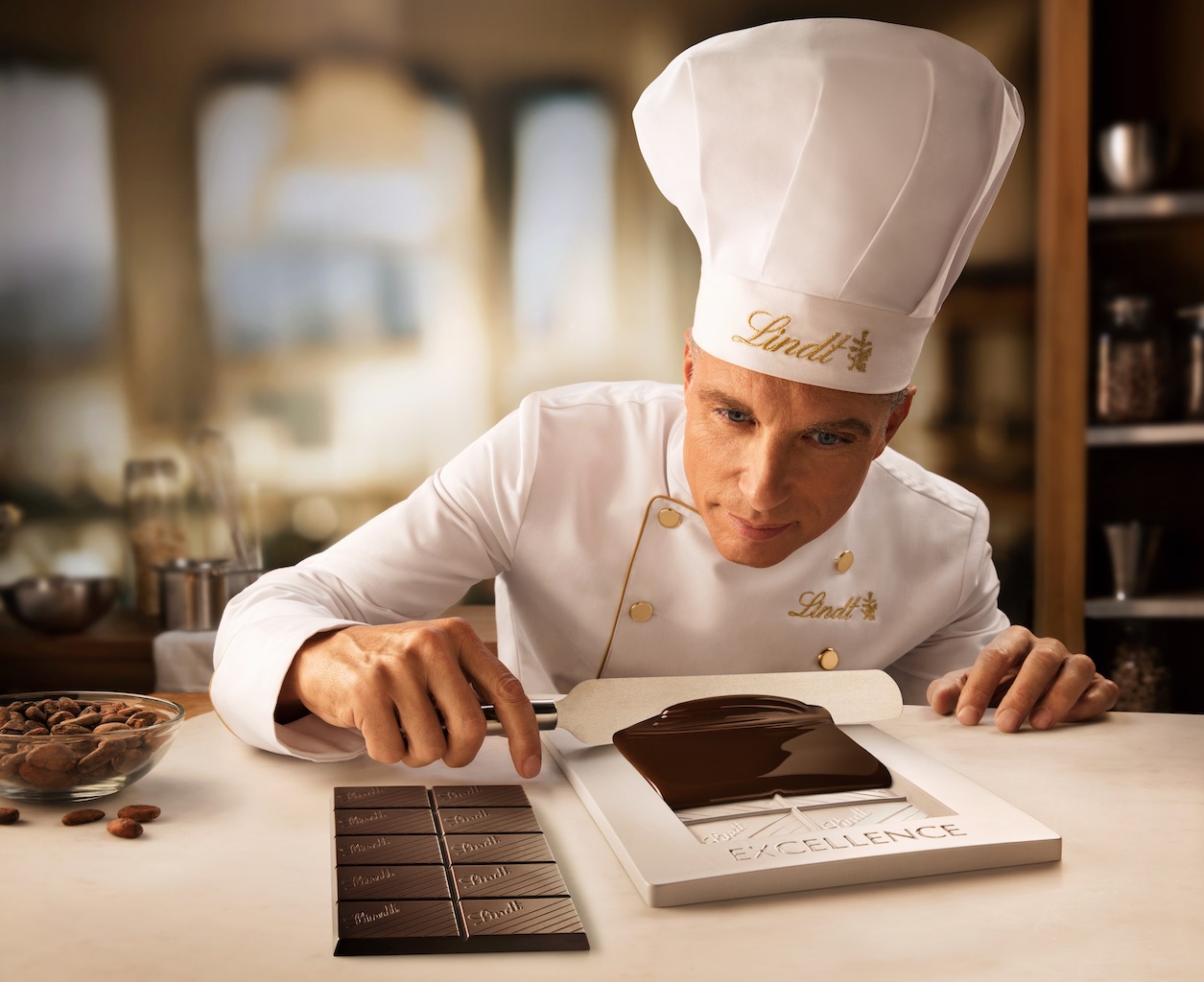 Lindt & Sprüngli USA aims to tap further into the chocolate market
with innovative technologies and a quality, premium product.
By Bianca Herron
Lindt & Sprüngli is an international manufacturer, distributor and retailer of premium chocolate. Since its founding in Switzerland 170 years ago, the company has been driven by its passion, dedication and innovative spirit to create the ultimate chocolate.
Founders David Sprüngli-Schwarz and his son, Rudolf Sprüngli-Ammann, sparked that creative spirit in a small confectionery shop in the Marktgasse of Zurich's Old Town in 1845.
Several years later, in 1879, Rudolf invented the conche, a surface-scraping mixer that evenly distributes cocoa butter within chocolate. His invention produced chocolate with superior aroma and melting characteristics compared to other processes used at the time, says Senior Director of Supply Chain Planning David Abbott. "The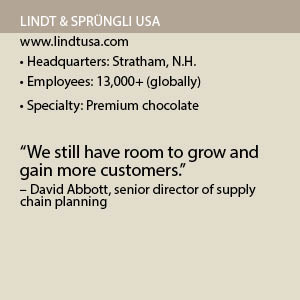 concepts from Rudolf's machine are used today by all chocolate manufacturers," he says proudly. "It really revolutionized chocolate and its taste."
Lindt & Sprüngli has grown significantly since its founding. Today, the Kilchberg, Switzerland based company offers products in 120 countries, employs more than 13,000, and has 12 production facilities located in Europe and the United States combined.
Domestic Growth
In addition to selling to retailers including Walgreens, Walmart and Kroger's, Lindt & Sprüngli (USA) has its own business-to-business, e-commerce and retail business boasting more than 60 locations in the United States.
The company has 22 subsidiaries worldwide. "Lindt & Sprüngli USA is located in Stratham, N.H., which serves as our U.S. headquarters as well as a chocolate manufacturing location," Abbott says.
Lindt & Sprüngli (USA) was founded in 1989 after its management at the time saw an opportunity to develop the market by creating a subsidiary, according to Abbott. "Prior to having a subsidiary in the United States we had only small scale distributors in the United States who sold a small volume," he explains.
Over time, the company became a vertical operation. "Originally, we only imported goods from our Swiss plant," Abbott says. "Then as economies of scale were created we started to domestically invest in chocolate manufacturing equipment. At that time we would import Lindt chocolate liquor blocks that each weighed one metric ton in order to melt them down and then mold into various forms domestically."
Lindt & Sprüngli slowly carved out its own lane in the United States, ultimately building out its production as its business grew. "Lindt really brought premium chocolate to the U.S. market," Abbott says. "Before we entered the market there was virtually nothing known about premium chocolate."
Seven years ago, Lindt & Sprüngli built its own chocolate liquor production facility. Now it has the capacity to import and roast its own cocoa beans, and is in control of "the entire process on site" through to producing its chocolate bars and other products, Abbott says.
The company's significant growth in the U.S. also led to Lindt & Sprüngli launching a new 421,000-square-foot, state-of-the-art distribution center two years ago in Carlisle, PA.
"Not only did our size and sales get bigger, but also the footprint of our manufacturing and distribution," Abbott explains. "We saw that we needed more space for distribution, co-packing capabilities and warehousing. Carlisle is a great location for it. We're capitalizing on everything that we can, including stand-up displays in stores, to get our brand noticed further."
Supply and Demand
Despite its significant growth, the challenge for Lindt & Sprüngli has been keeping up with its supply chain's demands. "We need to stay ahead of it because of the scale," Abbott says. "For example, when we run out of capacity to make our LINDOR truffles, buying a new machine has a long lead time from designing, to buying, installing and producing LINDOR truffles from it."
The company has a multi-year strategic plan process detailing what it expects to happen in the market, as well as how to manage and execute whatever comes its way. "During our growth every year we could face a different issue," Abbott (seen below) explains. For example, he notes that as equip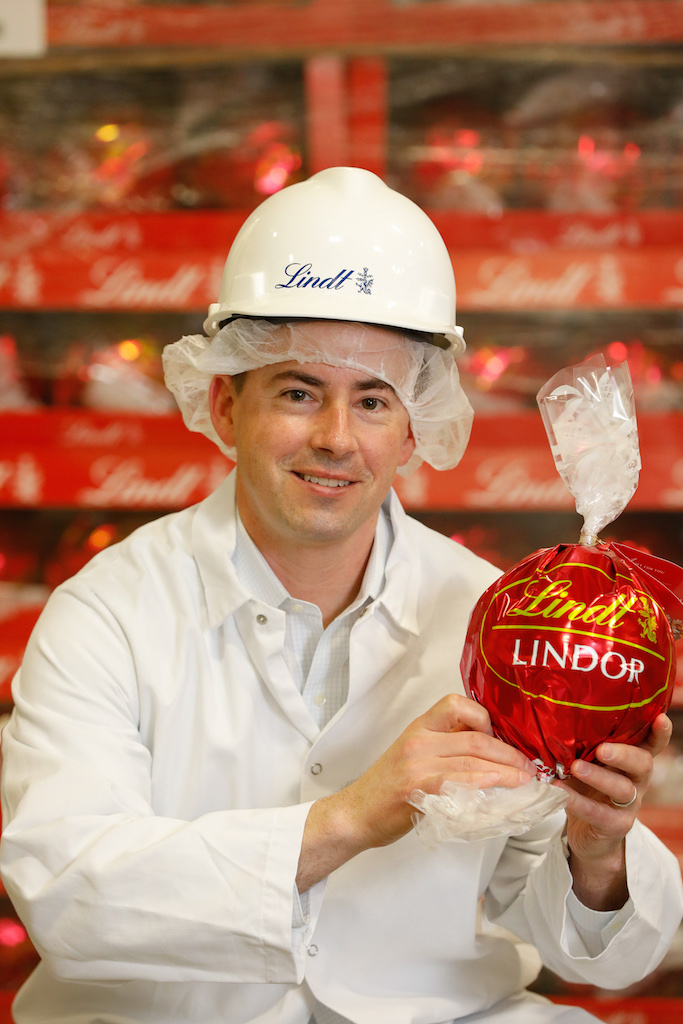 ment at a certain step in the overall process is projected to become a constraint, Lindt & Sprüngli would only buy what's needed to remain cost-effective while supporting demand.
As a manufacturer of premium chocolate, it's important that Lindt & Sprüngli has the best cutting-edge equipment and technology in its production process. Its technology, Abbott notes, is a key driver to help it maintain quality control. "From a customer's perspective, we want our product to taste the same whether they're in Europe or America," Abbott says. "We don't want them to taste a difference."
Technology is also playing a critical role in helping Lindt & Sprüngli manage its inventory. This is key because the company has to closely manage shelf life due to having seasonality in its business, according to Abbott. He adds that more than 50 percent of Lindt & Sprüngli's sales and shipments are sent out the last four months of the year.
"We pay close attention to our inventories," Abbott says. "We have to have some agility to be able to react to changes in the marketplace. That only comes through good visibility of the data and good employees that know what to do with it, which streamlines our processes and keeps our operations efficient."
Staying Cool
Lindt & Sprüngli has more recently increased its focus on integrated business planning (IBP) to help it improve its overall business results. The company is not only concentrating on its people, processes and systems, but also quantifying its demand as "accurately as possible."
The company has seen positive results so far, Abbott says, noting that its fill rate levels are up more than 3 percent, while its forecast accuracy is up more than 7 percent.
"Destructions are down as well, even though we actually don't destroy but rather donate chocolate," he explains. "However, destruction is one of the areas we're always careful of. Through this IBP, year-to-date, we're actually down more than 25 percent of destruction."
"We've made some good strides in this past year," he adds. "We want to get the most accurate demand signal that we can and match the supply appropriately."
Additionally, Lindt & Sprüngli is investing more in its product lifecycle management (PLM) to be able to deliver new products to the market in a short timeframe and remain nimble. "Tight transition times of items create a lot of stress on the supply chain," Abbott says. "So our PLM efforts are aimed to ensure we're meeting the needs of our customers. We're trying to balance innovation with complexity and cost."
Finding that balance is always a challenge, Abbott notes, adding, "If you can live within a balance, you'll have good results."
Lindt & Sprüngli has found a balance that works by storing and transporting its product at a certain temperature and humidity. That is why the company calls its supply chain a "cool chain" because it doesn't freeze its chocolate.
"When we bring over containers of product either from Europe or ship to a Lindt subsidiary, it goes in a refrigerated container – not a dry container – set to our specific settings," Abbott says.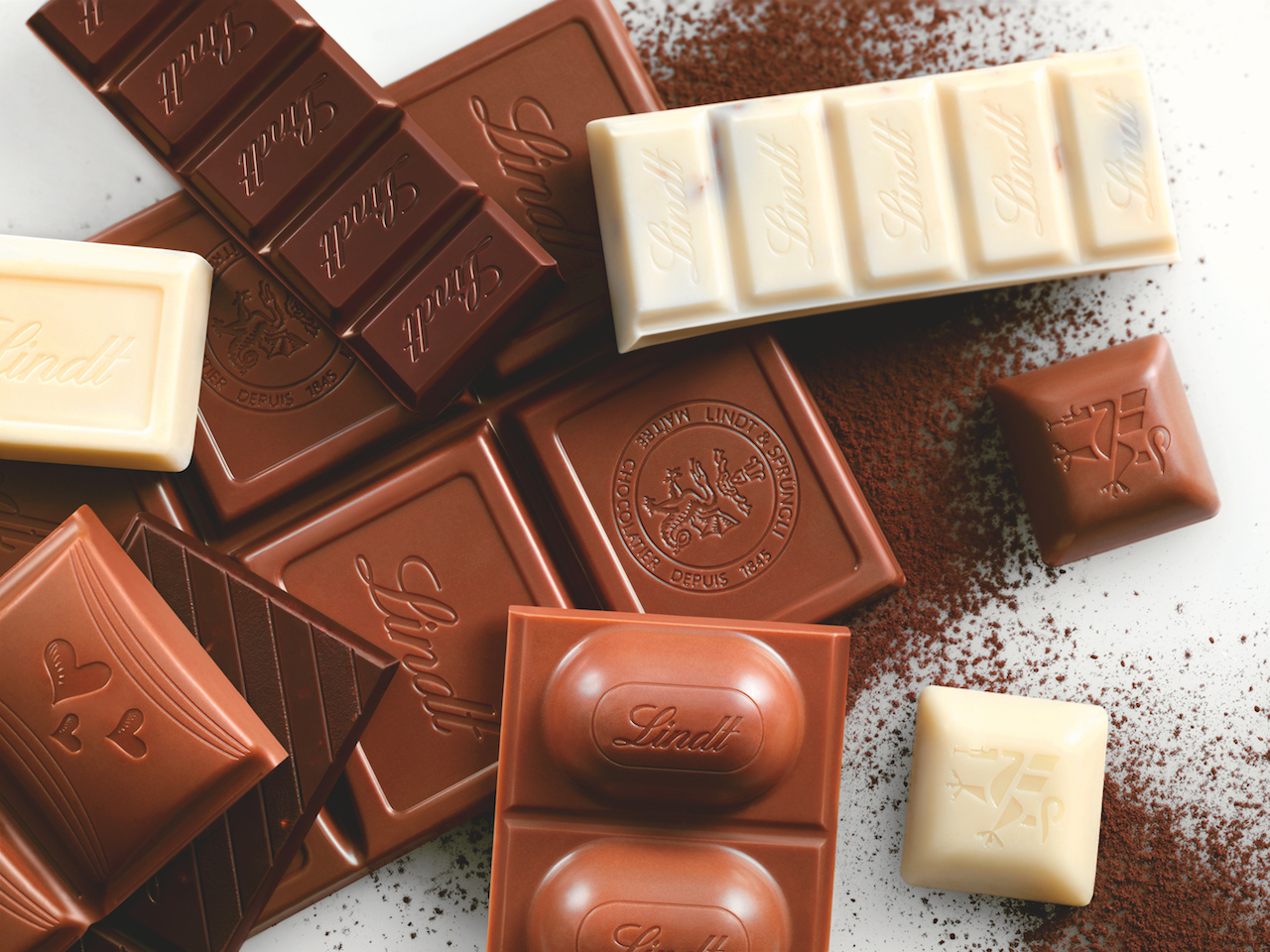 "The cool chain is not as prevalent as dry containers and storage, so as we grow we need to ensure we have the capacity and processes in place to store things as we need them."
Lindt & Sprüngli monitors its product shipments with RFID-type monitors to ensure temperature and humidity do not deviate from its standards. "It's quite a science to it, but I think we've got it down," Abbott says. "It all goes back to ensuring that when our product arrives at stores, customers get the best tasting, highest quality premium product."
Working Together
Lindt & Sprüngli seeks out premium, reliable suppliers to help it manufacture its chocolate. Having operated in the U.S. market for 27 years, the company has developed and maintained several supplier relationships.
"Being in the market, again as a quality product, we have very high expectations of our suppliers," Abbott says. "Whether it's the actual ingredients for the chocolate or the packaging, we take it very seriously because the whole presentation represents Lindt."
How its chocolate is represented in the packaging has a great impact on the consumer, Abbott notes. He adds that Lindt & Sprüngli has to deliver a consistent quality product from its packaging's graphics all the way through to the required ingredients.
Additionally, Lindt & Sprüngli's more than 13,000 employees are critical to its success. Although each manufacturing facility may have additional training procedures, the company has Lindt & Sprüngli-specific training called the Lindt Production Way, which is a continuous improvement program.
"All of our employees are trained through this," Abbott says. "It's a way to empower the people that are actually making our chocolate in order to improve and maintain efficiency and quality."
The company also trains to maintain the quality of its chocolate with the help of its Master Chocolatiers. "Each country has its own Master Chocolatiers, who not only develop new recipes, but also represent the quality and tradition of our products," Abbott says.
Although only some of its products are made in certain production facilities and others in multiple ones, Lindt & Sprüngli takes the transferring of its recipes very seriously. "We value the recipes and the construction of the chocolate in-house," Abbott notes. "Our recipe transfers between facilities must be successful to ensure our products' taste is the same wherever they are made."
In addition to its Master Chocolatiers, Lindt & Sprüngli has a stringent process for replicating recipes, including a sensory board process in each country. "In Switzerland we have a master sensory board," Abbott says. "They are the experts who help ensure the taste is consistent and meets all of our standards."
Looking Ahead
Abbott has been an important part of the company's U.S. expansion and development since he joined Lindt & Sprüngli in 2006. Abbott is responsible for production planning, demand planning, S&OP, inventory control, inbound logistics and import/export activities.
As Lindt & Sprüngli moves forward, Abbott notes it aims to become an even bigger player in the U.S. market. "We still have room to grow and gain more customers," Abbott says, noting that Lindt & Sprüngli owns other brands in the U.S. such as Ghirardelli and Russell Stover.
"We also believe there are future opportunities for synergies and benchmarking between our U.S. brands," he says.
Additionally, the company has recently released several exciting new products including a LINDOR Fudge Swirl truffle, and new seasonal truffle flavors such as LINDOR Gingerbread, and LINDOR Peppermint Cookie for Christmas and the holidays.
"We're making these products in Stratham, which is very exciting," Abbott concludes. "We've really invested in our R&D locally to make flavors that resonate more with the U.S. consumer. Having our own R&D is great because in addition to our international innovations it allows us to create our own pipeline of products catered to the customers' unique palates."