Blount International Inc.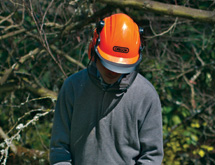 There are many companies that manufacture chainsaw-related products, but Blount Inter­national's history harkens back to the invention of the modern cutting chain used on chainsaws today, Director of Global Planning Kent Turnbull says.
Based in Portland, Ore., the company manufactures the majority of the world's saw chains, along with guide bars, drive sprockets and other related products, for the chainsaw industry, as well as lawnmower blades used in the lawn and garden markets. Blount also markets log splitters and other equipment used in the farm, ranch and agriculture markets.
Blount's history goes back to 1947, when logger and inventor Joe Cox got the idea for a new type of saw chain after seeing how efficiently timber beetle larva chewed their way through wood. "He observed that as the beetle larva chewed through the wood, their jaws alternated left and right," Turnbull explains. "This is where the concept of left and right hand cutters on the cutting chain was realized."
That same year, Cox founded his company, Oregon Saw Chain, and operated it out of his home. As it grew, the company added several employees, including John Gray, who purchased it in 1953. Four years later, it was renamed Omark Industries.
Blount International, a construction-related firm in Alabama, purchased the company in 1985. Six years later, Blount started its ICS division, which focuses on selling chainsaws to the construction industry. Today, the company remains focused on "almost anything that goes with a chain saw," Turnbull says. Its products include guide bars, sprockets, lawnmower blades, and "almost anything that cuts vegetation."
More than 60 years after Joe Cox had his great idea, "We are the world's largest supplier of cutting chains for chainsaws," Turnbull says, "and saw chain sales comprise a significant portion of the firm's business."
Staying Ahead
Blount's industry can be challenging, but last year it had sales of more than $900 million. "Two years ago, we were roughly two-thirds of that," Global Logistics Manager Alfredo Camacho recalls. The growth has been attributed to the execution of the company's strategic initiatives, which include acquisitions, innovating within and growing our core business, and investment in enhancing our global supply chain capabilities.
The company has managed economic downturns by staying focused on quality and costs, Turnbull says. "That's been ongoing since the company was founded," he says. For instance, in the 1980s, it was an early adopter of what came to be known as lean manufacturing. "Omark was very leading-edge," he recalls. "For example, they were studying the Japanese management techniques to apply here at Blount."
More recently, an important initiative was Blount's adoption of a shared services model in 2010 across all supply chain functions. The company applied the model to areas such as logistics, global planning, and procurement. "It has really solidified our global capabilities and helped us achieve cost savings that would not have been possible otherwise," Camacho says. "We've been able to do a lot more with less going down this path."
For example, the company's core logistics functions were centralized in Portland and that allowed it to conduct holistic negotiations with its carrier base by taking into account Blount's global freight volumes. These volume-pooling opportunities alone have generated significant freight savings for the company.
The company's efforts have paid off. "Within the last two years, we've reached the significant milestones in overall supply chain cost savings," Camacho says, adding that Blount International has also increased its efficiency by up to 30 percent. "We've automated our U.S. import activity by integrating our PO placement, freight and customs clearance functions with our forwarding partner."
Being A Better Customer
Blount maintains long-term relationships with its suppliers, Director of Procurement Henry Kayler says. "We rely on our suppliers, and they rely on us," he says. "We regularly evaluate their performance and give them [honest] feedback. We have several suppliers that we've been doing business with for over 20 years."
Recently, Blount started asking its suppliers for feedback on how it could be a better customer. "It opened quite an interesting dialogue," Global Supply Planning Manager Paula Hertz says. "As part of the Planning team, we are often responding to what our customers ask of us. It made sense, in the spirit of partnership and best practices, to ask our suppliers how we can be better customers; thus creating more equitable and profitable alliances."
The suggestions Blount received often centered on the frequency of its orders and the amounts of products requested. "Some preferred smaller quantities more frequently," Hertz recalls. "But some of our suppliers wanted significant quantities at a [certain] time of year."
Guided by PQLIR
To supplement its shared service structure, Blount has continued to use third-party logistics providers. Recently, the company reduced the size of its carrier base, which includes the global partnerships with FedEx, C.H. Robinson Worldwide Inc., and Expeditors International.
Blount also has started evaluating its suppliers, Kayler says. "They needed to know we're critiquing their performance," he says. The company grades suppliers on factors such as pricing, quality, logistics, innovation and risk, which it puts under the acronym PQLIR.
Although Blount obviously looks for fair prices and high quality from its suppliers, it also looks for them to always deliver on time, Kayler says. Also, if the supplier has a new innovation, "We want them to bring it to us first," he says.
Additionally, when it comes to risk management, Kayler says Blount takes a conservative approach.
Leading the Pack
With the recent appointment of Chairman and CEO Joshua L. Collins, Blount International has exciting times ahead, Hertz says. She predicts that the company will continue looking for areas to improve and enhance its operations. "Continuous improvement and Lean manufacturing principles are cornerstones in our approach to managing our business.
"All the right things are going on," she says, noting the firm has sustained itself as the leader of in the saw chain market while diversifying.
The firm also intends to expand its reach internationally by taking the newly acquired product lines global. Although Blount has grown through acquisitions in recent years, "The largest acquisitions were domestic and focused primarily on the U.S. market," Camacho says. The company expects the acquired product lines to drive growth while it also continues to invest in its existing core capabilities in order to support growth.
Looking ahead, "We have created a significant amount of momentum as a company, and we are focused on integrating our new businesses, operational excellence, and enhancing our performance-oriented culture continuous improvement," Turnbull says. "These areas will drive our initiatives and performance over the next few years."­­­