Mountain States Health Alliance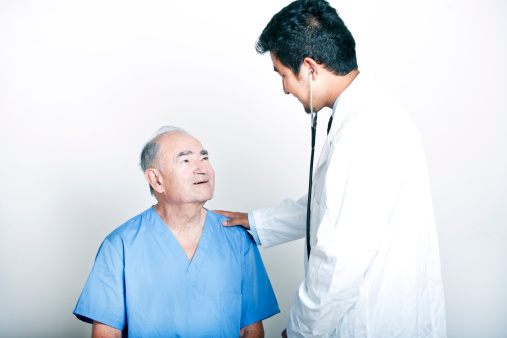 Patient-centered care at all Mountain States Health Alliance facilities is the No. 1 priority.
Mountain States Health Alliance (MSHA) has served Tennessee, Virginia, Kentucky and North Carolina for nearly 20 years. The Johnson City, Tenn.-based healthcare organization operates 13 hospitals, including a trauma center and children's hospital, which serve 29 counties.
Mountain States offers services in 90 locations through more than 250 providers. Its employees consist of primary care physicians, as well as several specialty physicians who are committed tocaring for and earning its patients' trust.
"Mountain States Health Alliance is committed to bringing loving care to healthcare," the company says. "We exist to identify and respond to the healthcare needs of individuals and communities in our region, as well as assist them in attaining their highest possible level of health."
The organization emphasizes four core values – integrity, service, leadership and excellence – and aims to create a world-class healthcare system by healing patients' minds, bodies and spirit.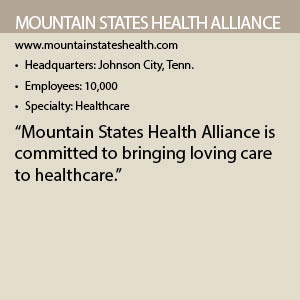 "Mountain States team members create relationships, environments and service delivery centered on the patient," the company explains. "Mountain States caregivers believe that healing can exist without curing, but healing cannot exist without caring."
From pet therapy to "healing gardens," patient-centered care at all Mountain States facilities is the No. 1 priority, the company notes. "Our projects and events continually reflect commitment to the patient," Mountain States says. "At MSHA, patient-centered care is rooted in our daily actions as we bring loving care to health care for our patients and their families."
Award-Winning
Over the course of its history, Mountain States has won numerous awards, including being named one of "Top 100 Hospitals" in 2016 by Truven Health Analytics.
"The people of our community can feel confident they're getting award-winning medical care from the hospitals of Mountain States Health Alliance," the company says. "We are proud of the many national, quality awards our hospitals have received. We thank our team members and physicians for making this possible."
Mountain States also has a system award called Servant's Heart, which was created in 2004 to recognize team members, volunteers and physicians who exemplify its patient-centered care philosophy.
"We recognize the important part that team members, medical staff and volunteers play in our overall success," the company says. "The award is given to individuals recognized by their peers for displaying the heart of a servant by going above and beyond the normal call of duty in helping others at work and in the community."
Community Engagement
Giving back to the communities it serves is just as important as providing them with quality healthcare, Mountain States notes. "MSHA has long supported the needs of those less fortunate with contributions, in-kind and with cash, to organizations throughout our region," the company says.
"Whether made through corporate contributions or through one of our hospital facilities, MSHA continues to support charitable causes that better the life, health and environment of our communities with a special emphasis on serving the less fortunate," the company adds.
Mountain States also partners with many service and social organizations that "reach out" to families and individuals in need. "Coupled with our company's financial support, many of our associates devote their time, energy, expertise and resources to support community development, disaster recovery, and other programs that improve living conditions for the elderly and disadvantaged," the company notes.
"Because social responsibility is very important to our company and its leadership, we are always glad to consider benevolent causes," Mountain States concludes.