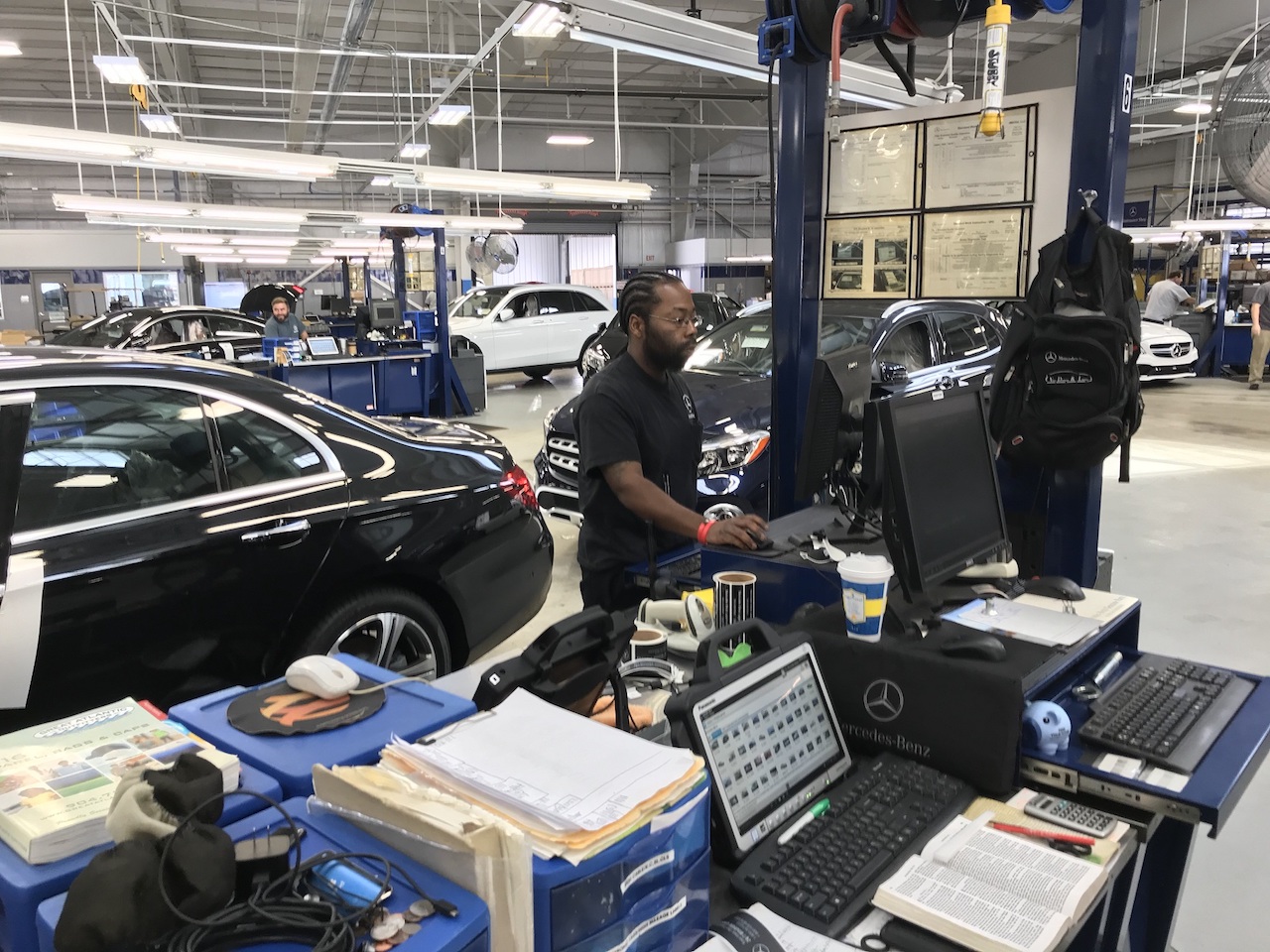 Mercedes-Benz USA has the people and facility infrastructure in place to support its growth.
By Tim O'Connor
When Rory Hepner and her team visit the carriers that transport trucks across the country for Mercedes-Benz, they often hand out small gifts such as hats and T-shirts or they may host a cookout for drivers. Those are small gestures, but ones that show the company's appreciation for its carriers and acknowledge their contributions toward making Mercedes-Benz one of the world's leading premium automakers.
"Our goal is that we do everything in our power to make sure our partners are profitable as well as we are," says Hepner, general manager of vehicle distribution and logistics for Mercedes-Benz USA. "The way we do that is by having open dialog and open communication, and we've made great strides in reestablishing our partnerships."
Showing that appreciation was especially important in the wake of the Great Recession when Mercedes-Benz – like many manufactures – was forced to become more cost-driven to withstand the global economic downturn. On the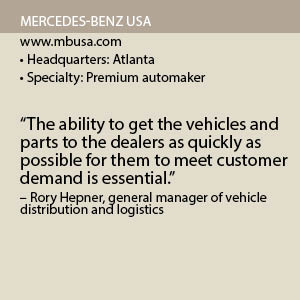 logistics side, the push for lower prices strained relationships with many carriers. As the economy rebounded and car sales picked up, Mercedes-Benz recognized the need to see beyond the cost to the overall health of its logistics network. "We determined that we had to reignite our philosophy and our culture for our partners," Hepner says.
Among the steps Mercedes-Benz took was the creation of a conference for carriers held every other year beginning in 2011. The event is an opportunity for Mercedes-Benz representatives such as Hepner to meet face-to-face with truck, rail and sea carriers, and to discuss areas for improvement. "It's something new we've started and we've gotten better at engaging all forms of transportation," Hepner says of the conference, which was last held in March in Las Vegas.
On the even years when there is no conference, the company still holds meetings with each of its carriers so they can learn about each others' challenges. By understanding those problems, Mercedes-Benz can create solutions such as its after-hours delivery program that allows carriers to drop vehicle shipments off in a secure location at a dealership overnight, giving them the flexibility to adjust routes and schedules to avoid heavy traffic periods.
"We spend a lot of time communicating and sharing information with our logistics providers so they can plan accordingly with their operations," Hepner notes. "By doing that, it allows both our operations to be more efficient."
VPC Strategy
Hepner has worked for Mercedes-Benz for 25 years, spending the bulk of her career in sales and franchising at both the regional and national levels. Her time in sales and franchising has given Hepner a wider perspective of Mercedes-Benz's operations and better understanding of the needs of its dealers, making her a more effective head of supply chain.
That perspective has helped Hepner bridge the cultural differences of the American market with those of parent company Daimler AG's other markets. In the United States, customers who visit a dealer with the intent to buy expect to leave with a car the same day, or have one delivered within a few weeks at most. Not having a vehicle ready on site can result in a lost sale. However, in most other countries, like Daimler's native Germany, customers are more patient and are used to waiting as long as three months for their car order to be fulfilled.
Because of this dichotomy, Hepner says there is always a tug between how Mercedes-Benz's administration and its dealers want to handle vehicle delivery and inventory. To satisfy both those sides, the North American division must tailor its supply chain to support American's unique buying habits. "The ability to get the vehicles and parts to the dealers as quickly as possible for them to meet customer demand is essential," Hepner says.
Since transferring from sales to vehicle distribution and logistics, Hepner's focus has been on how to improve Mercedes-Benz USA's operational processes to accelerate the delivery of vehicles while taking into consideration which models buyers want most. That transformation began in 2008, when the auto manufacturer developed a long-term strategy for supporting its anticipated volume growth in the United States.
The first major step of that strategy occurred in 2010, when Mercedes-Benz moved into its new vehicle preparation center (VPC) in Baltimore. The facility, which sits on 78 acres adjacent to the Port of Baltimore, is the first stop for vehicles that have cleared customs after being shipped from overseas. Once transferred to the VPC, Mercedes-Benz USA processes the vehicles and outfits them with accessories, then coordinates pick-up by the carrier for delivery to the destination dealer.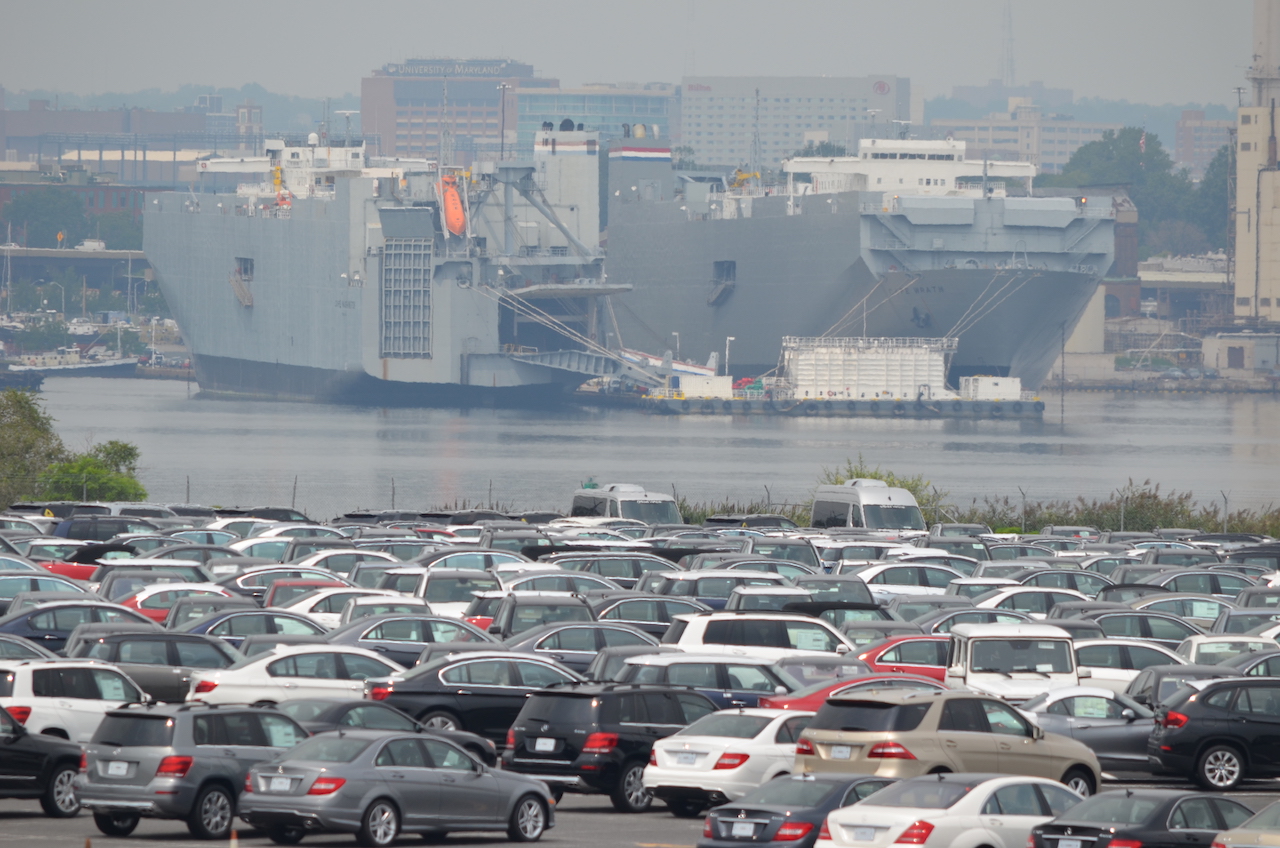 The VPCs are designed for speed. The time between when a vehicle arrives at the port until the carrier picks it up for delivery is typically three days, ensuring dealers have a steady income of fresh stock. "We have improved tremendously on our ability to get vehicles in and out," Hepner says. "That's because our facilities now are right-sized so we can handle the volume that comes in on a daily basis."
The Baltimore VPC serves the entire NAFTA region, creating opportunities to standardize some delivery operations for dealers in the three NAFTA countries. "Are there ways for us to create efficiencies for Canada, Mexico and the United States?" Hepner asks, adding that Mercedes-Benz is working to identify potential synergies.
The effectiveness of the VPCs is tied to their capacity, leading Mercedes-Benz to constantly look for ways to take in more cars. In some cases, that has meant moving or opening new VPCs. In 2010, the company relocated its VPC in Jacksonville, Fla., to a 100-acre site in Brunswick, Ga., at the Georgia Ports Authority's Colonel's Island facility. The move enabled the automaker to nearly double the capacity of the VPC from 4,600 vehicles per month to 8,500, putting it in a better position to serve the growing southeast market.
The most recent addition to Mercedes-Benz's VPC network came in 2015 when it expanded and relocated its West Coast VPC to a facility near the Port of Long Beach in California. Unlike its other VPCs, the Long Beach facility is not located directly at the port; rather, it operates out of a converted aircraft manufacturing plant about eight miles away. The distance adds another step in the vehicle preparation process. Instead of seamlessly moving the vehicles from the cargo ship to the adjacent VPC, Mercedes-Benz must shuttle the cars from the port to its facility, adding about a day to the total preparation time.
With the expansion of the Long Beach VPC and the added capacity at its other locations, Mercedes-Benz has reduced delivery times to dealers. But Hepner understands the company can still improve inch by inch. "There's always something that we can do to improve upon our operational facilities as well as your capacities, which we are always focused on doing," she says.
IT Edge
Having spent most of the past decade working on its people and facility infrastructure, Mercedes-Benz is shifting its focus to improving its IT infrastructure. The company recently implemented electronic proof of delivery (ePOD) across its dealership network. The system replaces the traditional paper-based documentation during vehicle handovers and had already been adopted by many major car manufacturers.
However, Hepner says Mercedes-Benz actually benefited by waiting for the system to reach widespread use. "One of the benefits of being last to the market was that everybody embraced it," she explains. "We had very minimal objection to EPOD from any of our dealers."
The next step for the company is to upgrade its inventory management system to not only enhance how dealerships order cars but also create more transparency in the supply chain. Mercedes-Benz is preparing to send the system out for bids and Hepner is hopeful it will be in place by the end of 2018.
"We're fully committed to having the best facilities and systems in place to support the distribution of our vehicles," Hepner says. "We want to work tirelessly with our partners to develop that so we can be successful."