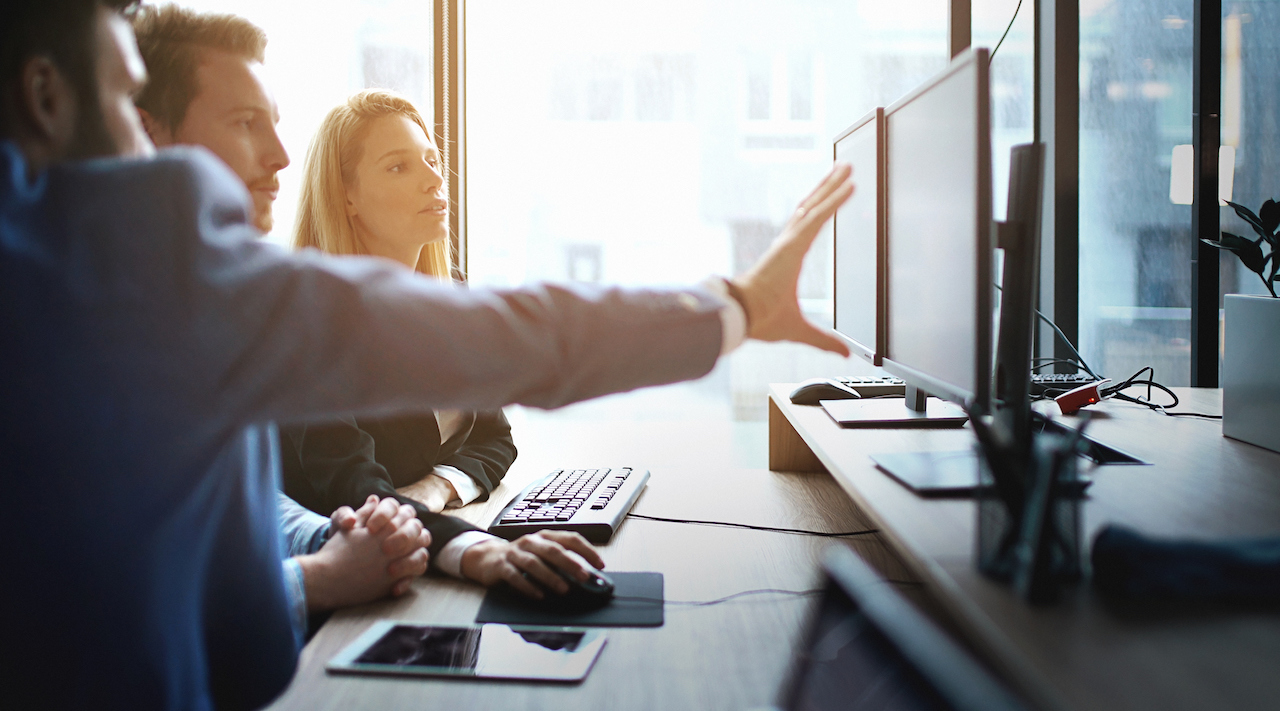 R2 Logistics develops a new transportation system that focuses on a shipper's perspective.
By Kat Zeman
A global provider of transportation services and logistics solutions, R2 Logistics is driving forward with a new game-changing technology.
The third-party logistics company has developed a transportation management system (TMS) that compiles all transportation data, spend data, cost history and carrier performance.
"It's been developed from a shipper's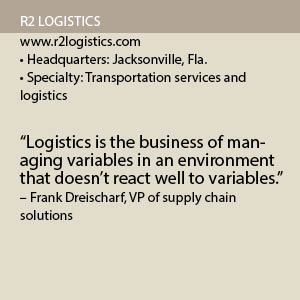 perspective," says Frank Dreischarf, vice president of supply chain solutions. "It really excels in the data aggregation phase."
Most transportation systems are very similar, he says. Their common traits include dynamic routing, auditing, modal decision-making and auto tendering. "Ours does all of that plus it excels at development, data reporting and service reporting and cost reporting," Dreischarf explains. "It really helps shippers identify inefficiencies inside their supply chain."
R2 Logistics implemented the new system this year and is working on the next 3.0 version that will feature mobile reporting capabilities. "We're in the final stages of testing that now," Dreischarf says, adding it should be available next year.
Growing Bigger
Founded in 2007, the company has grown from a small carrier for the automotive industry to a $100 million global provider with access to thousands of contracted transportation providers. It offers customized logistics and supply chain solutions, and evaluates logistics and distribution networks to maximize flexibility. Using real-time data and analytics, R2 Logistics helps its customers drive out inefficiencies, reduce costs and improve customer service.
Its full truckload services feature systems integrated with RMIS monitoring service to ensure all carriers are compliant. MacroPoint technology gives customers complete visibility into their shipments in transit.
In addition to manual tracking, MacroPoint technology allows the user to track and trace a driver's exact GPS position. MacroPoint also can track the driver's cell phone.
R2 Logistics also offers LTL services. "We've really grown our truckload and LTL verticals and we continue to expand in logistics services and transportation management," Dreischarf says. "We are on pace to have a record year this year and we fully expect to have another record year next year."
Customer Care
R2 Logistics conducts customer surveys twice a year to track satisfaction with its service. "We are 99.7 percent on time as measured by our customers," Dreischarf says. "We take customer service and communication very seriously. If you fail in the automotive world, the penalties are staggering."
Its 99.7 percent on-time delivery gives R2 Logistics a competitive advantage, he says. Indeed, the company has a strong customer base among Fortune 500 companies. R2 Logistics also can offer them 24-hour access to a live customer representative, a plan of action for service failures and same-day service capacity. The company also formed a customer service advisory board to ensure that they receive the time and attention they require.
Managing Variables
R2 Logistics delivers its services through 13 branches in 11 states. The company plans on opening another two branches next year. In addition to full truckload transportation and LTL, the Jacksonville, Fla.-based company offers supply chain management, expedited freight, intermodal, certified hazardous material and specialized hauling.
It has more than 1,000 customers in a variety of industries including automotive, construction, food and beverage, healthcare, metals, textiles, chemical and retail.
"Logistics is the business of managing variables in an environment that doesn't react well to variables," Dreischarf says. "We streamline the process for our customers. We handle the logistics so they can handle their business. When it comes to transportation, we're in the headache-elimination business."
As companies become more global, supply chain inherently becomes more complicated, he adds. Ten years ago, 56 percent of Fortune 500 companies utilized 3PL services. Today, about 90 percent do so, he says. The company works with thousands of transportation providers nationwide on the principles of being adaptable, transparent and efficient.
R2 Logistics prides itself on bringing its customers tailor-made solutions and offering technology that is flexible and scalable to accommodate individual needs. Its key performance indicator reporting features offer instant access to complete information, whether to a single shipment or an entire supply chain. Its TMS is uniquely configured to automate decision-making processes and provides actionable data for supply chain optimization.
R2 Logistics continues to receive recognition in its industry. It ranked among the Top 100 3PL Providers by Inbound Logistics magazine and Top 3PL and Cold Storage Providers by Food Logistics magazine in 2017. The company was named one of America's Most Promising Companies by Forbes in 2011. It also has received customer service and excellence awards from Ford, Scotts and Sabra.