Royal Caribbean Cruises Ltd.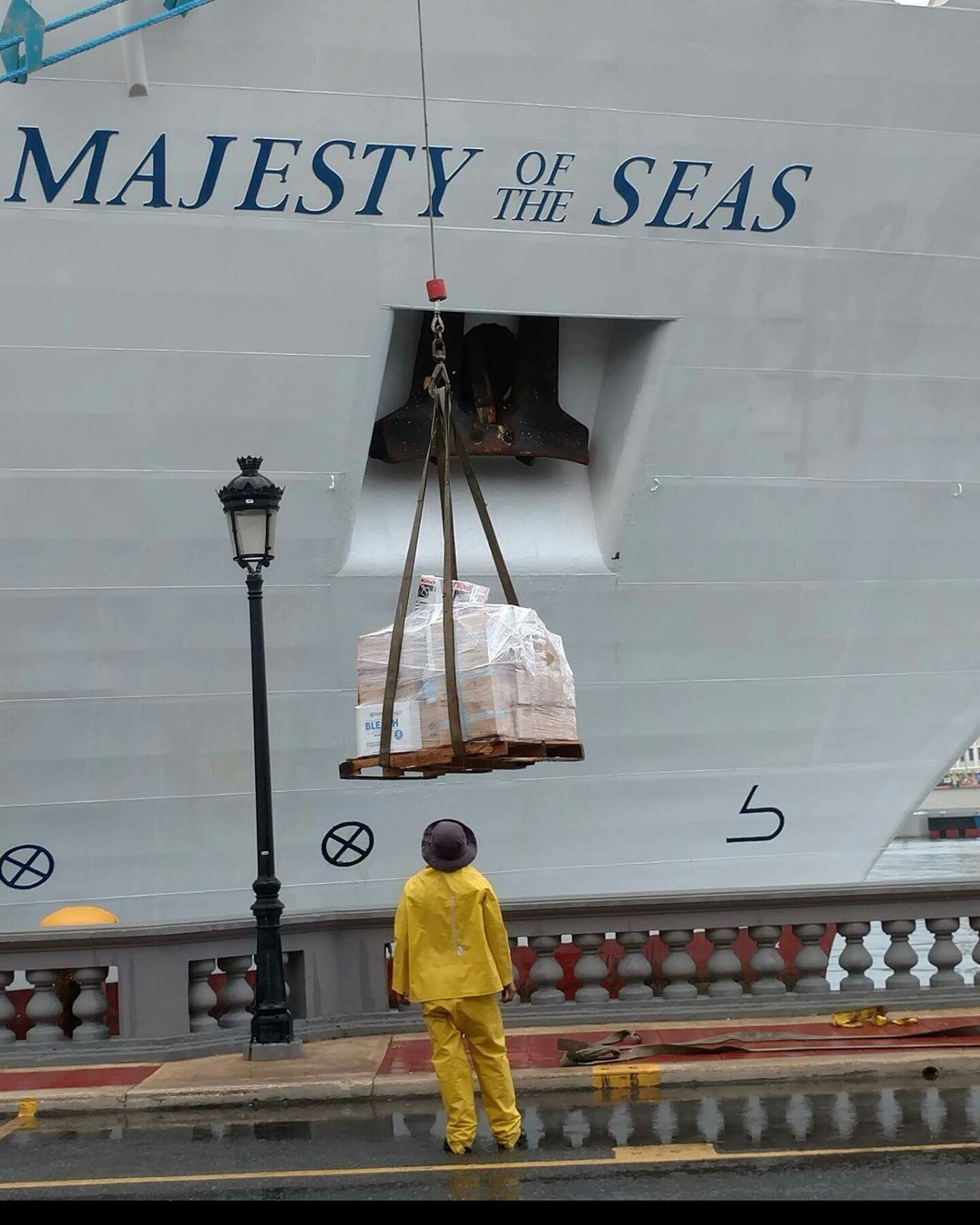 Royal Caribbean Cruises assists with disaster relief
after hurricanes plow though the Atlantic basin.
By Kat Zeman
During his 15-year tenure with Royal Caribbean Cruises, Paul Litvinov had never seen anything like it. The havoc and destruction caused by hurricanes Harvey, Irma and Maria as they plowed through Texas, Florida and the Caribbean was staggering.
"It was one hurricane after another hitting all the areas we operate in and destroying everything in their path," says Litvinov, associate vice president of global fuel, hotel food, beverage procurement and logistics for Royal Caribbean. "I don't think we've ever seen events like this in the company's history."
First came Hurricane Harvey. As the tropical cyclone smashed its way through Texas at roughly 130 miles per hour, one of Royal Caribbean's cruise ships was heading into its Galveston port. Liberty of the Seas was scheduled to drop off and pick up vacationing passengers.
"Of course, we couldn't even come into the port," Litvinov says. "We can't enter a port when winds are at more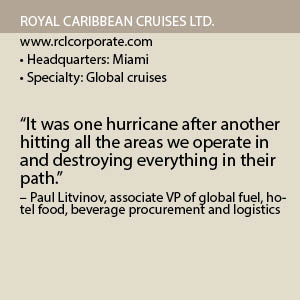 than 35 miles per hour. So we made the decision to reroute our ship to Miami."
Though it took another two days before arriving in Miami, cruise operators have well-orchestrated contingency plans for hurricanes and other natural disasters. In addition, cruise ships often assist with disaster relief. By the time Irma and Maria struck, Royal Caribbean cruise ships were already assisting. "Some of our ships canceled their trips to assist with relief efforts," Litvinov says.
The company dispatched three of its ships – Adventure of the Seas, Majesty of the Seas and Empress of the Seas – to assist with relief and evacuation efforts. These three ships continued with relief and recovery operations weeks after the storms ceased.
Adventure of the Seas and Majesty of the Seas dropped off hurricane relief supplies in St. Marteen and St. Thomas after Hurricane Irma, and helped evacuate residents. Adventure of the Seas also sailed to Puerto Rico carrying a variety of humanitarian supplies and transported evacuees from Puerto Rico, St. Thomas and St. Croix.
"Our ships were doing relief operations in a big way," Litvinov says. "We had to come up with a massive amount of supplies." Between all three hurricanes, Royal Caribbean helped evacuate more than 5,500 people and delivered roughly 30,600 gallons of water, more than 25 pallets of medical supplies, roughly 30,500 batteries and 450 power generators to devastated areas.
Aside from that, the cruise ships delivered about 9,355 gallons of milk, 8,000 pounds of ice, 110,500 garbage bags and 4,200 rolls of toilet paper. The company even thought about pets. It helped evacuate more than 125 pets and dispensed 13,050 pounds of animal supplies to residents impacted by the hurricanes. "The supermarkets in some of those areas were barely operational," Litvinov says. "But we had access to those items because we executed our hurricane plan."
Planning Ahead
Royal Caribbean has two global distribution centers in south Florida where it keeps a large supply of dried goods and frozen foods. In addition, it has two smaller distribution centers outside the United States – in Belgium and Vietnam.
Its distribution centers, along with dozens of business partners throughout the world, help ensure Royal Caribbean is prepared for catastrophic events. "A lot of our products come from our distribution centers," Litvinov says. "But
we also have a lot of suppliers that deliver products directly to our ships from our vendors or we have them delivered to our facilities."
In addition, the company has contingency plans to make sure its ships have a steady supply of fuel. As Liberty of the Seas arrived in Galveston with relief supplies, Royal Caribbean operators called out for assistance from one of its business partners.
"We didn't know how the ground in Galveston was going to look but we knew that we wouldn't be able to find fuel," Litvinov says. "So we worked with a power plant in Honduras. They sent a ship with fuel to Roatan, one of the ports along the Liberty's voyage. A lot of preplanning is involved in these situations. When we arrived, the ship from Honduras was already waiting for us."
Faster Than a Hurricane
Royal Caribbean plans ahead for hurricane season each year. Its cruise ships have sophisticated technology onboard to monitor the weather. Plus, cruise lines can augment the information they have onboard with forecasts from weather assessment companies. Royal Caribbean also has its own meteorologist on staff. If a storm is threatening one area of the Caribbean or Atlantic, cruise liners can simply reroute their ships to a different destination.
"A ship is a safe place, it can avoid a hurricane's path," Litvinov says. It could also outrun it. Hurricanes like Irma, for example, move at about 8 to 10 knots, while ships can attain speeds of up to 22 knots.
Other plans for hurricane season include an increase in inventory. "During the hurricane season, we increase our supply of food, beverage and fuel on each ship," he says. "That's the No. 1 thing. Once we strongly suspect a hurricane will hit, we take control of our supplies."
Royal Caribbean also has plans in place to make sure its employees can work during an emergency. For example, though Hurricane Irma spared Miami its full wrath, the strong winds knocked out power in majority of homes and businesses. Since Royal Caribbean is headquartered in Miami, it sent out a team of employees on the Enchantment of the Seas, which served as its command center. Some employees worked remotely from Georgia and Virginia.
it had to operate without power. In addition, it had to make certain it had a steady supply of fuel and trucks after the storm passed.
Distinctive Six
Royal Caribbean Cruises Ltd. is made up of six distinctive companies that share a vision anchored in a passion for excellence at sea.
A global cruise vacation company, it owns and operates three global brands: Royal Caribbean International, Celebrity Cruises and Azamara Club Cruises. The company also has a 50 percent joint venture partnership with a German brand called TUI Cruises and shareholder agreements with the Spanish brand Pullmantur and the Chinese brand SkySea Cruises. Together, the six brands operate a total of 48 ships with an additional 13 on order. Their ships feature diverse itineraries that offer trips to roughly 535 destinations on all seven continents.
Royal Caribbean Cruises Ltd. employs about 60,000 people from more than 120 countries. It serves millions of guests annually and is known for introducing many new ideas into the industry.