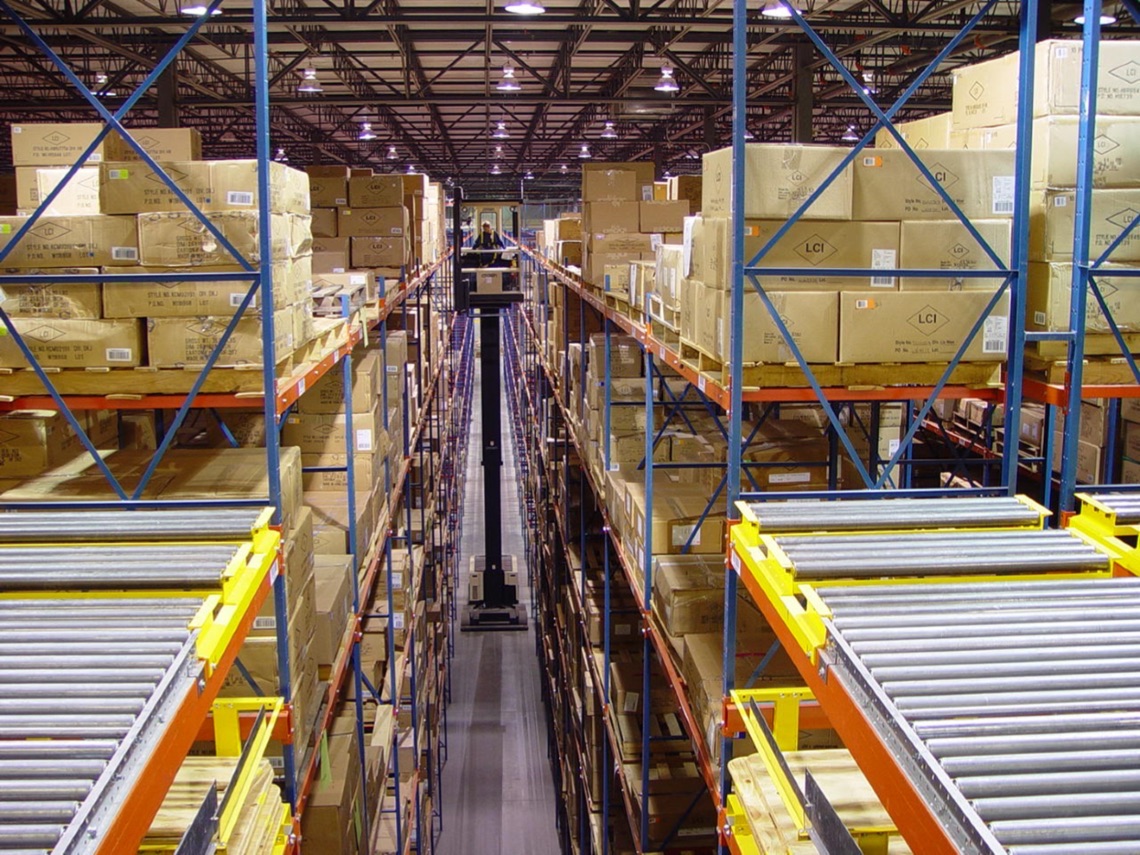 Sedlak develops successful supply chain strategies
to provide its clients with a competitive edge.
By Janice Hoppe-Spiers
Over nearly six decades, Sedlak has built a reputation as the go-to specialist in distribution and logistics consulting. The company's tagline, "Delivering Remarkable Experience," is an affirmation of not only the overall expertise of the firm, but also the character of its associates. The company plans to double its size in the next five to 10 years by continuing to meet its customers' needs with additional services and staff, and staying at the forefront of technology.
Joseph A. Sedlak founded the Cleveland-based company in 1958 after designing a new, state-of-the-art facility for Bobbie Brooks, a women's apparel manufacturer. "It was such the envy of the industry that CEO Maurice Saltzman frequently hosted tours and Joe would receive calls from companies on evenings and weekends asking, 'Can you help us?' And he did," the company says.
Sedlak started the company based on three principles: family, faith and profession. "Everyone who comes to work here has the same feeling and that is that Sedlak is a great place to work," Principal Jeff Graves says. "We have a good family culture and treat everyone as if they were family members. We promote trying to create a balance between your family life, professional life and personal faith, and have built that into the culture here."
Graves started with the company 45 years ago as an apprentice while studying at North Carolina State University to get a degree in architecture. "Sedlak's daughter, who I met during college, attracted me to the company," he jokes. "By the time I graduated I had married Joseph's daughter and was planning a career in architecture, but my wife was expecting our first child and Joseph extended a job offer to work for the company."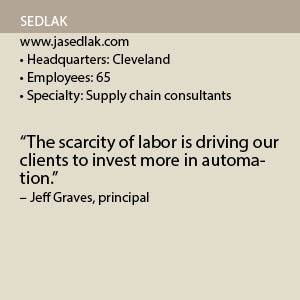 Only expecting to stay at Sedlak a couple of years, Graves has been a part owner of the company for 25 years and is responsible for the conceptualization and development of more than 100 major projects that exceed 20 million square feet. He also forged Sedlak's global presence by forming a strong supply chain partnership in China and led several projects in that country. "It's amazing how fast 45 years goes when you are having fun," he notes.
Will O'Brien was hired four years ago to be the company's third president since its inception. "I've turned the reins over and will continue to be an owner and hope to some day transition my children to become owners," Graves says.
In a murky marketplace where equipment and systems providers now also offer consulting services and consulting firms are acquiring solutions providers, Sedlak has intentionally remained a fully independent consultancy focused on ensuring best-fit solutions for its clients and building trusted and enduring client relationships.
"Our independence is a key differentiator," says principal and co-owner Patrick Sedlack. "Very few consulting firms can offer our unbiased view of material handling and IT technologies. That level of integrity assures our clients that we have only their best interests in mind."
Supply Chain Services
Sedlak has served more than 1,200 clients through more than 2,500 projects based on operational best practices and has touched on nearly every continent, including Antarctica. The company's services extend into network strategy, facility planning and design, operations improvement, transportation planning and inventory optimization.
"We are passionate about listening to our clients [and] seeing their businesses through their eyes and partnering with them to deliver on their terms," the company says. "We pride ourselves on both the unsurpassed body of industry knowledge and the enduring client relationships we have built."
Sedlak's core competency has always been inside the four walls of distribution centers. The company continues to focus on providing additional services such as inventory planning and forecasting to help its clients improve their inventory levels. "That will help get inventory to the right place at the right time and lower their costs," Graves explains.
The company is also analyzing transportation times and freight spend for its clients as the transportation industry sees greater consolidation. Sedlak expands its services outside the four walls of distribution centers to help its clients move, supply and rebuild their inventory. "Our associates are experienced, trustworthy professionals focused on understanding our clients' unique business needs, mitigating risk and identifying pragmatic solutions that deliver consistent performance and increase efficiencies and profitability," the company says.
One of its customers' biggest pain points is the lack of skilled laborers for their distribution centers. "It used to be a lot of college kids would get into it and work their way up, but today they don't want to do that," Graves observes. "The scarcity of labor is driving our clients to invest more in automation. We help them analyze the technologies that might be applicable to their situation and look at how we can make their operation efficient and drive down labor dependency wherever we can."
Building Relationships
Sedlak is focused on increasing its presence in healthcare at all levels, including device manufacturers, care facilities, hospitals and pharmaceutical providers. "We have always had a presence in healthcare, but Sedlak is not synonymous with supply chain there like it is in retail," Graves explains. "They know who we are, but we are working to expand our footprint in the industry."
The company specializes in providing healthcare supply chain solutions to help providers, distributors and manufacturers optimize their current operations, drive cost savings and pursue intelligent growth strategies. Sedlak's consulting expertise can help clients maintain targeted service levels and patient outcomes, enhance inventory control and security, increase storage densities, and facilitate future storage and fulfillment requirements.
About 75 percent of Sedlak's business is repeat customers and the remaining 25 percent is referrals. "People ask our clients who helped them and they refer them to us, but we are also making calls to build new relationships, which we haven't done before," Graves says. "We are networking with partners in the healthcare industry to build a greater presence."
Sedlak recently redesigned the internal distribution network for one of the largest academic institutions in the United States with multiple research and patient care operations. The client wanted all campuses to work together collectively to define efficiencies, reduce street truck volume, standardize operations and capitalize on volume discounts.
Sedlak reviewed the academic institution's existing shipping and distribution processes and considered any additional shipping requirements and improvements for each campus. The company evaluated the costs and benefits of several alternative methods for acquisition of its services while identifying existing opportunities to consolidate and streamline the multiple and independent distribution networks that exist today.
As a result, the client was given a best-in-class internal logistics solution and a cost-effective and efficient program for inbound and outbound mail and parcel shipments. A detailed implementation plan reduced operating costs and improved processes for all inbound/outbound shipment at all campuses, the company says.
In addition to healthcare and retail, Sedlak also assists third-party logistics providers in building market-leading capabilities and develop new opportunities for growth and profitability. For wholesalers, the company develops and implements winning supply chain and logistics strategies that are integral to their success.
Moving forward, Sedlak will continue to add services and consultants. "We will double our size by adding more clients, additional services and staying at the forefront of technology," Graves says. "And we will continue to 'deliver remarkable experience' in everything we do."