St. Luke's University Health Network
St. Luke's University Health Network in Pennsylvania uses supply chain standardization
to keep pace with its fast growth.
By Tim O'Connor
Few healthcare systems around the country are growing as rapidly as St. Luke University Health Network in eastern Pennsylvania. Within the past few months, the seven-hospital health network announced plans to merge with Sacred Heart Hospital and Blue Mountain Health System, which will add three more hospitals to its system, and announced plans to build another hospital in Orwigsburg, Pa.
Additionally, the network is adding six more urgent care centers in rural communities to shorten the distance patients must travel for health care. With those expansions, the network will soon have 11 total hospitals and more than 200 off-site physician offices and primary and specialty care facilities, and two ambulatory surgery centers.
All that growth has the potential to strain the health network's supply chain. The growing radius of St. Luke's footprint means equipment and supplies must travel further to their destinations and the absorption of existing hospitals will require time for them to transition to St. Luke's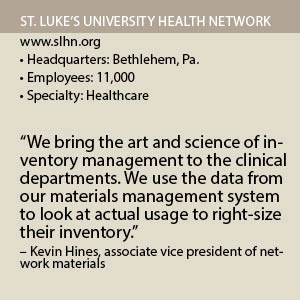 supply and equipment standards. "We're preparing for it, we know change is coming fast," Associate Vice President of Network Materials Kevin Hines says.
To make the process go as smoothly as possible, St. Luke's held an internal two-day kaizen event during which it identified 42 areas where it could improve materials management processes ranging from inventory control to value analysis. The network is now addressing those opportunities as it prepares to bring three new hospitals into its system by January. "Due to our rapid growth and expansion, it really made sense for us to step back and look at our internal processes and where improvement can make us more efficient," Hines says.
Setting Standards
That rapid growth creates complexities within the supply chain when physicians and facilities in the network may prefer equipment and supplies from a variety of manufacturers. As it adds locations and doctors, St. Luke's must efficiently manage its supply chain while delivering consistent patient outcomes regardless of where individuals receive care. Standardizing its suppliers, equipment and processes provided the answer.
St. Luke's reviewed the thousands of items used within its system to determine where there was variance and opportunity to source from a single provider. Although there was potential for savings by leveraging the hospital network's full buying power, those product decisions are as much about quality care as they are lower costs. If a product is cheaper but doesn't improve patient care it's unlikely to be approved for use it the Network.
At the same time, an expensive piece of equipment that improves recovery and shortens hospital stays is considered a good investment. "Everything is driven from the patient care perspective No. 1 and the financial perspective No. 2," Hines says.
"We want to be able to provide new technology and the latest and greatest equipment and supplies to treat the patient, but we have to be sure there is a positive improvement in patient experience and outcomes," he continues.
To ensure the patient is the primary consideration, St. Luke's formed network value analysis committees comprised of nurses and physicians – along with representatives from materials management, accounting and department subject matter experts – to make decisions on standardizations and evaluate new products as they arise. Each committee is specific to a field. The cardiological committee, for example, enlisted nurses who work in the cardiology unit and fully understand the needs of those patients. "We really need their clinical expertise as we're looking at these new products to make the best decisions," Hines explains.
Ultimately, the goal is to find and introduce products that deliver better care across the entire network. That approach coincides with the renewed focus on patient outcomes and cost effectiveness under the Affordable Care Act, which sets standards based on data from hospitals across the country. "The bar keeps getting raised every year, so we have to keep improving to meet the guidelines," Hines says.
Strategic Suppliers
As it standardized its products, St. Luke's looked for suppliers that could provide services and insight beyond simply delivering the product. "We're also looking for partners that can bring other types of expertise other than transactional," Hines says.
Currently, the health network has strategic partnership with seven suppliers, including B. Braun, that had demonstrated they could bring new ideas or champion products that improved patient outcomes. B. Braun, for example, brought St. Luke's the concept of a regional anesthesia that could numb a specific part of the patient's body instead of putting the person to sleep. Because it affected a smaller area, patients are able to recover faster. B. Braun worked with St. Luke's anesthesiologists and surgeons to implement this process across the network, realizing a projected savings of as much as $1 million.
If those strategic supplier partnerships have put St. Luke's at the forefront of product selection, then its centralized distribution center has made it a leader in materials management and supply chain. All of the receiving for the health network's 200-plus locations takes place at that distribution center. "With standardization, it has really helped us to stock the supplies for the network," Hines notes.
Within the hospitals, St. Luke's changed its inventory control process by placing materials management staff in key departments to handle stock rotation, setting par levels and ordering. This was work that previously was coordinated by nurses and other clinicians – who often overstocked to avoid shortages of critical supplies. "We believe we can bring expertise on inventory and materials management to work with [nurses] to help them manage their inventory so they can focus on patient care and their clinical duties," Hines says. "We bring the art and science of inventory management to the clinical departments. We use the data from our materials management system to look at actual usage to right-size their inventory."
The art is working closely with the clinicians to understand the patients' needs and how their department operates. The science comes from the data. It is a fine balance to ensure St. Luke's has the right amount of supplies to take care of its patients.
Although many process improvements have already been implemented, St. Luke's continues to investigate ways to become more efficient. The network is reviewing automated inventory control systems and looking at other areas where technology can complement or enhances its processes. "What can we do to improve our processes before we invest in technology and be smart about what we want the technology to do and where we want it to take us?" Hines asks.