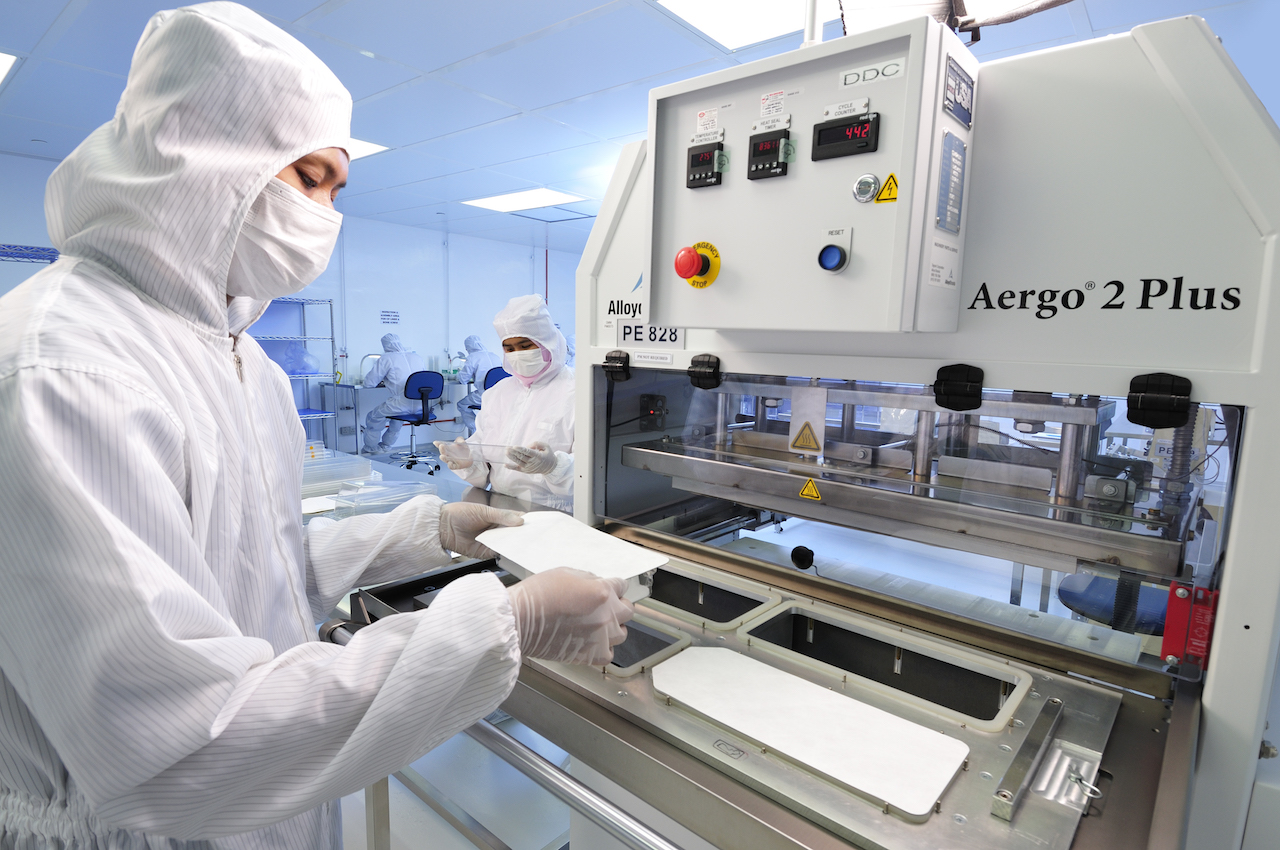 Tecomet's new leadership team is rightsizing its supply chain operations
with a focus on lean principles and continuous improvement.
By Janice Hoppe-Spiers
Tecomet is known throughout the world as an industry leader in manufacturing solutions for complex, high-precision products and services for the medical device, aerospace and defense markets. "What sets us apart is the breadth of our manufacturing capacity and the depth of our technical capabilities," says Robert Sheppard, vice president of global supply chain.
The Wilmington, Mass.-based company started as a small R&D division of Thermo Electron, a life sciences product development company. Through consistent organic growth and strategic acquisitions, Tecomet spun out of Thermo Electron as part of ViaSys in 2001 and has transformed itself into an industry leader.
CFO John Connolly and Chairman of the Board Bill Dow have been instrumental in the company's success, Sheppard notes. "They built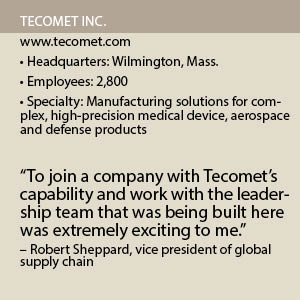 Tecomet out of Thermo Electron," he adds. "We have great support from the board of directors and Charlesbank Capital Partners on our journey, as well."
Tecomet specializes in orthopedic instrumentation, implants and minimally invasive surgical instruments. It also made components for the GEnx engine for the Boeing 787 Dreamliner, which is the fastest-selling high-thrust jet engine in GE aviation history, according to GE.
"Our role is to ship to the OEM and then the OEM has their distribution channels," Sheppard adds. "Everything we make is either implanted in a patient or used in the surgical suite on a patient or used to support an aerospace and defense program."
New Regime
Sheppard celebrated his one-year anniversary at Tecomet in May, joining the company's new leadership team of respected professionals in the industry. President and CEO Mark Kemp joined the company in 2015 after spending 16 years with Flextronics where he established a reputation for significantly scaling a medical outsourcing business through organic growth, asset deals and mergers and acquisitions.
Dan Howell, executive vice president global operations, joined Tecomet in 2016. He is responsible for nearly 2,800 production employees at the company's 16 global manufacturing facilities for medical devices, as well as the aerospace and defense division. Howell, too, came from Flextronics and is a firm believer in Lean Six Sigma.
Sheppard came from Lake Region Medical, where he was the director of global supply chain before leading the orthopedics division for four years. "Tecomet was known in the contract manufacturing orthopedics industry for their breadth of manufacturing capacity and when I was approached about this role I was very intrigued about the company, but to join the leadership team that was here was an attractive offer," Sheppard says. "To work with the team that was being built here was extremely exciting to me."
Diving In
In his first 90 days, Sheppard visited Tecomet's 10 North American facilities and learned the company had seven ERP systems. "How do you understand that procurement spend?" he asks. "It was a challenge because the company didn't have commodity teams when I arrived, so in July 2016 we kicked off commodity teams on our major spend categories."
The teams ran analytics on Tecomet's global spend in those major categories to understand the existing supply base and what the strategy should be for commodities moving forward. "We are in the process now of leveraging Qlik analytics and implementing a procurement spend cube based on Qlik data analytics," Sheppard explains. "By the end of 2017, we will be able to quickly analyze how much spend we have with each supplier because of the analytics. We are also implementing the use of Scout Rfp, which is a cloud-based solution for online bidding and reverse auctions. In the future, we are evaluating moving to one ERP solution over the next 24 to 36 months."
One of the first moves the company's supply chain team made was to rationalize its supply base and select strategic partners. "Those strategic partners receive all of our base business and then actively engage on new product launches," Sheppard explains. "When we are working on a new design for a Tecomet customer, we know who we are going to source that raw material with and some suppliers are brought in for technical conversations on new designs with the R&D group. It's true partnerships that we formed and that continues to evolve."
In regards to its suppliers, Tecomet's commodity teams looked at the quality, delivery and service of each one. The teams took their analysis one step further by looking at the suppliers' strategies for growth, where they fit within the medical device, and aerospace and defense industry, whether they actually cater to certain markets and how good of a fit they are for Tecomet.
"The commodity teams are comprised of people from all our facilities," Sheppard explains. "If they are active on a particular spend, let's say stainless steel, they have a seat on that team. In our first year, we rationalized by 60 percent on core commodities. We have embraced development of centralized commodity strategies with decentralized execution at the site level."
Tecomet performs quarterly reviews and on a monthly basis shares its raw material forecast with its suppliers. Continuity of supply remains Tecomet's greatest challenge with suppliers. "If you buy medical-grade plastic and a resin company has an issue with formulation, it can put a wrinkle in the supply chain," Sheppard explains. "We hedge on certain inventory to protect our customer and are proactive in telling our customers if a product is going end-of-life."
Exceeding Expectations
Tecomet's supply chain team exceeded Sheppard's expectations when he arrived last year. "Commodity teams were new to Tecomet and we had goals, and they did extremely well," he says. "They should all be proud of that. The thing that's important to me is to make sure people in my function have the proper tools and technology to be successful, as well as the proper coaching, development and training."
The company sent its procurement teams to local negotiations training and certain members participate in kaizen events at their facilities where they learn lean manufacturing principles. Sheppard is a fan of Oliver Wight Consulting for the development of its master planners and the establishment of the sales and operations planning processes, as well as the continuous improvement of our ERP systems, which is also where the company has been sending its employees to train.
Moving forward, Tecomet will continue to add lean leaders and focus on continuous improvement throughout the company. "We are very committed to strengthening the culture of continuous improvement based on lean six sigma," Sheppard says. "New team members have to have the ambition, attitude and aptitude to want to improve and they have to embrace continuous improvement."