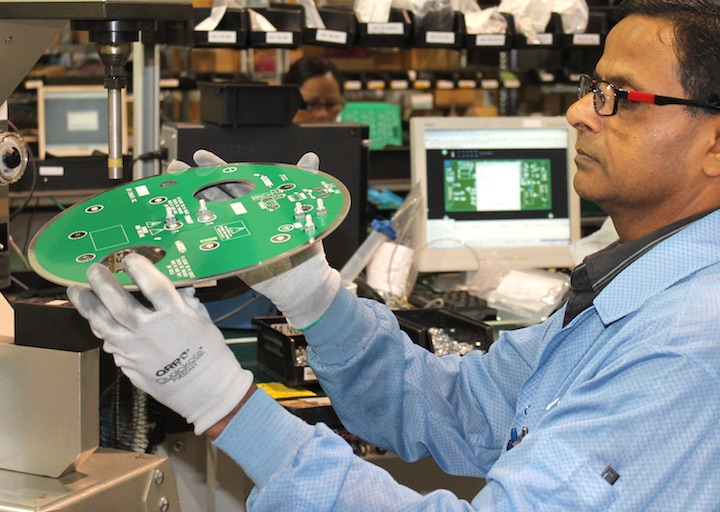 Vexos' newly created intelligent supply chain has already saved the electronics manufacturer millions of dollars.
By Jim Harris
Vexos is dedicated to providing complex electronic technologies. "I'm very proud of our people and their commitment to customer service," says Stephanie Martin, senior vice president of global supply chain for the New York City-based company. "Everyone aims to delight our customers with our performance. We are committed to exceeding expectations."
The company is a full turnkey electronics manufacturing services (EMS) provider to the medical, industrial, semiconductor, automotive, consumer, safety and security and internet of things (IoT) markets. The company provides printed circuit board (PCB) assemblies and custom material solutions. It also provides full systems integration and comprehensive testing services with enhanced engineering and supply chain management solutions. These services span product life cycles all the way from development and introduction through growth, maturity, post-production services and end-of-life phases.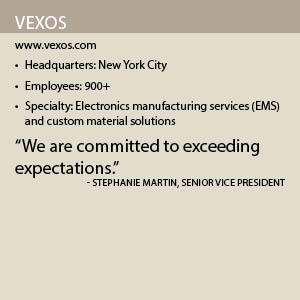 One of the company's primary strengths is that it has the size and capabilities of a larger Tier 2 EMS provider while maintaining the flexibility and advantages of a Tier 3 manufacturer in this space. It can offer customers higher quality of services ╤ at a comparable price point╤ that they would get from a large Tier 2 firm, but with the ability to introduce support new product introduction more quickly and provide expert support with a deeper understanding of the customers' business mindset.
"What makes us different in the Tier 3 space is a strong focus on engineering expertise and supply chain, as well as a global footprint to support strategic supply chain migration of our customers as they ramp up their own production," Martin says. "The culmination of those three things makes us very attractive."
Vexos understands the changing dynamics of the industry and markets it serves. More so now than in the past, companies like Vexos require a higher level of engineering capabilities because engineering support is crucial and important today. This is why Vexos is now deeply involved with provisioning highly complex and fine-pitch electronics assemblies, electromechanical assemblies, full turnkey solutions and custom mechanical parts.
Supply chain management has always been one of Vexos' strengths and it remains so today. Vexos' intelligent supply chain solutions are based on client needs, and its internal operating model touches on all OEM-to-EMS integration points. The company takes into account everything from continuous internal innovation; time to market; and cost, quality and delivery concerns to comprehensive supply chain services; flexibility, speed and agility; liability management; and visibility solutions. This provides its clients with an integration structure that offers top-class service and a customer-centric focus.
"To remain successful, we must be superior in quality and technical capabilities to support our customers, advanced supply chain management strategies, and have a global footprint to offer flexibility to our customers," Martin says. "Our focus on those capabilities sets us apart."
Achieving Excellence
The company's success with supply chain management is influencing changes in other areas. This is why Martin, who was hired as senior vice president of supply chain management in 2016, recently expanded her global operation.
The organization now includes expertise in design for supply chain intelligence through component engineering and predictive technology tools that provide proactive solutions to Vexos' customers, giving them feedback such as bill-of-material (BOM) health assessment and risk management analysis driving new technology, quality and cost reduction from current and new customers. From this position, Martin now oversees all supply chain management operations. Her mandate is to duplicate the company's success with supply chain into component engineering, and put in place the systems to execute on Vexos' strategic mandates using metrics and accountability that drive performance improvement.
"Our customers consistently come back and compliment us on our supply chain capabilities, which is helping to drive efficiency and quality levels," Martin says.
In addition to its EMS services, the company provides custom material solutions to its customers. This includes supplying commodities including PCBs, plastics, cable harnesses, metals, membranes, switches, displays, stamped metals and heatsinks.
Vexos operates two manufacturing sites in China as well as sites in Markham, Ontario and LaGrange, Ohio. All sites are ISO-9001 and ISO 13485 certified. Both China facilities are ISO 14001 and one is TS-16949 certified. The LaGrange facility is Food and Drug Administration (FDA) and UL certified plus International Traffic in Arms Regulations (ITAR) registered. Each factory uses the Siemens UniCam electronic manufacturing execution system to manage product builds from kitting to finished goods, Martin says.
The company formed in 2014 following the merger of two EMS companies: EPM Global Services, founded in 1993; and STACI Corp., founded in 1995. Three years before the merger, STACI acquired another company, Inservco, which traced its history back to 1968. Vexos is owned by Centre Lane Partners, a private equity firm.
A Strategic Approach
Within the past few years, Vexos has greatly enhanced its ability to meet customers' needs by creating a global supply chain organization. Establishing the organization was one of the earliest priorities for Martin, who joined the company in July 2016. Her 25-year career in electronics includes 18 years in the EMS field.
Vexos' supply chain organization is now divided into two functions: strategic and tactical. Tactical supply chain activities are performed in each of the company's four facilities. These activities include procurement, inventory and demand planning.
Under the new organization, each of Vexos' four manufacturing plants handles its own procurement using separate enterprise resource planning (ERP) systems. The company recently created a centralized data warehouse that extracts data from each of the ERP systems in real time and puts it in a standardized format. "We are able to look at one report from all of our sites that formatted the same," Martin says.
The data warehouse also allows the company to identify, by commodity, where its greatest demands are and enables it to leverage its spending on these items across the organization, she adds.
Interpreting data and managing planning and demand across all of Vexos' facilities are among the responsibilities of the company's strategic supply chain organization. Other strategic activities include supplier management, quarterly business reviews, component engineering, strategic quote review and resolving tactical supply chain issues.
"When I joined the company, our sites were buying as if they were small independent companies ╨ everyone was doing their own thing and had their own contracts and pricing," Martin says. "There was no supplier management, leverage, or planning, just placing orders and chasing the delivery."
Martin established global pricing requirements for all of the company's sites and negotiating annual contracts for commodities. Consolidating and leveraging the company's spending power saved the company $4.2 million over the next year, she adds.
The company within the past year also established a component engineering services department. The department reviews customers' bills of material and works with them to engineer their products. "The market follows the mobile device market for obsolescence, while our customers' products have a multi-year lifecycle," Martin says. "There's a high level of obsolescence of parts in the industry, so we have an ongoing challenge to identify alternative components for sourcing."
Monitoring Suppliers
Vexos purchases most of its commodity products from a core group of 25 suppliers. Components are organized across several commodity groupings. Each grouping has a corresponding subject matter expert who assists in expediting tactical supply contracts and identifying alternative components, the company says.
Vexos also purchases legacy, parts from second-tier suppliers and independent distributors that still carry them. These suppliers have been vetted and qualified, ensuring that all of its sites can go to these suppliers ╨╩known as the "gray market" ╨╩for products mitigating counterfeit risk.
The company has established vendor-managed inventory (VMI) and buffer stock programs with many of its vendors to minimize the impact of market changes on their production capacity. One such buffer stock program is in place with America II Electronics Inc., one of Vexos' strategic component supply partners, who helped to reduce a customer's lead-time from 20 weeks to 6 weeks. America II is one of the world's largest distributors of semiconductors and electronic components.
"We continually monitor our key suppliers' [key performance indicators] such as quality, on-time delivery, pricing and responsiveness in a total cost of acquisition model that allows us to compare our suppliers and reward our best performers," Martin says.