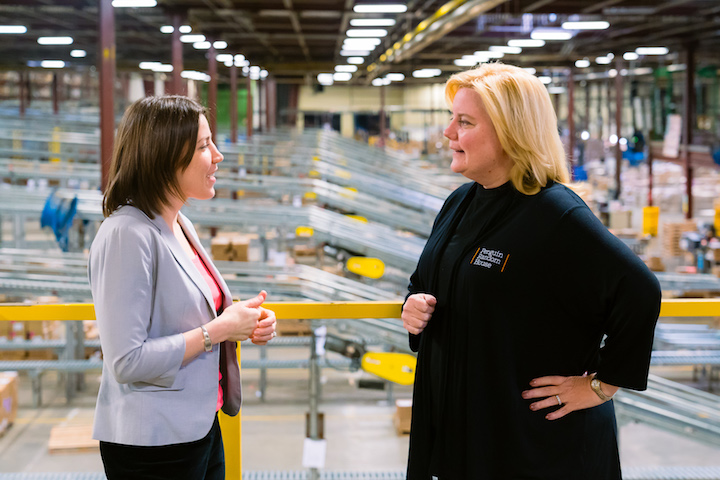 The endurance of print books has Penguin Random House investing in its physical supply chain.
By Tim O'Connor
The first e-readers hit the market in 1998 and the first Amazon Kindles arrived nine years later, signaling the leading online bookseller's belief in the future of digital books. It seemed like the days of print editions and book spines were numbered. Soon, giant book warehouses stuffed with Dr. Seuss reprints and Dan Brown releases would be replaced by server rooms and distribution would be as simple as ones and zeros traveling over a Wi-Fi network.
But it didn't happen. Ten years after its predicted demise the print market is as robust and resilient as ever. E-books sales actually fell 5 percent in the first half of the year compared to 2016, according to the Association of American Publishers, accounting for only 17.1 percent of the total trade book market. Print is still very much in vogue and massive warehouses still play a crucial role in getting books in readers' hands.
Publishers such as Penguin Random House always believed digital would be more of a complement to print reading, rather than a complete replacement. While others rapidly moved to favor e-publishing, Penguin Random House took a more balanced approach and continued to invest in its physical supply chain. It wasn't a print or digital proposition; it was print and digital. "We deliver about 460 million books a year to customers and 20 percent of that is digitally," Senior Vice President of Fulfillment Annette Danek-Akey explains. "We just had to learn to be good at managing both."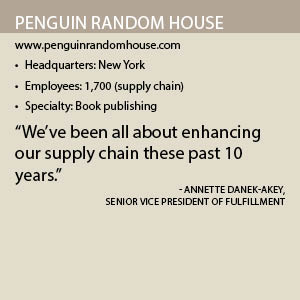 When the first Kindles were introduced, the company saw an opportunity to expand its physical supply chain to serve outside publishers. "We knew that because of the building consumer demand for e-books we would be shipping fewer of our own physical books," Danek-Akey says. "We saw an opportunity to really ramp up our third-party logistics business."
Today, 15 percent of the annual volume Penguin Random House ships is other publishers' books. It acts as a third-party logistics provider for approximately 40 other companies, including National Geographic, and it has a 95 percent customer match with those publishers, meaning they are mostly shipping products to the same locations. That enables Penguin Random House to optimize its supply chain by reducing the number of shipments retailers receive.
Penguin Random House filled all its unused warehouse capacity with third-party clients. "It's a win for them, a win for our booksellers and a win for us. We mutually benefit from our greater scale and scope," Danek-Akey says.
Evolving Network
Danek-Akey joined the publishing industry as an industrial engineer for Penguin Random House predecessor company Bantam Doubleday Dell (BDD) in 1996. She was drawn to the company because it was then a smaller publisher with a lot of growth potential. But even more impressive to Danek-Akey was that a woman headed BDD's supply chain at a time when few females were given such opportunities. It signaled to her that this was a place where she could advance her career.
In 1998, BDD's parent company, Bertelsmann, bought Random House and in unifying it with BDD, found itself with a lot of overlapping U.S. fulfillment operations that needed to be merged. Danek-Akey's role was to develop a new network design that consolidated four warehouse facilities into one center in Westminster, Md. It's a process that she has since repeated several times in the ensuing years.
When Random House purchased Golden Books – publishers of popular children's stories such as The Poky Little Puppy and the iconic Little Golden Books – in 2001, Danek-Akey developed a plan to add the latter's facility and workforce in Crawfordsville, Ind., to its supply chain network, moving Random House children's books from Maryland to Indiana. "I think anyone who has gone through acquisitions and mergers has gone through a reshuffling of where its products should best be located," Danek-Akey says. "But after you've gone through it once, you get better at it. You learn things the first time that you use the next times."
She put all those skills to use again in 2013 when Random House underwent its largest supply chain challenge yet upon its merger with Penguin Books. Penguin Random House, the new combined company, found itself with six facilities. Danek-Akey again helped lead the reorganization of the supply chain, integrated functions and closed redundant locations to reduce its footprint down to two warehouses-: the established Random House facilities in Maryland and Indiana.
The Indiana facility was expanded by 365,000 square feet and the number of staff doubled to 750. In Westminster, the company added more infrastructure for single-unit picks.
Both locations added weekend shifts and became seven-day operations. "We decided to create these capabilities because it would give us competitive advantages," Danek-Akey says.
Closing the four former Penguin facilities meant transferring 100 million physical books to the remaining warehouses. The entire move occurred gradually over the course of a year, but the merger of SAP systems took place about three months into the transfer. In just a single weekend, Penguin Random House turned on 45,000 titles that had previously been a part of Penguin Books. Thanks to good planning and added warehouse staff, bookstores didn't even seem to notice the changeover.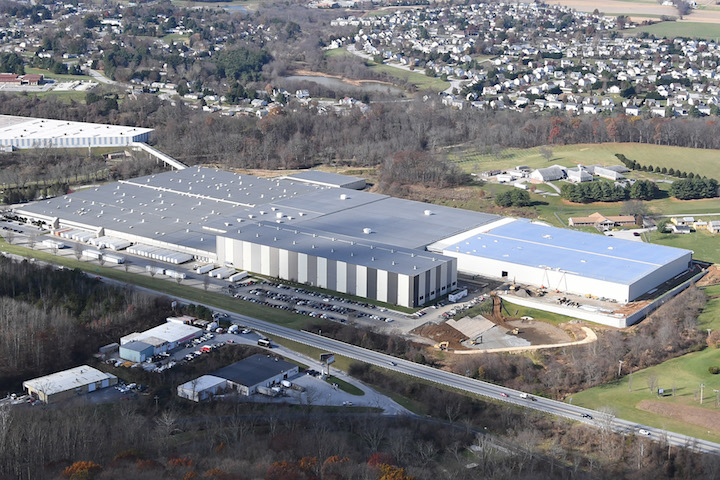 Speed Driven
Within those two locations, Penguin Random House stores 215 million books. The Crawfordsville facility is 1 million square feet in size, while the Westminster one is even larger at 1.2 million square feet – and it has a 200,000-square-foot expansion underway, expected to be completed and operational in spring 2018.
That massive capacity enables Penguin Random House to support two distinct parallel supply chains: new product introductions and reorders. Each year, the company releases 5,000 new titles to store shelves, the vast majority of which go on sale on Tuesdays – the same standard release day for most media, including books and video games. Each of those newly released books must arrive at the retailer in time to honor simultaneous release dates, or the retailer risks losing sales to competitors that do have it in stock.
For new products, Penguin Random House backward-schedules everything to perfectly coordinate the supply chain so that books arrive in stores on Monday the day before they go on sale. "About one-third of what we ship is the new product introduction, so we really have to get it right every time," Danek-Akey says.
Reorders are a whole different challenge. Unlike new products, reordered books have already been released and don't need to arrive on a simultaneous, coordinated date. However, time is still a driving pressure. When a popular title sells out, retailers want it back in stock as soon as possible. But where new releases benefit from the firm supply chain structure of a release date, reorders are more fluid and unpredictable. New orders can come in on any day and shipments must be processed back to customers as quickly as possible.
Further complicating things, while 5,000 new titles are released each year, sellers have 140,000 previously published titles available for reorders. That can make stocking challenging.
"We've been all about speed and efficiency for the last 10 years," she notes. "We were doing speed before speed was popular."
The "warehouse" for most independent customers is usually just a room in the back of the store or the basement. Shipments must come directly to them, so overall speed together with efficiency is paramount.
Penguin Random House is conscientious about meeting that demand, so during the busy year-end holiday season the company guarantees two-day transit for reorders to independent bookstores. "There is an additional cost factor for us to do the two-day shipping, but it does keep the bookstores in stock and that's the entire rationale for our supply chain," Danek-Akey says. "We do what we need to do for them to keep our books in stock, and thus contribute to our customers' bottom line."
The push for speed pays off for both Penguin Random House and its customers. The company achieves 99 percent on-time delivery.
Having such an efficient network enables Penguin Random House to better support book signings as well. Its customer service department supports about 3,000 author appearance events each month, and individually tracks each shipment to its destination, ensuring that fans at the event can purchase a copy to be signed.
In some cases, the company even brings authors into its warehouses to sign thousands of copies ahead of time – the record is 20,000 signed books in one session by Eat Pray Love author Elizabeth Gilbert. "We actually go to that level of detail, because there's nothing more important than an author connecting with their readers," Danek-Akey says.
Creating Culture
Danek-Akey's personal favorite authors include Simon Sinek and Lee Child, creator of the Jack Reacher series. As a Penguin Random House employee, she frequently gets to select a few books with the company's compliments – the ideal perk for an avid reader. "I always say our employees should be the best-read people in the world," she says proudly.
The free books are a small gesture, but one that speaks to the large culture that Penguin Random wants to cultivate. In the same way that books can rejuvenate the soul and mind, the company offers extensive vacation benefits to help its workers refresh their bodies. After their first two years of work, employees are granted four weeks of vacation annually and new parents are offered an additional 10 weeks of paid parental leave.
Additionally, for every 10-year milestone, employees are given an extra four weeks for sabbatical. "We believe in having the time to regenerate and to be with your family and friends," Danek-Akey says.
The year Fifty Shades of Grey came out, CEO Markus Dohle even issued a $5,000 bonus to every employee as a thank you for their role in making the bestselling book a mega-success. Other years have seen smaller, but still meaningful bonuses for warehouse and other staff.
Those kinds of benefits inspire loyalty and longevity. Penguin Random House prides itself on having a large number of long-serving employees, including some that have been with the company through its various incarnations for more than 50 years. "People must like working here," Danek-Akey says. "So we must be doing something right."