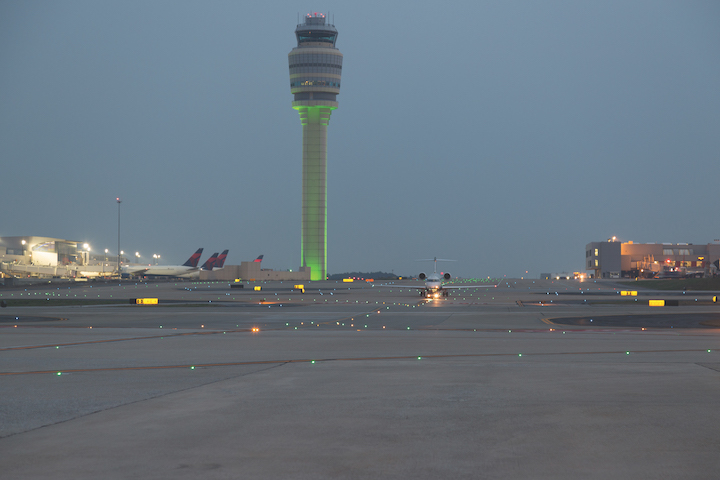 ADB Safegate continues to grow after its merger and develops new airfield solutions.
By Kat Zeman
When two powerhouses merged, their fusion became a reckoning force in the airfield solutions industry. Although it's been almost two years since Safegate and ADB Airfield Solutions tied the knot, their union continues to flourish and produce new and innovative solutions under its new banner: ADB Safegate.
"Since we have merged, we have a full product offering and the largest research and development and salesforce," says Melanie James, director of supply chain for America.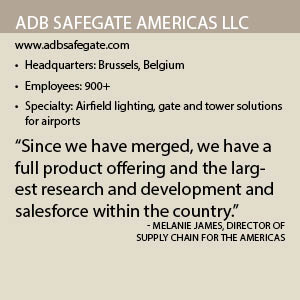 ADB Safegate now has more than 900 employees in 20 countries and services more than 2,500 airports in more than 175 countries. It offers solutions and services that harmonize airport performance with the ultimate goal to improve throughput and reduce costs. Those solutions include airfield lighting, tower-based traffic control systems and docking automation.
Aside from airports, the company's customers include airlines, engineering firms and contractors. In September, ADB Safegate achieved a milestone when it installed its 1.2 millionth LED airfield ground lighting fixture.
The company began LED design, development and production more than 15 years ago and today more than 750 airports use its LED lighting solutions. One of the company's largest projects in this category involved replacing 15,000 halogen lights with LEDs at Hartsfield–Jackson Atlanta International Airport in 2015. "Many smaller airports still use halogen, but the larger airports are moving toward LEDs," James says. "LED is more efficient, lasts longer and involves less maintenance."
Larger Portfolio
ADB Safegate offers extensive product and service portfolios that integrate solutions for the gate, airfield and tower to support airport development and optimize operational procedures. "We offer innovative solutions and follow the latest technology," James says. "Our customers expect innovation from us."
Technology and innovation have always played a major role in the success of the company. ADB Safegate has pioneered a variety of products and systems including Advanced Docking Guidance Systems (A-VDGS), Individual Light Control and Monitoring Systems (ILCMS) and Airfield Lighting with LED.
Although the merger made the company's portfolio larger, it also presented a supply chain challenge in terms of duplicate products and solutions. "It provided a significant challenge but also a huge opportunity," James says. "After we sorted through which product we wanted to keep, it provided an opportunity for significant cost savings for supply chain via combining volumes and reducing the amount of suppliers."
Since the merger, ADB Safegate has implemented a new ERP system and introduced a new inventory tool. "It was essential that we introduced new tools such as the ERP and inventory tool," James says. "As we continue to grow, we need to find ways to streamline processes and introduce tighter controls."
In the past two years, the new system reduced inventory by roughly $4 million and increased on-time delivery by eight points, James adds. The reduction has primarily been in the slow moving inventory division. To further increase cost-savings, ADB Safegate introduced routine risk assessments of its suppliers. They are conducted every 18 months and each supplier receives feedback with areas for improvement.
In an effort to maximize efficiency in the supply chain, ADB Safegate realigned the way its buyers operate in its manufacturing plant. "We realigned each buyer with a specific product cell," James adds.
In the past, a buyer would work with multiple products including lights, power supply, electronic boards and signs. The realignment means each buyer is focused on only one product family.
In addition, since intercompany business between the United States and Europe has been growing, the company is starting to focus on managing the exchange to maintain the service and quality its customers expect. James created a new intercompany position that serves as a liaison between the United States and Europe. The new buyer position will work with the supply chain on both continents, but work from Europe.
"We have tackled many issues in supply chain over the past couple years with much success," James says. "While we are pleased with the progress, much work remains. We need to continue to strive to improve processes within the Americas as well as our interactions with our global affiliates."