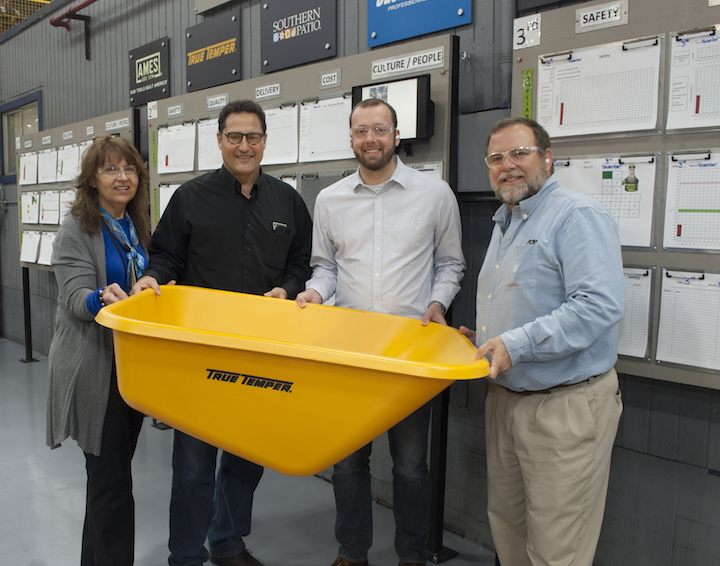 AMES sets tolerances in its supply chain to provide motivation and increase communication and collaboration.
By Janice Hoppe-Spiers
AMES claims to be the third-oldest corporation in America, tracing its history back to 1774 when Captain John Ames began producing the country's first factory-made shovels. "We've been building America ever since, through wartime and peacetime, boom and bust," the company says. "And we've had our share of adventure along the way. We've dug for gold, gone on expeditions to Antarctica and built at least two of the Seven Wonders of the modern world."
Ames kept an account book of the AMES company from 1773 through 1804. In 1784 he completed the first metal shovel, which the company says is the oldest in the country. AMES shovels were used in 1886 to build the Statue of Liberty, the New York subways in 1899 and the Empire State Building from 1929 to 1931. In the West, AMES shovels helped build the Hoover Dam from 1931 to 1935, as well as the Golden Gate Bridge from 1933 to 1937.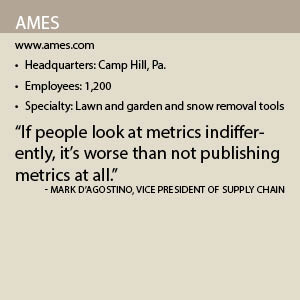 Today, AMES continues to specialize in tools for landscaping, gardening and snow removal. Innovation never rests at AMES and the company is always testing new ideas to improve its products and develop new ones. "Although we've become a global company since our humble beginnings back in 1774, we are committed to manufacturing our tools in the USA," the company says. "In addition, all of our distribution and customer service is handled by employees here in the country where this company was born."
Logistically Unfriendly Product
When Vice President of Supply Chain Mark D'Agostino came aboard earlier this year he discovered two things that make the AMES supply chain uniquely challenging: product type and weather impact.
"We make a lot of product such as shovels, rakes and wheelbarrows that don't cube out as nicely as many other consumer products," D'Agostino says. "To address this, AMES provides world-class delivery service either from warehouse to warehouse or cross-docked directly to stores."
Shovels, rakes and post hole diggers don't convey well, so AMES provides an immensely successful cross dock service to its customers who don't have to worry about breaking down pallets and organizing store orders. "This provides tremendous supply chain efficiencies and reduces turn time to the store," D'Agostino notes.
Secondly, the company is beholden to the seasons and the weather to an extent few companies can image. "Although we have a regularly forecasted base business that revolves around the seasons, due to the nature of our product portfolio, we have to be prepared to handle unpredicted weather events that few other companies can imagine," D'Agostino adds. "During the recent spate of hurricanes, we recently received accolades from numerous customers for our ability to support emergency requests for shovels, wheelbarrows and striking tools, some of which are serving disaster relief agencies."
"Before I started, there was a big snowstorm here where one of our largest customers ordered so much snow product our trucks were backed up from our distribution center all the way out to Highway 81," D'Agostino notes. "The amount of snow removal product AMES was able to deliver to the market was astronomical, just fantastic. That's the demand we have to be prepared for, so the seasonality we deal with can't be understated. This amount of product, however, cannot be produced over night."
Because AMES's business revolves around the weather, it brings unique challenges that D'Agostino says he is taking his time to understand. "I've been cautious in charting the strategic direction for supply chain (such as late point ID or KAN BAN) because the environmental conditions are so impactful," he adds. "I'm trying to take my time to understand the DNA of my products and process and how to apply supply chain techniques".
Implementing Tolerances
D'Agostino refers to himself as a supply chain guy who is a "worn out" mechanical engineer. An engineer understands that there is always variation. The design must identify how much variation the system can accept. This is the purpose of a dimensional tolerance.
Without setting a tolerance, there is no way to unambiguously assess whether the variation is acceptable or defective, D'Agostino explains. "When you make something in a factory, you have to know if it passes quality requirements and these are determined by tolerances," he says. "It's this thinking which brought me to use tolerances in supply chain."
When D'Agostino accepted the position at AMES, he brought with him the idea of setting tolerances in supply chain to improve performance.
Aligning Expectations
"Let's take forecast accuracy, for example. What's a good forecast?" he asks. "You might have a sales forecast accuracy of 77 percent in a month on a given item. The sales guys thinks this is great, the ops guys says it stinks, and if you ask around the company as to whether that's a good or bad result, you get a spectrum of answers. The result is a lack of alignment on process performance."
Tolerance allows for agreement across the supply chain, D'Agostino says. "Once a forecast tolerance is determined, let's say +/- 30 percent (difference between actual and forecast) the results are unequivocal," he explains. "The company can leverage this to build a supply chain that can deal with in-tolerance variation without adverse consequence to the operations or the customer. This may be achieved by inventory, adjusting production plans, lead-time reduction or other means, but it's the tolerance that sets the basis for alignment so everyone is on the same page."
Supply chain management is increasingly dependent on vast quantities of data. Managing data can be more efficiently done because the tolerance allows you to identify defective data points. "You start by looking at out of tolerance results as a priority and if you have more time, you can investigate further," D'Agostino says. "With tolerances, supply chain analysts use their time efficiently by analyzing defective data points as a focus."
Setting Tolerances: Motivation and Math
Through his journey of setting tolerances in supply chains, D'Agostino has learned that the wrong way to go about it is by randomly choosing a number and "seeing how it goes." The determination of a tolerance is a balancing act – you want the tolerance to be as tight as possible, however it must also be seen as realistic and achievable. (Remember SMART goals?)
"In many companies, KPIs are identified and published – you see the trend charts on the wall or in a conference room – and after a while people don't even look at them," D'Agostino says. "There is something that happens – an indifference to a metric or metric malaise – and the reason is because the metric does not really reflect the true impact of the process on the business outcome. You use MAPE as your forecast accuracy metric and month after month it hovers in the 60s. Who continues to look at it? Does it motivate people to drive to improve it? If not, what good is it?"
The key to success is to make the KPI values motivational. "Let's say the forecasting accuracy goal is 68 percent, does that drive enthusiasm? Can anyone feel proud of this?" D'Agostino asks. "What if the goal is 95 percent? What if you tell a salesperson that they don't have to be right but within the tunnel? That's motivational. You can achieve this by separating acceptable error from unacceptable."
Separate Noise from Pain
Tolerance is the means to separate truly painful error from small variations that have a negligible impact on the business. "If I only sell two products and I forecast 100 of product A and 1,000 of product B, sales of 100 of the first and 1,100 of the second would be considered a good forecast with an error of 100 units," D'Agostino explains.
"However, if I sell 200 units of product A and 1,000 units of product B, I have the same overall error but I oversold the forecast on product A by 100 percent," he continues. "I'm not indifferent to the two outcomes. Tolerance solves this dilemma."
When publishing a metric, it is critically important to ensure that the emphasis for mathematical accuracy (to convey the process behavior) is balanced with a metric that galvanizes the organization to improve. People have to feel as though they can win. "If people look at metrics indifferently, it's worse than not publishing metrics at all," D'Agostino adds.
The best way to establish tolerances is to look at the past performance of the business process, develop the KPI in an ex post facto way and judge what tolerance achieves the balance of motivation while being sufficiently restrictive.
Inventory Tolerances
"One of the top reasons I was brought on at AMES was to reinvigorate sales and operations planning, and that's what I've been doing," D'Agostino says.
Supply chain tolerances were first added to inventory management. AMES now produces a KPI that looks at the stratification of inventory that is in tolerance and out of tolerance. Measuring inventory in months on hand or against budget are common approaches but fail to communicate if the company has the right inventory, D'Agostino says.
"Our KPI answers the questions: How much inventory do I have that I want (turn)? How much inventory do I have that I don't need (surplus)? And how much inventory do I want that I don't have (deficit)?" he adds. "Now that we have a metric that clearly answers these questions, it helps us to determine what's driving our inventory. And to do proper root cause analysis and corrective action, you have to look at the monthly changes in inventory, from in-tolerance to out of tolerance as they occur. Otherwise you waste a lot of time in fact finding."
Setting tolerances for inventory has resulted in communication and collaboration improvements at AMES. "Ames has a history of service excellence, but the bar is always being raised, so we have a change in culture," D'Agostino notes. "We can't wait until the customer order is unfulfilled to start looking at what's going on. We want to know why the inventory fell out of tolerance not why we didn't fill the order, so we are ahead of the game."
Moving forward, AMES will continue to set tolerances in several places throughout its supply chain including forecast accuracy, schedule attainment and internal and external deployment. "It's very helpful to start to understand and spend time analytically determining the right tolerance to meet those goals," D'Agostino says. "We will optimize the use of our metrics to drive fundamental business practice change and use tolerance as a way to evaluate performance."