United States Postal Service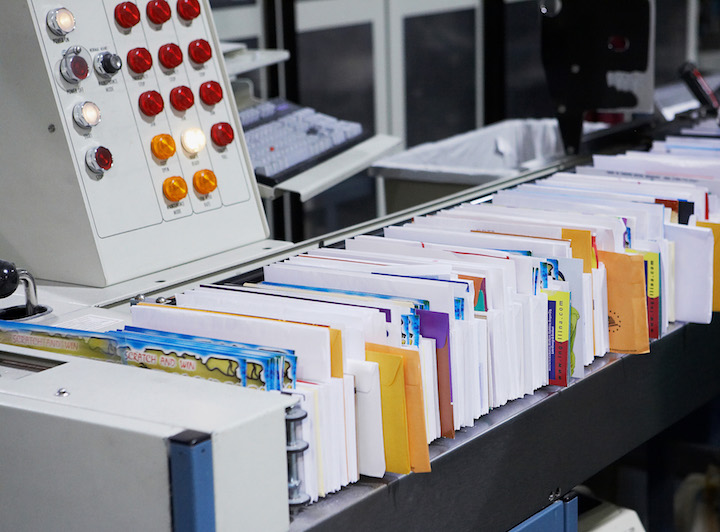 United States Postal Service introduces new technology to merge physical mail delivery with the digital age.
By Kat Zeman
Susan Brownell is good at juggling. As vice president of supply management for the United States Postal Service (USPS), Brownell helps the company juggle roughly 149 billion pieces of mail and parcels per year.
She is responsible for all of USPS's supply chain management activities and manages its supplier relationships with more than $13 billion in expenditures under contract and $6 billion worth of inventory.
Brownell also wears many hats. Aside from supplier relationships and inventory management, she suits up for strategic planning, policy modernization, process improvement, strategic sourcing and technology enhancements.
As USPS continues to experience a decline in mail volume due to online transactions, Brownell and her team are working to help the organization merge its physical mail delivery system with the digital age. "We've really been focused on helping the organization achieve this mission to marry the physical with the digital," Brownell says.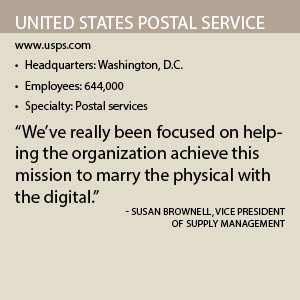 Under her leadership, USPS has made a number of changes this year. That includes investments in new technology, mail processing equipment and an effort to improve relationships with suppliers.
Informed Delivery
USPS's total mail volume has declined by roughly 30 percent in the past decade. Its most profitable product, first class mail, has declined by about 39 percent since then and is expected to continue declining as a result of the increase in online transactions and other digital communications. "On the bright side, we've seen growth in the package side of our business," Brownell says.
In response to changes in the marketplace, USPS has pursed an aggressive agenda of cost-cutting, efficiency improvements and targeted innovation that has resulted in roughly $14 billion in annual savings.
This was achieved by consolidating 360 mail processing facilities and 20,000 delivery routes; modifying retail hours at more than 13,000 post offices; reducing its total workforce size by more than 150,000 through attrition; renegotiating employee contracts; and through reductions in administrative overhead.
In an effort to bring physical mail delivery into the digital age, USPS introduced Informed Delivery. A free and optional notification service, it gives residential consumers the ability to digitally preview their mail and manage their packages online.
Users receive email notifications containing images of the exterior, address side of incoming letter-sized mail before it arrives. Notifications also include a list of packages scheduled to arrive that day.
"Informed Delivery benefits the entire household, ensuring that everyone has visibility into mail and package delivery each day," Brownell says. "It is truly a unique feature from the postal service – it allows users to take action before important items reach their mailbox."
Informed Delivery also creates an unprecedented opportunity for businesses and marketers to engage users through synchronized direct mail and digital marketing campaigns. Marketers can provide color images to enhance or replace the grayscale images and a URL to drive consumers to a digital experience. These notifications can potentially increase engagement and drive user action.
The service is available to eligible residential consumers in the majority of ZIP codes across the country. "We currently have over seven million users who can preview their mail and take action online," Brownell says. "I think that's pretty revolutionary."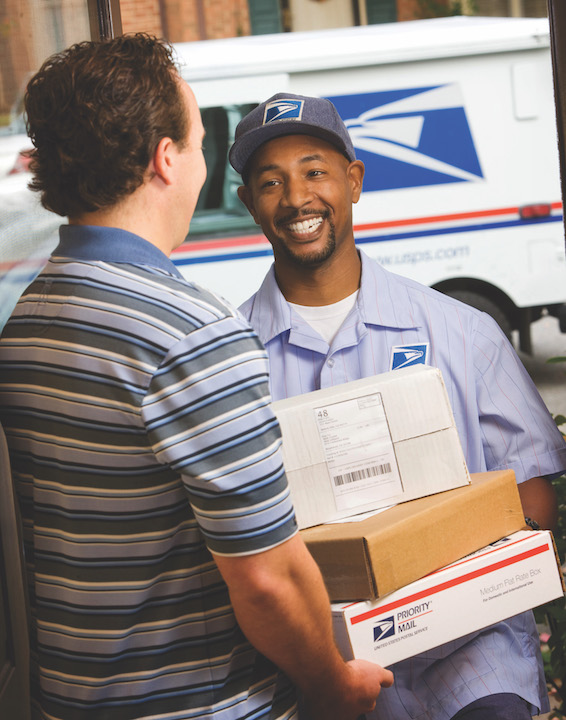 Millions and Billions
USPS is a self-supported entity that does not depend on taxpayer dollars. It relies on the sale of postage stamps, products and services to fund its operations. In 2016, the postal service printed roughly 19 billion stamps. The organization also claims the country's largest domestic retail network and says that it's larger than McDonald's, Starbucks and Walmart combined.
Generating roughly $70 billion in annual revenue, USPS employs about 644,000 people. It is the second-largest civilian employer in the United States and the largest employer of U.S. veterans at more than 113,000.
In its 2017 fiscal year, the postal service delivered about 149 billion pieces of mail to about 157 million locations. It operates more than 31,000 post offices and serves 43 million rural addresses. For much of rural America, USPS is often the only delivery option. "Only the postal service can deliver to your mailbox," Brownell says.
On the supply chain side, the postal service has roughly 231,000 motor vehicles, one of the largest civilian fleets in the world. Part of this fleet is currently in the process of being replaced with newer-generation vehicles to incorporate the automotive industry's advances in ergonomics, safety features, fuel efficiency, low emissions and design flexibility.
In addition, with its recent growth in package delivery due to increased online sales, USPS has made investments into mail processing equipment this year. "We've made investments into parcel sorting, scanning and imaging equipment to help us track the packages," Brownell says.
Brownell and her supply management team also leverage strong partnerships with private companies, many of which are small businesses, to allow consumers to purchase its products and services in more than 72,000 commercial locations in the United States.
Furthermore, the postal service is making changes to its management processes. "We've spent a lot of time, energy and effort to build strong supply relations and to manage performance," Brownell says. "We've revamped our supply management processes."
Out of USPS's 17,000 suppliers, only about 85 are key players in its supply system. Brownell is focusing on the key players. "We have developed a system to ensure that the suppliers are achieving superior performance," Brownell says. "We have regular meetings with them and we are updating our supply chain relationship management system that we use to manage those relationships."
Famous Faces
USPS is known for delivering packages. It is less know for some of the famous faces it has employed. Most people know that Benjamin Franklin worked for the post office prior to becoming famous for his inventions. But USPS has a long celebrity-studded list of people who worked for it before making history.
Actor and comedian Steve Carell, famous for playing Michael Scott on The Office, worked for USPS in 1985 as a rural letter carrier in Littleton, Mass. Others actors that have worked for the postal service include Rock Hudson as substitute letter carrier (1947) in Winnetka, Ill., and Bing Crosby a as clerk (1921) in Spokane, Wash.
Aside from the Hollywood elite, USPS has employed a few of the most powerful men in the United States: U.S. presidents. Before taking his seat inside the Oval Office, Abraham Lincoln sat behind a desk in New Salem, Ill., where he worked as postmaster from 1833 to 1836. Apparently, postmaster is a popular choice for the nation's leaders because Harry S. Truman worked that job from 1914 to 1915 in Grandview, Mo.
Other famous people who have been on USPS's payroll include Conrad Hilton, Walt Disney, writer Charles Bukowski and baseball hall-of-famer Harry Hooper. Although it's not a person, USPS's postage stamp became famous in 2016 when the Guinness World Records named it a record holder for "the farthest distanced traveled by a postage stamp."
A postage stamp was inside the New Horizons Spacecraft in 2006 when it launched into outer space from Cape Canaveral, Fla. The stamp arrived on Pluto July 14, 2015. It traveled nearly 3.3 billion miles. The USPS sure knows how to claim fame – and deliver to faraway locations!