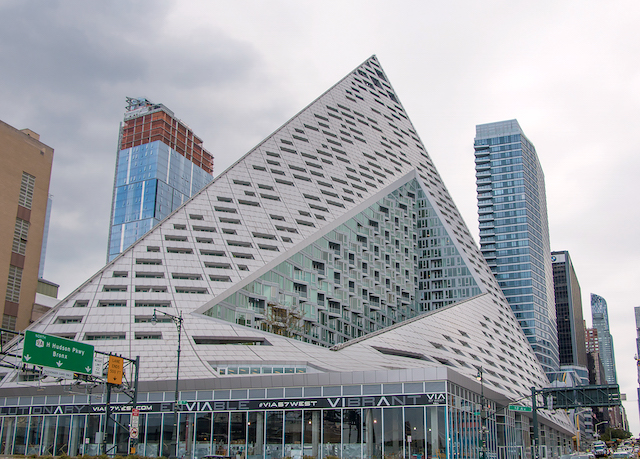 Fujitec continues to improve the way its elevator projects are sourced and staged.
By Jim Harris
For more than 60 years, Fujitec has set an industry standard in the manufacturing, installation, modernization and service of specialized vertical elevator systems.
In recent years, the company's North American operation has improved on its history of quality and integrity by revamping the way it manufactures and delivers its systems.
"I'm proud of the inventory control and efficiency we've created not only for manufacturing and logistics, but most importantly for installation," says Joseph Smith, vice president of the company's New York regional office.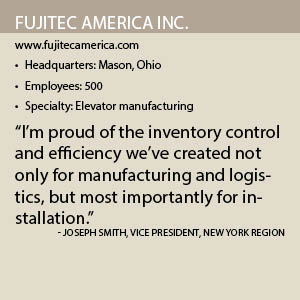 The company's headquarters and main manufacturing facility in Mason, Ohio, manufactures controllers as well as all steel work – including machine platforms, brackets, car slings and controllers – for elevators. These components are shipped to the New York office and 12 other offices and warehouses, where they are stocked and sent to contractors and building owners.
In addition to serving as a distribution center and warehouse, the New York office handles rails, ropes, door equipment, machines and other elevator components imported into the United States from Fujitec's overseas manufacturing facilities. The New York office also includes a fabrication and machine shop for repairs, Smith says.
Founded in Osaka, Japan, in 1948, Fujitec has headquarters in North America has well as in Japan, south Asia, east Asia and Europe. The company operates 11 manufacturing facilities, multiple sales offices and four R&D centers around the world.
Sequence Improvements
Under Smith's direction, the company a few years ago changed its manufacturing process to be more in line with the construction sequences of the buildings in which its elevators are installed.
"When I started here, Ohio would get a job, manufacture all the components and send them all at once," says Smith, who started with the company six-and-a-half-years ago. This system led to parts being mislabeled or lost, and made inventory control difficult.
"It was boxes and crates of commingled parts, and was difficult to manage for inventory control or field efficiency," he adds.
Smith formed a team of field personnel and supervisors who discussed their issues with the manufacturing process with the Ohio facility. Collectively, Smith's team and Fujitec corporate personnel developed systems that have greatly improved the way the company produces and delivers elevators.
Fujitec North America now has a manufacturing sequence in place for each type of elevator it produces, which includes hydraulic, machine room-less and traditional elevators. The New York and other offices have weekly teleconference meetings with the Ohio manufacturing facility during which production schedules are determined. "We can make real-time adjustments to the production schedule as needed if projects are expedited or delayed," Smith says.
The production schedule includes a parts-tracking system. Elevator components are labeled in a manner that makes it easier for field personnel and contractors to know where to place components. "When a piece comes from Ohio to New York it is marked and labeled to ensure it the right equipment for a certain job, then entered into our inventory system and stored," he adds.
A new packaging system is in place that allows crates of parts to be stored side by side in trucks. These crates can fit through standard door openings and are easily maneuverable; previously, parts were placed in one large crate that was difficult to transport, Smith says.
Fujitec further eased transportation by purchasing a boom truck to deliver rails to construction sites. "When we have scope meetings with customers, we make provisions so we can boom rails directly to a floor," he adds.
The company's new processes also apply to its work with vendors, which include elevator cab manufacturers EDI-ECI and A&D. The doors, cabs and entrance frames used in Fujitec's elevators are completely outsourced. "[Our vendors'] equipment is critical to our success, so we need to be on the same page," Smith notes.
Staying Transparent
Fujitec North America has enhanced the technology it uses to keep in contact with its manufacturing department and vendors. Earlier this year, the company installed a new intranet system serving its locations in the Canada and the United States. The system includes a backup intranet trunk in the event of a failure to its main trunk.
"Our former system used to shut down all the time," Smith says. "The new system is fast, efficient and allows for a faster response from everyone including field personnel and dispatchers." Field personnel use smartphones as well as tablets and laptop computers to access scheduling and other project information.
The new intranet system has also enhanced transparency between departments. "In the past, it was difficult to ask Ohio where we were with a job. Today, everyone can see exactly what a project's status is and what's needed."