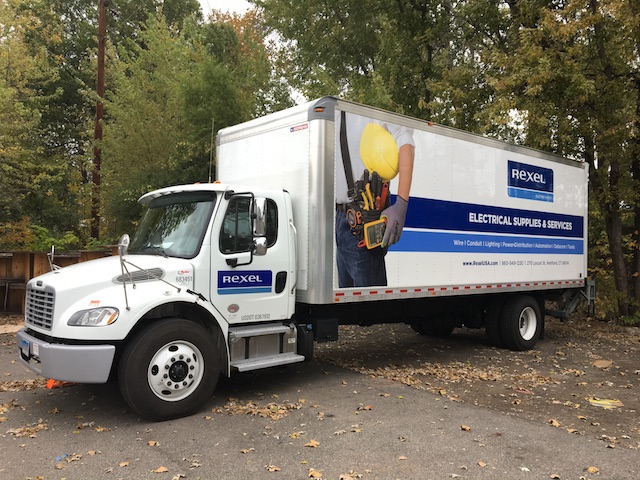 Rexel pushes its supply chain forward as it works toward 24-hour order delivery.
By Tim O'Connor
Large projects such as data centers can carry a significant environmental impact. As awareness around carbon footprints has grown in recent years, sustainability has gone from a buzzword to a requirement. Contractors and building owners measure their success not only by staying on schedule and budget, but also by their ability to achieve LEED certification.
For many projects, reducing the environmental impact begins with cutting energy use – and few things move the needle on the energy meter as much as a building's lighting system. As an electrical distributor that offers lighting products, Rexel is well qualified to help clients find sustainable solutions such as motion controls that automatically turn off lights after periods of no activity in a room.
"All our businesses in the United States have people who are focused on energy efficiency," Vice President of Transportation and Supply Chain Processes Jim Brady says. "We are seeing an increase in what our customers require."
Sustainability efforts are not exclusively for new construction. Rexel can also help customers perform lighting audits of the existing structures and determine opportunities to install systems that reduce energy use. Further, the company is a major seller of solar products and can help with the installation of an array to generate power and offset the building's energy use.
"As the market is evolving, we're trying to stay ahead of that and are working with our manufacturers to bring those products to the market and help promote them," Brady says.
National Player, Local Feel
Rexel is one of the largest electrical distributors in the United States, selling electrical supplies and services to contractors, industrial users and OEMs. Its products touch on lighting, switch gear, network cabling infrastructure, automation, security and photovoltaic solar power.
Its worldwide headquarters is in Paris, but the company operates 2,000 branches in 32 countries. The U.S. strategies are aligned with the global objectives, while maintaining a focus on local market needs within the United States.
Its size gives Rexel a distinct advantage in the American market. The electrical distribution industry is fragmented, and most players are small or mid-sized regional companies. An electrical distributor might have a strong presence in New England but few will venture outside of their set territories.
Rexel differs in that it provides products and services across the entire country. "The biggest advantage we have is we are a nationwide player and we have the ability to act and behave like a nationwide player and service our customers across multiple regions and markets," Brady says.
Rexel leverages that nationwide operation to provide a wide range of products and excellent service at the local level. The company maintains 400+ branch locations, each of which serves a dedicated market. The bulk of those branches are full-service stocking locations capable of supporting whatever need a customer has. Backing up those branches is a network of distribution centers located in key markets, enabling Rexel to move products around seamlessly to where they are needed most.
The combination of a local presence and regional distribution centers helps Rexel realize its philosophy of using its supply chain to improve customer service. "As a distributor, our job is to provide supply chain services to our customers and ensure we're able – from a quality and efficiency perspective – to get the products to our customers when they need it and get them what they need," Brady says.
A delayed shipment can be disastrous for a customer. Industrial facilities might have to cease production while they wait for replacement electrical wiring, and work on a construction site can come to a standstill if crews have to wait for fixtures and sensors to be delivered.
Downtime costs money, which is why Rexel designed its supply chain to limit such occurrences. The company has a fleet of 600 vehicles that can deliver most items to the customer within 24 hours and often the same day. Many locations even have counters where customers can walk in and pick up online orders.
Speed Expectations
Rexel's hundreds of thousands of stock SKUs represent more than 60 percent of its overall business. The other major segment is project work. If a contractor needs a custom control panel for a new skyscraper, Rexel's in-house engineers can help them design the control panel to specifications. Then, the company will work with the manufacturer to have it delivered directly to the project site.
Project managers work with the client to ensure everything goes smoothly and the component is delivered on time. "It's critical that we have project managers who manage the overall supply chain from the manufacturer to the customer on these large scale projects," Brady says.
Being able to respond quickly to customer orders has become a necessity in the modern online environment. "As digitization starts to spread across many markets, similar to the consumer goods market, the expectation has gone from several days until you get product to next or same-day type delivery," Brady says. Online retailers have taught construction supervisors and plant managers that goods are delivered within two days to their homes. Why shouldn't they demand the same in their professional life?
That expectation creates a challenge for supply chain-dependent companies such as Rexel, which must balance their customers' requirements with the cost of executing such fast delivery turnarounds. "Looking from a supply chain perspective, how do we differentiate ourselves with the highest level of service and profitably meet the highest level of customer demands?" Brady asks.
One way of finding that balance is to make more efficient use of existing assets. Every day, the 600 vehicles in Rexel's fleet make morning and afternoon delivery runs to customers. The company is now using routing software from Cheetah Logistics Technology to optimize those deliveries and reach more customers faster. Being able to optimize routes is especially important in situations where a customer needs materials dropped off 6:30 a.m. before the electricians arrive at 7 a.m. for that day's work.
"With the use of Cheetah, we're able to balance our load to meet our customer requirements, then measure ourselves against those requirements," Brady says. Since adopting the system, Rexel has achieved 98 percent on-time delivery across all its distribution centers that are using Cheetah.
From an inventory perspective, Rexel constantly re-profiles its stock to ensure it stays ahead of requirements and can meet demand. Re-profiling is a collaborative process among the local commercial teams, customers and suppliers to determine which items are selling in an individual market and what products customers need to access. A change in local building codes could completely alter demand.
Some markets, for example, require contractors to use color-coded wiring that signifies the purpose of that wire. That can have a drastic impact on inventory. Take a common 500-MCM copper wire. In cities where there is no color-coding requirement, Rexel can simply carry 10,000 feet of that copper wire in standard black. However, if the local municipality wants contractors to follow a color-coding scheme, then Rexel must carry inventory on orange, green and red wiring, potentially tripling the amount of copper wiring inventory it must maintain. By re-profiling, Rexel can better anticipate changes in demand and stay ahead of those shifts.
Leveraging Technology
Because many projects hinge on when materials will arrive, clients want transparency. Rexel offers a mobile application and online store that enables customers to submit orders and check their delivery status, giving them greater confidence as to when their electrical supplies will arrive.
Technology plays an important role within Rexel's warehouse operations as well. The company's warehouse management software (WMS) is PathGuide and all of its distribution centers are equipped with radio frequency (RF) picking systems. That combination of PathGuide and RF picking provides Rexel with a high level of order accuracy, productivity and inventory management, according to Brady.
On the fleet management side, Rexel has implemented GPS and driver behavior tracking capabilities. The system will track location, speed, braking and acceleration as a way to promote safe driving behaviors. "We are focused from a proprietary standpoint on safe driving within our delivery fleet," Brady notes.
The tracking software is now in about 300 of Rexel's delivery vehicles and expected to be fully deployed by the end of next year. Drivers have embraced the technology, Brady says. "At first, there was some concern about being tracked," he explains, "but, candidly, we've seen a decrease [in bad behaviors] and much more awareness of driving patterns." With the initial data showing a positive impact on safe driving, the driver concerns have dissipated. "Our drivers are professional drivers," he continues. "I think they are realizing this is pretty much an industry standard."
Two other partners have become indispensible parts of Rexel's fleet program: GM Fleet and Runzheimer. GM Fleet supplies many of the mid-sized trucks Rexel uses to make its deliveries. "They've also been a crucial part of optimizing the design of our delivery vehicles, especially for our smaller to mid-sized branches," Brady says. "We've worked with them to purchase the Chevy 4500 and 5500 series delivery vehicles."
In addition to its delivery fleet, Rexel's supply chain organization manages all of the company's car vehicles. For most businesses, that carries a large capital cost. However, Rexel utilizes Runzheimer's fleet reimbursement platform. The program enables employees to use their own vehicles, tracks their movements and customer visits, and helps them optimize travel routes and reimburses them for legitimate usage.
"Runzheimer has been an incredible partner working with us to basically support that program," Brady says. "They are constantly looking to drive efficiencies for our organization to provide our employees the best solutions for a fleet program."
Forward Thinking
By definition, continuous improvement never ends. Which is why Rexel is taking cues from industry leading companies as it looks for the next process and piece of technology to bolster its supply chain operations. "Our goal is to really be in the forefront of supply chain and leverage current and emerging technologies to take us to the next level," Brady says.
Rexel is working to being able to fulfill customer orders and have them delivered to site within a maximum of 24 hours. The technology is already there, but the trick, Brady says, is being able to do it within a cost-effective service model.
Rexel is looking at new technologies that improve its ability to provide a safe working environment while driving efficiencies. "Our No. 1 priority across the business – and it's something we're relentless with – is safety for our employees," Brady says. "We want to be the leader in this particular electrical distribution area."