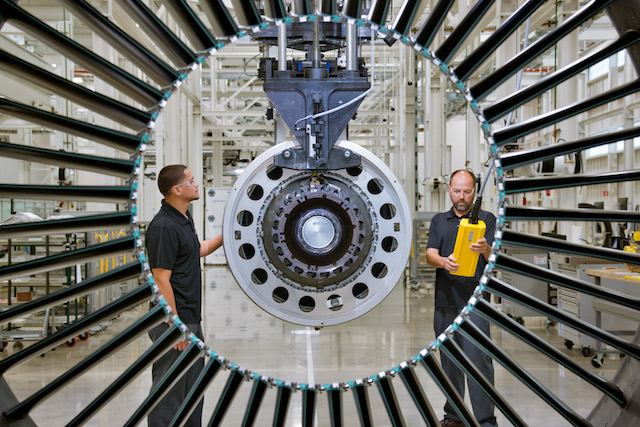 Pratt & Whitney drives improvements by working closely with its suppliers.
By Alan Dorich
It can be hard to find the right balance between being environmentally beneficial and keeping costs down, but Pratt & Whitney (P&W) has found it. The Hartford, Conn.-based company has helped its aerospace clients find it, too. "Pratt & Whitney continues to go beyond with its latest engines, demonstrating the tremendous benefits of its geared turbofan technology," Senior Director of Supplier Performance Darren Bicknell says.
The company, a division of United Technologies, has established itself as a leader in designing, manufacturing and servicing aircraft engines and auxiliary power units. P&W started operations more than 90 years ago and made its mark with the WASP engine.
It was revolutionary at the time, Bicknell says, because the WASP switched from the then-standard water-cooled engines to air-cooled. "We have continued to disrupt the market ever since, ushering in more fuel-efficient engines to drive a continuous evolution of commercial and military aviation," he says.
P&W's recent innovations include its geared turbofan (GTF) engine that allows fan blades to operate at an optimal speed that is one-third the speed of the turbine. "This produces a 16 percent better fuel efficiency, 50 percent fewer emissions and a 75 percent smaller noise footprint," Bicknell says.
"This is the engine of the future," he continues. "We are leading market changes by offering the GTF engine, which radically changes the operating economics for airlines with its 16 percent better fuel efficiency."
Good as Gold
Bicknell is a longtime veteran of the business systems, telecommunications and aerospace industries, where he held leadership positions that supported massive production ramp-ups. He has been with P&W and P&W Canada for 13 years, and holds a seat on the United Technologies Supplier Performance Council.
Under his leadership, P&W focused on supplier development and performance recognition through the United Technologies Supplier Gold Program, which was launched in 2008. "We set out our expectations for perfect delivery and quality, assessed the strength of our relationships across several improvement dimensions and worked with our suppliers to achieve robust and sustainable performance by leveraging our supplier health assessment," he recalls.
The process incorporates best practice sharing in the areas of lean, quality, process management, resource management and corporate responsibility. "We believe so strongly in the merits of this program that we made it a contractual requirement for participation in all new growth programs, including our geared turbofan and Joint Strike Fighter engines," he says.
Suppliers that have benefited from the program include MB Aerospace. "There's been a renewed effort and energy in collaborating and working together," Sales and Customer Service Manager Jon Owens says. "There's been such an increased focus on reporting requirements, MRP analysis, increased complexity of delivery schedules and looking at providing more information to Pratt & Whitney."
Making Connections
P&W has added more than 200 supply chain professionals to its team in the past two years to ensure close collaboration with suppliers. In some cases, the company embedded them with key suppliers to ensure visibility into their business needs, Bicknell says.
"That has given us an awareness and sensitivity into what information is needed by our suppliers – and when they need it – in order to meet our own production or other needs," he says. "At the same time, our suppliers better understand our manufacturing map and can help us better plan for the near-term."
The company also holds monthly business reviews with hundreds of suppliers to ensure tight collaboration and improvement efforts on both sides. "Together, with our suppliers, we can identify risks earlier in the value stream, understand the magnitude of those risks, and work together to develop the most effective and efficient corrective action," he says.
A supplier that has benefited from these collaborations is Connecticut Tool & Manufacturing LLC. The company had a process that needed to be revamped, and P&W was able to help, with the assistance of its supplier development engineers and transition teams.
Connecticut Tool worked with P&W to create a plan for developing its people as it matured its processes. "As we were investing in equipment, Pratt was also investing with us through training, through collaboration and helping us to quickly get parts delivered on time and at cost," Connecticut Tool Vice President and General Manager Michael Greenwald comments.
P&W is pursuing other areas of collaboration. "Our next step is to continue driving towards an integrated, direct digital connection with suppliers' systems – continuing to increase efficiency and earlier detection of risks," Bicknell says.
Right on Track
P&W plans to keep busy and successful. "We are on track to produce 350 to 400 GTF engines this year, and will likely double that in 2018," Bicknell says. The company has more than 8,000 orders and commitments for the engine.
The market looks strong for the product. "Airlines need more fuel-efficient engines," he says. "Fuel is the No. 1 or No. 2 line expense for any airline, so any savings on fuel is of interest to an airline operator."
Because the GTF engine produces 16 percent less CO2, "We are giving airlines a potential future financial asset, as global cap-and-trade or offsetting schemes for carbon-neutral growth come into being," Bicknell says. "We will continue to improve the engine, adding more fuel efficiency through improvement packages to further benefit airlines."
Built on Trust
A world-class supply chain can create value for companies in multiple ways, Pratt & Whitney (P&W) Senior Director of Supplier Performance Darren Bicknell says. These benefits include differentiated performance, agility, joint marketing initiatives, and risk and revenue sharing.
"Hallmarks of those supply chains include an emphasis on efficient and effective collaboration," he continues. "We want to benefit from global supplier and partner skill sets but streamline communications as if all parties were working from the same room."
P&W believes the answers to these challenges must be multifaceted. "It requires a digital strategy and vision, a talent localization strategy that positions key roles in close proximity to your most impactful suppliers and relationships that are built on transparency and trust," Bicknell says.
Encouraging Sustainability
Pratt & Whitney not only focuses on the environmental impact of its operations and products, but also supports its suppliers' green efforts. Supply chain sustainability is a collaboration opportunity for mutual value creation.
Sustainability is embedded in P&W's supplier performance expectations measured through the Supplier Health Assessment (SHA). Eleven key questions evaluate a supplier's maturity in sustainable practices, and identify gaps to reach best-in-class metrics which include ethics, corporate commitment, injury rates, energy use, recycling rates, water use, and environment, health and safety (EH&S) management.
P&W's annual Supplier Sustainability Award recognizes suppliers for minimizing their impact on the environment while improving the efficiency of their operations.
Furthermore P&W is working to further engage its suppliers using Extended Producer Responsibility (EPR). The EPR program looks at design for recyclability and material separability, take-back of end-of-life parts/engines, and reducing environmental impacts.
Best in class EH&S programs improve the profitability and long-term sustainability of business, and P&W will increasingly do more business with and reward those suppliers who embrace sustainability in their business.