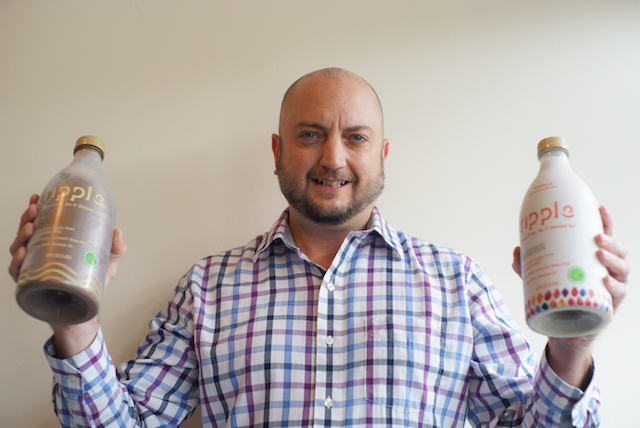 Ripple Foods wants to be known as a source for quality alternative dairy products.
By Alan Dorich
Ripple Foods is a relatively young company, but it has the wisdom of an older firm. "We've assembled a team that has a lot of experience and knows how to navigate the complex retail space," Vice President of Supply Chain Brian Hudon says.
Based in Emeryville, Calif., Ripple Foods manufactures dairy-free, plant-based milk, half and half, and yogurt. "We set out to provide a product that tastes good first and foremost, and is nutritious," he says.
Neil Renninger and Adam Lowry co-founded the company in 2014 after working in the biofuels and environmental cleaning products industries. "They thought the dairy alternative space lacked something that consumers were looking for," Hudon says.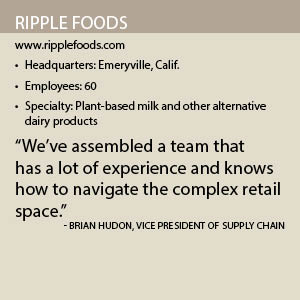 The two started Ripple Foods with the goal of providing the products in a better way. "The name 'Ripple' was [derived from] the idea that small changes that you do in your life can have a ripple effect and create products that have a chance to facilitate change in the world," Hudon explains.
Ripple Foods has accomplished this through its technology. "We're able to take a raw material plant source and extract protein, which is tasteless, and leave behind a lot of the starchiness," he says.
"That leaves us with a cleaner protein base," Hudon continues. "We're always looking to optimize and improve that process so we can provide a better tasting product for our customers."
Ripple Foods currently uses peas for this process but is looking at alternative feedstocks. "We've evaluated dozens and dozens of them and we're always looking towards the future for what protein we can use," he says.
On Par
Today, Ripple Foods' milk products are sold in 48- and 12-ounce containers, along with its shelf-stable kids' products, and a vegan half and half product. Each product, Hudon notes, is on par with those from dairies.
"We deliver eight grams of protein per serving," he says, adding that they feature lower sugar and fat contents. "We don't want our customers to feel like they're making a trade-off."
Ripple Foods also is still raising awareness about its brand. So far, "We've had a good track record, going from zero to 8,000 [stores] in 18 months," Hudon says. "We want people to see us as a brand they trust and brings really great products to market."
The company also substantially grew its operations in recent months. When it started, "We had one strategy in terms of how we went into the marketplace," Hudon recalls, explaining the company only had a single manufacturing facility and one point of distribution.
Since then, the company has added more distribution and manufacturing facilities so "we have continuity of supply and we can maximize our cost structure," he says. "As we grow the company, we'll look to further optimize."
Limiting the Spoils
Ripple Foods is coping with freight costs. "We've really had to work hard at maximizing our freight," Hudon says, noting that the company is in constant negotiations and has hired a logistics professional. "He's managing all of this for Ripple."
The company also has formed strategic partnerships with C.H. Robinson Worldwide Inc. and J.B. Hunt Transport Inc. and moved towards a regional supply chain. "My whole goal is to take miles out of the supply chain," he says.
The limited shelf life of Ripple Foods' products also makes things challenging. "We have a set time that we can get products in the hands of consumers," Hudon says. "We're in a constant battle trying to limit our spoils while maximizing our service levels."
The company relies heavily on its planning team to make sure it has enough products for its customers. "We also brought in someone to lead our supply chain planning group," he says. "He previously worked at one of our key retail partners."
This has given Ripple Foods insights on how the retailer plans their business. With this information, "We've been able to service our customers at an extremely high rate while mitigating our spoils," he says.
Excellent Partners
Ripple Foods' vendors have contributed to its success, including Roquette America Inc. "We have a really great relationship with Roquette," Hudon says, noting that the company had faith in Ripple Foods after learning its strategy early on.
"They saw potential in the brand and they really established early on a willingness to work with us and help us grow this brand," he says, noting that both companies continue working closely together. "[Roquette has] been an excellent partner."
A Dream Job
Hudon joined Ripple Foods in 2015. Previously, he had worked at Lowry's Method Products, an environmental cleaning products company. While trying to launch his own brand, "I was reacquainted with Adam," Hudon recalls.
The two had a conversation about how Ripple Foods planned to enter the dairy alternative space and build a value-based culture. "It was my dream job [where we could] really build a supply chain team and a structure from the ground up," Hudon says.
He is proud of how Ripple Foods has grown to work with major retailers, including Target, Whole Foods Market and Meijer Inc. "We are in the process of launching into Kroger," he says, adding that the company's plan for the next three years involves new products, including a line of Greek yogurts.
"We also want to anticipate the needs of the business so we spend a lot of time working on our longer-term strategy and how we can invest in equipment," he says. "That's a huge part of my focus: looking at different ways to run our network [so we] can continue with an eye towards improvement and optimization."
Data Driven
Ripple Foods is a data-driven company. "We're constantly looking at and evaluating data," Vice President of Supply Chain Brian Hudon says, noting that it uses Tableau, a business intelligence software. "By understanding data and utilizing technologies, we're able to understand how we can mitigate risk to be successful."
The company also is a partner of Farmers Business Network, an independent network of thousands of Farmers. "We want to improve the livelihood of farmers by providing them with data," he says. "We want to do things that impact the world."