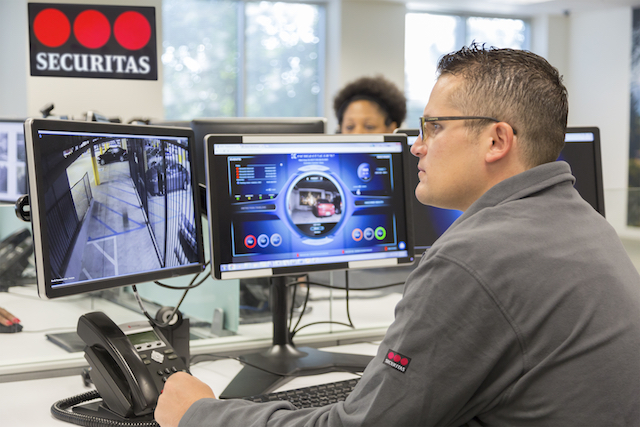 Securitas USA continues to creatively leverage cutting-edge technology and its employees to meet clients' needs in ever more challenging security environments.
By Bianca Herron
As the leader in protective services, Securitas is a knowledge leader in the security industry, providing security solutions that deliver efficiencies without compromising security. Globally, Securitas and its 330,000 employees operate in 55 countries. It is the only company that provides security expertise across the "six pillars" of protective services. This includes on-site, mobile and remote guarding services; as well as electronic security, fire and life safety; and, through its Pinkerton division, corporate risk management.
In the United States, Securitas has 90,000 employees, more than 200 offices and nearly 500 branch managers. These resources support Securitas' commitment to being the industry's most locally-focused security provider.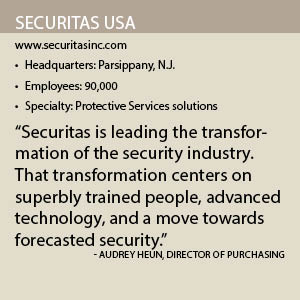 Industry Leader
From its leadership position Securitas is moving the security profession forward on several fronts. "We truly are leading the transformation of the industry," Director of Purchasing Audrey Heun says. "That transformation centers on superbly trained people, advanced technology, and a move towards forecasted security.
"Our security officers' cell phones allow them to conduct reports and place them online for instantaneous review by our clients," Heun continues. "More broadly, and in response to clients' needs for more flexible and cost-effective security, we developed and are now delivering integrated guarding."
Integrated Guarding combines on-site, remote and mobile guarding to deliver more comprehensive security, typically, at reduced costs, she notes. The effectiveness of integrated guarding is enhanced by Securitas having the largest mobile footprint in North America.
Heun adds that the New Jersey-based company's client recommendations are based on deep-dive, systematic assessments. "Our client-specific risk assessments have become the benchmark in the industry," she says.
Securitas' employees are also key to its success, and as the industry has become more tech-driven the company has continually upgraded the training of its staff to take best advantage of the ever-changing technology.
"Through our Securitas online academy and learning management system, we deliver continuous training to our security officers," Heun says. "This includes highly interactive simulations, self-paced learning, instant feedback and real-time performance assessment."
Additionally, Securitas' employees are constantly in communication with its clients, which increases transparency. "For example, many of our clients have dedicated points of management contact on our end to ensure they are being fully taken care of," Heun explains. "We also conduct weekly and monthly reviews with the client depending on their preferences."
On the strategic front, Securitas is leading the industry's transformation from reactive to forecasted security. The goal of forecasted security is detecting and acting on threats before they happen. This ability taps Securitas' extensive historical data and real-time information from such sources as smart camera systems, intelligent sensors, robots, radar systems and drones. "We have significant advantages in the ability to gather, analyze and utilize large volumes of data to our customers' benefit," says Heun.
Remaining Agile
Heun notes that over the years clients' needs have changed not only in technology, but also in their uniform requests. For example, some of Securitas' clients prefer its employees to look more casual, rather than official.
"It all depends on the client," Heun says. "I have energy sites that want security officers to have a military look, while some sites located in building lobbies want them to wear business suits."
Being able to provide this level of customer service is made possible through the company's close partnerships with uniform suppliers. "Our supplier partners not only help tailor uniforms to our clients' needs, but also manage inventory for us," Heun says. "So if a new contract starts up, we can immediately deliver new, client-specific uniforms to our officers."
Heun has been with Securitas for 37 years and is most proud of its organization and employees. "I have great support from management and my team," she says. "Over the years, I've particularly enjoyed supporting Securitas' involvement in world class events such as major golf championships; major league sports venues; presidential inaugurations; most of the Fortune 1,000; and, my personal favorite, the Olympics. I've also overseen the development and rollout of numerous uniform designs – all of them either in advance of, or response to, client expectations."
As Securitas looks ahead, the company is committed to maintaining its top ranking. "We want to continue to be the preferred, first source for our clients to come to," Heun concludes. "Our people, technology and service make that happen."