North American Lighting Inc.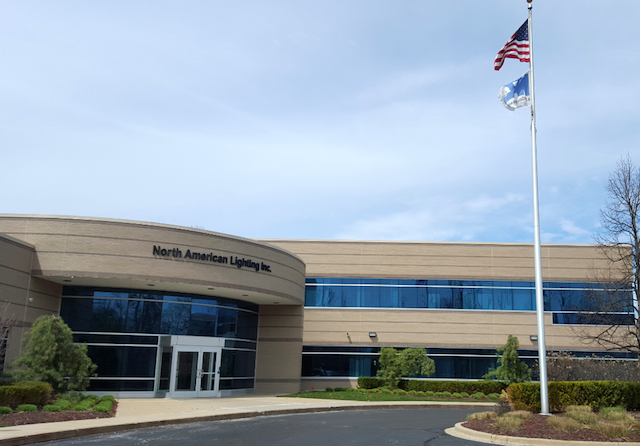 NAL focuses on staying dependable to clients that include Toyota, Honda, Nissan and Ford.
By Alan Dorich
If you have driven a car in North America, you have encountered the work of North American Lighting (NAL) Inc. without even realizing it. "If it's on the outside of the car and it reflects and emits light, it's our product," Director of Sales and Marketing Ron Wheat declares.
Paris, Ill.-based NAL designs and manufactures automotive exterior lighting for all North American automakers, including Toyota, Honda, Ford, Nissan and Cadillac. The company started operations in 1983 as a joint venture between Koito Manufacturing Corporation, a Japan-based lighting manufacturer, and two other firms.
NAL began with only nine employees and a taillight order from Toyota. Today, "We are the largest Tier I supplier of exterior automotive lighting in North America," President and COO Kirk Gadberry says, adding that NAL is 100 percent owned by Koito Manufacturing Corporation.
The company serves a client base that holds it to high standards for quality, cost, development and delivery. "They define how we are judged as a supplier," Wheat says. "We have to succeed on all fronts to be a supplier of choice."
NAL maintains its quality through Koito Manufacturing Corporation's world-class production system, which was inspired by its work with Toyota. "Our pull system creates a very efficient manufacturing system that gives NAL quite an advantage," he states.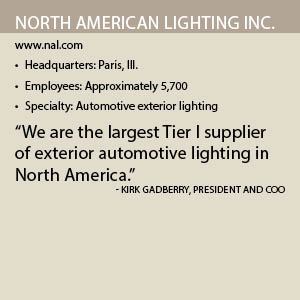 Terrific Enhancements
NAL has watched the profile of automotive exterior lighting change over the years. "The lighting in general has gone from a functional piece of the vehicle to absolutely being a major part of its styling now," General Manager for Corporate Production Control Brian Gosnell says.
A headlamp used to consist of five to eight components, but it now incorporates multiple vessels, LED sources, paints and even masking. "It is much more part of the design of the vehicle," he says.
The technology has changed, too. When Gadberry joined NAL in 1992, "Everything was an incandescent light source," he recalls, adding that LED has become commonplace. "That represents a significant change in what has occurred in the last five years."
Not only are LED lights more efficient, they last longer and provide more clarity to drivers. "LEDs also are quicker to illuminate as opposed to an incandescent light source," Gadberry adds.
Wheat adds that NAL will see another technology shift with the introduction of advanced driving beam headlamps. The smart technology, which has yet to be legalized in North America, senses the environment and makes adjustments for the driver.
"It can tell the speed at which you're driving," he describes, adding that the lamps also can sense road signs and pedestrians and prevent glare for oncoming drivers.
"The need to dim your lights will no longer be necessary when you see an oncoming vehicle," Wheat says. "It will be a terrific safety enhancement."
Supply Priorities
NAL spent the last several years focusing on its supplier relationships. "We understand that we cannot be successful without our suppliers. That is why we partner with world-class suppliers that have superior quality, delivery, competitive costs, and a global footprint. We seek suppliers that are technology leaders that desire to growth with us," General Manager for Corporate Purchasing Roy Holliman says.
The company accomplished this by partnering with suppliers across the globe that are flexible to the needs of NAL's clients. "Like ourselves, our supply partners must employ supply chain strategies that allow them to make adjustments to meet the changing needs of our customers and the automotive market. Many of our international supply partners have established local warehouses to ensure this flexibility."
NAL also has invested in its technology. "Within the last three years, we went through a full ERP system implementation," Gosnell recalls. "As customers change and need different parts at different times, we're able to adapt more quickly."
Holliman agrees. "It helps us to be able to plan better," he says. "In many cases, planning is 70 percent of accomplishing a task."
The Right Tools
NAL provides continuous training to its supply chain employees, including its purchasing group. As the company gained additional market share, "We recognized that it was critical for our corporate purchasing teams be equipped with in depth knowledge of our products, our manufacturing processes, and to have effective supply chain tools that allow us to add value during the sourcing process," Holliman says.
"This training supports the purchasing team's ability to establish relationships with key supply partners that helps us to create a competitive advantage for NAL," he says.
"We want to make sure that our teams are up to speed on industry standards," he says, adding that the company uses the Institute for Supply Management as a reference.
NAL encourages its purchasing teams to become certified professionals in supply management (CPSM). With this expertise, "They're making sure they have the tools for the challenges that are ahead," Holliman says.
Good News
Many OEMs are localizing their operations, which is good news for NAL. "That means the share of the pie that NAL pursues is getting greater," Wheat says. "North American vehicle production capacity is increasing."
The company, he adds, is preparing for a business boost. "We have a five-year sales plan that shows substantial growth between now and 2021," he reports.
Wheat predicts growth for NAL, which has seen capital expansion for nearly every year since its start. "This has been 100 percent organic growth," he says, adding that the company has accomplished this through acquisition and volume increases.
The company also will evolve with technology changes. "Lamp complexity has really gone up," Wheat says, noting that this trend will require NAL to keep adopting new equipment and processes. "We are taking measures to handle that growth."
But the evolution of the automobile also will impact NAL's business. "The question on everyone's mind is where will transportation go as it relates to autonomous vehicles," Gadberry says.
The company recently opened a research center in California's Silicon Valley to strengthen Koito Manufacturing Corporation's position in the field of vehicle mobility. "[We will look at] what is our part in that as the vehicle changes," Gadberry says.