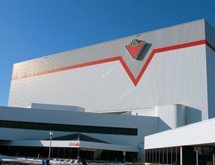 After more than nine decades, Canadian Tire Corp. is not only one of the oldest companies in Canada, but one of the most recognized with 90 percent of the population living within minutes of a Canadian Tire store. In fact, "the majority of Canadians bought their first bike or pair of skates at one of Canadian Tire's locations," shares Len Foster, vice president, distribution.
Based in Toronto, the company has 490 retail stores and 299 gas bars across Canada, all run by franchisees. The product lines have also expanded to include hardware products, sporting goods and home supplies.
"Our aspirational statement is 'life in Canada depends on us,'" Foster says. "Our customers demand value for their money [and expect] Canadian Tire to be able to equip their families for the jobs and joys of everyday life in Canada."
Canadian Tire shares its forecasting replenishment information with all its supply chain partners, including third-party logistic operators, carriers and vendors.
Not only has this kept Canadian Tire's operations in order, it cements its relationships with clients. "They are all astounded by the reliability of our forecast," Foster says.
One such partner is GENCO Supply Chain Solutions, which manages Canadian Tire's distribution centers in eastern and western Canada. Former GENCO Chairman Herb Shear says his firm has served Canadian Tire for at least 18 years.
"We work very well together," he says, noting that GENCO appreciates Canadian Tire's philosophy of working as a team. "We've been able to work [and] expand our business relationship with them, and we hope that our [work] helps them with their growth in Canada."
Setting Benchmarks
Canadian Tire developed its own lean management system and began training its staff in it in 2002. "We have enjoyed 10 consecutive years of improved productivity with gains of 2 to 5 percent per year being the norm," Foster recalls. "This is an outstanding achievement in a facility with mature operations."
The Toyota system has strongly influenced Canadian Tire's lean culture, as has the Warehousing Education and Research Council (WERC), an Oak Brook, Ill.-based organization focused on performance management. "I've been a member of [theirs] for many years," Foster says.
Every year, Canadian Tire participates in WERC's distribution center surveys. "We benchmark our results against the data they provide to their members," he says.
To reduce pick errors, Canadian Tire introduced what it calls the Dimensioner three years ago. The device scans items on conveyors to help avoid pick errors before the products reach the shipping area.
"Our systems have the exact dimensions for that SKU on file," he says, noting that the Dimensioner will reject the item if it does not match specifications.
"Our pick accuracy has gone through the roof, actually exceeding best-in-class results," he says. "We believe we're the only ones using this type of technology to validate pick accuracy."
No Signs of Slowing
Foster has held many roles with Canadian Tire in the past 30-plus years. "I'm really proud to be a Canadian Tire employee," he says, insisting that this outlook is shared by his teammates. Canadian Tire distribution has an employee turnover of only one percent annually. "Our team is happy, motivated and works with us to continuously improve our operations," he says.
The company shares its success through a profit sharing program. "My staff are all part-owners of the company," he says. "That makes my job much easier."
He is also proud of the entrepreneurial spirit. "Because our stores are run by franchisees, they're entrepreneurs in their local community," Foster says. "They know their markets exceptionally well, cater their product selection to local markets and can change on a dime. I believe that's been a real competitive advantage for us."
Foster predicts improved performance, additional locations and future acquisitions. "I don't see us slowing down at all," he states.  ­­­