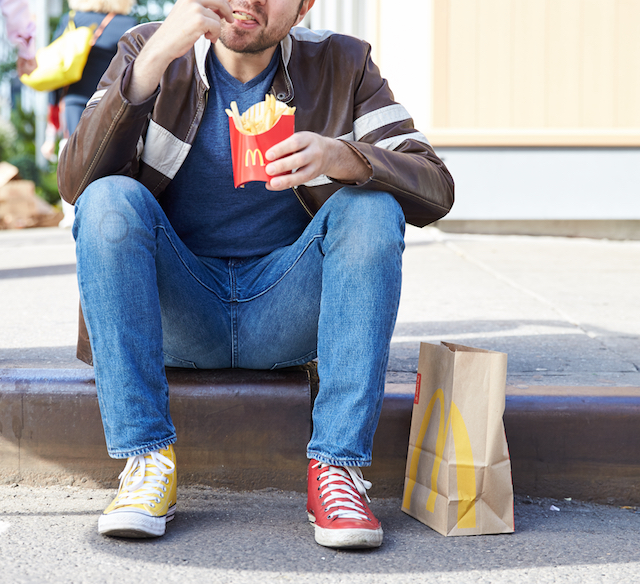 McDonald's believes that delicious food can also be sustainable for its customers, producers and the environment.
By Bianca Herron
As the leading global foodservice retailer with more than 36,000 restaurants in more than 100 countries around the world, McDonald's Corporation is using its large scale to drive improvements in responsible sourcing.
Recently, the Oak Brook, Ill.-based company announced its pledge to use only sustainable packaging in all of its restaurants within the next seven years. By 2025, 100 percent of the fast food restaurant's guest packaging will come from renewable, recycled or certified sources, working with environmental organizations, such as the Forest Stewardship Council (FSC) and Program for the Endorsement of Forest Certification (PEFC).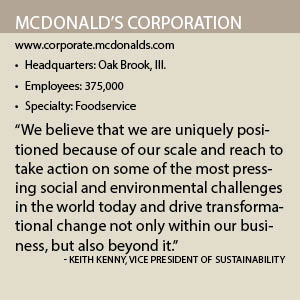 In addition, by 2025 McDonald's aims to recycle guest packaging in all of its restaurants. Currently, only 10 percent of its locations enable guests to recycle. McDonald's aims to create a food and packaging system in which people, animals and the planet can thrive, according to Vice President of Sustainability Keith Kenny.
"We have re-launched our sustainability platform, which we are calling 'Scale for Good,'" he explains. "We believe that we are uniquely positioned because of our scale and reach to take action on some of the most pressing social and environmental challenges in the world today and drive transformational change not only within our business, but also beyond it."
Despite the company's optimism, Kenny notes that McDonald's understands that recycling infrastructure, regulations and consumer behaviors vary city-to-city and country-to-country around the world. However, the company plans to be part of the solution.
"The big challenge with recycling is the lack of infrastructure to do it," he says. "People don't recycle in part because they don't have the necessary infrastructure, while others don't build infrastructure because there is not segregated materials to make it economically viable – so not much happens. This is why we have taken a bold stance to offer recycling at all our restaurants worldwide by 2025."
To achieve this, McDonald's will partner with its employees, franchisees, suppliers and local municipalities to help support the development of necessary recycling infrastructures.
"We'll have to work with like-minded companies to drive what will be, in many places of the world, large-scale and systematic change," Kenny explains. "Again, we're going to have to drive structural change in recycling beyond our own restaurants because we can't build recycling facilities in each of our restaurants. By working with partners we can be a catalyst for change, inviting others to do the same thing."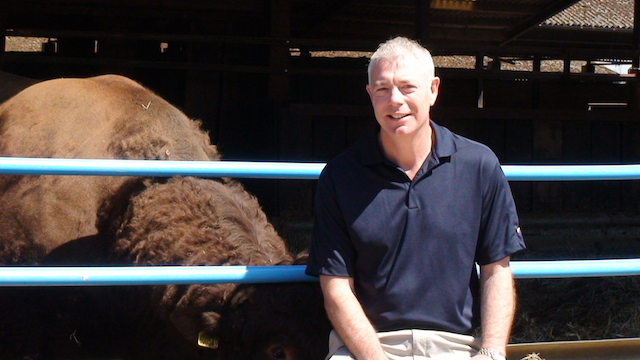 Making It Happen
McDonald's has identified several key areas of its business it aims to improve based on customer feedback. These include beef sustainability, packaging and recycling, and an expanded global commitment to support families with an increased focus on Happy Meals. Other initiatives that are part of the new Scale for Good sustainability platform won't be announced until March and later in the year, according to Kenny.
"These initiatives will build our bigger platform as to how we as a business can use our scale to drive positive change," he notes.
In 2013, McDonald's began working with the nonprofit Alliance for Healthier Generation to develop a comprehensive plan for 20 major markets to increase customers' access to fruit, vegetables, low-fat dairy and water. The company is now furthering its efforts with Healthier Generation to set five new Global Happy Meal Goals through 2022.
By 2022, McDonald's will make improvements to its Happy Meal menu across 120 markets. The restaurant chain will offer more balanced meals, simplify ingredients, continue to be transparent with Happy Meal nutrition information, reinforce responsible marketing to children, and leverage innovative marketing to help impact the purchase of foods and beverages that contain recommended food groups in Happy Meals.
"For example, instead of a toy, children can have a book in their happy meal," Kenny says. "This is a program we have run successfully in many markets to help improve child literacy."
Serious Responsibility
As one of the world's biggest buyers of beef, McDonald's takes its responsibility seriously to help lead the industry toward more sustainable production practices. "We may be the biggest buyer of beef by volume globally," Kenny says. "We support beef production that is environmentally sound, protects animal health and welfare, and improves farmer and community livelihoods."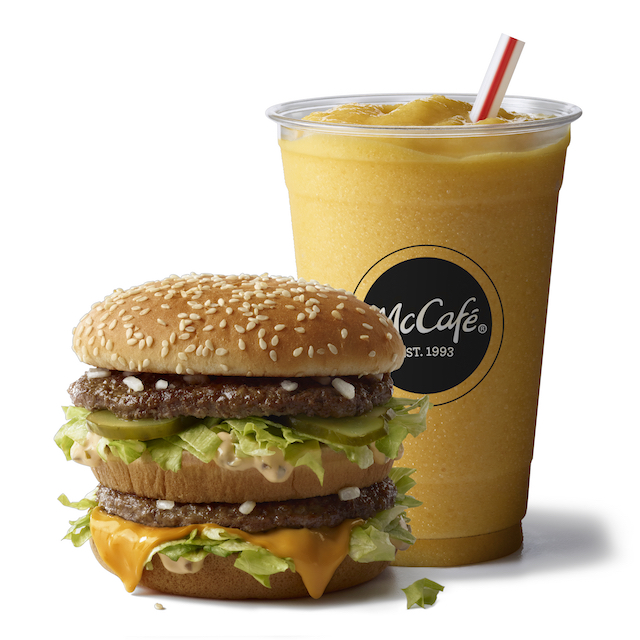 He notes that McDonald's has supported these practices for more than a decade, and will continue to collaborate within the industry, including farmers, processors and global suppliers, to help find solutions to produce beef with less impact.
"By the end of 2020, in each of our top 10 beef-sourcing countries – including the U.S., Australia, Germany and Brazil – we will accelerate industry progress, share knowledge and tools, promote flagship farmers, pioneer new practices and conserve forests," Kenny explains, noting that McDonald's "does a lot" to convene and help innovate around sustainability. That includes supporting animal welfare, a commitment to protect forests and more.
"We have identified the areas where we could drive the biggest change that are also important to our customers and our business," he says. "That's the level of maturity we have reached with our sustainability platform. We will continue existing work and programs that represent important efforts, but these are the areas we want to be known for."
McDonald's launched a new corporate website in February, which provides customers with detailed information about what it is working to accomplish and how. "The website details all of our sustainability initiatives, including our work with beef and packaging," Kenny says. "As I said, our next two new initiatives, have not been announced yet, but once they are, you will be able to read about them on the website as well."
McDonald's will use the website to report its progress, which is a challenge in itself, according to Kenny. "With a supply chain the size of ours, we need really big data systems to monitor progress," he explains. "That's something we're working on right now because we don't have all of those systems in place currently."
Working Together
McDonald's supplier partners play a critical role in its packaging effort. "Our supplier partners are going to be part of the solution there in terms of helping us source certified or recycled fiber," Kenny says. "We're already doing that and making great progress on the fiber side."
Kenny notes that much of what McDonald's wants to accomplish sustainability-wise requires an upfront investment, with a slightly longer-term payback, "I think our suppliers are happy to put those investments up front for us because they know we work closely with them, and are unlikely to change our suppliers just based on short-term gains," he explains. "We're in it for the long-term. That's critical in terms of getting some of these longer-term sustainability issues embedded in our supply chain."
He adds that innovation will be necessary, as there are some packaging items that do not currently come from renewable resources and/or aren't recyclable. We have to think about what innovation we can create to address some of the challenges we have in terms of the raw materials we use and the design of the products."
McDonald's attributes the success of its supply chain to its belief in the concept of the three-legged stool. One leg represents its organization, another is its franchisees – 90 percent of its restaurants are franchised – and the final leg represents its suppliers.
"We believe that the seat on the stool really is the McDonald's business," Kenny says. "The philosophy is that for that business to thrive each leg of the stool needs to be equal, making money and sharing knowledge. The entire system has to have the same shared goals. This can only be achieved by working very closely together."
Looking Ahead
Kenny has been with McDonald's for 28 years. He began his career at McDonald's U.K. in 1989. In 2006, he moved to work for McDonald's Europe, holding various commercial supply chain responsibilities as well as establishing and leading the McDonald's Europe sustainability team. In 2015, Kenny joined the global organization in his current position as the vice president of sustainability.
He says that he is most proud of the company's latest sustainability initiative. "It's truly a global program which we're embedding into the company's business plan," he says. "I think historically some of the sustainability work has been slightly separate from the business plan. However, with this evolution of our sustainability platform it is now firmly embedded in the brand purpose and the business plan, which is fantastic."
As McDonald's moves forward with its sustainability initiative, Kenny notes that the company realizes that it does not currently have all of the answers for the targets it has set, which he says is OK. "On one hand, that makes you a bit nervous, but on the other, it forces you to drive change," he explains. "That can be uncomfortable for some, but I believe that speaks to the level of maturity we have as a business with our sustainability efforts.
"We acknowledge it's going to be hard to get where we want to be," he concludes. "Of course, we want to get there 100 percent and will push hard to do so. With our scale, we genuinely want the best for our customers and all of our efforts. So even if we make a small change, it generally impacts the broader industry, and that can result in a big impact that benefits McDonald's and many others."