Amber Road serves companies such as Nike and Walmart with its software.
By Alan Dorich
Not many firms can say they have changed their industry, but Amber Road Inc. can. When the term "global trade management" (GTM) was created 15 years ago, "It largely meant trade compliance," Senior Vice President of Marketing and Business Development Ty Bordner recalls.
That has changed since Amber Road made its mark on the industry. Today, "It's not just compliance, it's whatever you need to move those goods across country borders," he says. "We've expanded the definition."
Based in East Rutherford, N.J., Amber Road provides cloud-based GTM software, trade content and training. "We help our companies transform their business through digitization," Bordner says, noting that the firm started operations in 1993, but moved into the GTM space 10 years later.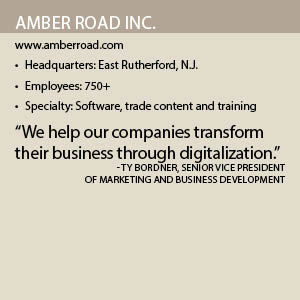 Today, Amber Road's GTM software platform helps its clients move from paper-based operations to a digital world providing the ability to communicate instantly with partners anywhere in the world. "We bring together all global supply chain players on to a single software platform, and allow them to collaborate digitally – no more paper," he says.
Amber Road also can automate processes, perform data analytics and look at future benefits. "Ultimately, what we can provide is a system that is a control tower over your global trade supply chain that gives you great agility," Bordner says.
Amber Road has served many companies with its GTM platform, including giants Nike Inc., Walmart, General Electric and Cisco. "We sell to companies all over the world," he says.
Partners in Supply
Amber Road's platform features multiple functional areas, including supply chain collaboration, Bordner says. This allows users to communicate with suppliers at early stages of the procurement process.
"If I need shoes or dresses, I tell them, 'Here's my design and what I need,'" he says, noting that companies without a system usually send documents over emails. "Those get lost."
The platform also gives the user visibility into the supplier's factory when he or she places an order. "You can see how much raw material they have on hand, and if they will be able to meet their committed shipment date," he describes.
This brings the user to the next phase of the software, known as Logistics, Bordner says. The platform can help the user track the events that occur with the goods after they have left the factory.
Amber Road's customers "need to know when things go right and wrong in the supply chain," he says, adding that proactive alerts allow for better resource scheduling. The software also creates a digital version of all the company's logistics contracts, which enables users to schedule and book shipments electronically with carriers.
The platform's features also include data-analytics capabilities to identify and understand the bottom line impact of leveraging free trade agreements. And then provides collaboration and automation capabilities to make sure the legal requirements of those agreements are followed. "There are near 600 bilateral and multi-lateral trade agreements worldwide," Bordner says. "We maintain all of those in our software."
The depth and breadth of Amber Road's software have made it a leader in its industry, he adds. When the company receives information about government regulations, "We convert the legal regulatory text into a digital syntax that can be processed by our software. This is our trade content, we call Global Knowledge, which we update every day, 365 days a year," he says.
"Many companies only provide the software," Bordner notes. "They say to their customers, 'You need to get the content yourselves and make sure it works with our software. That is just not a very practical.'"
Strong Agility
Amber Road's platform is built to handle change, such as the rise of e-commerce. "A lot of the retail brick and mortar stores are struggling," Bordner says. "If they're not closing completely, they're closing many of their stores."
Others, he notes, are moving to an omni-channel model with both physical locations and online retail. "Having a digital platform that can support any paradigm is important, and our solution helps you do that," he says.
The software, he adds, can help retailers with increases in order and shipment volume. Previously, "You may have dealt with 1,000 shipments a week," he says. "Now, because of e-commerce, that may have grown to 10,000 shipments a week."
The platform, he explains, allows users to cope by automating more processes. "You don't have to hire more people, [even though] your order and shipment volume may increase in the e-commerce world," he says. For example, software can automatically determine any regulations that might apply to a cross-border transaction, creating a process-by-exception paradigm and minimizing the need to hire additional resources.
Making Enhancements
Amber Road continues to grow its platform. "We are greatly expanding our data analytics capability," Bordner says, noting that the company is adding artificial intelligence that will give the software the ability to learn and bring more value.
If the user tends to order from a specific region, the platform can make them aware of trade agreements that allow them to save money. It also can warn them of future bottlenecks when shipping from certain regions. "[It will take] historical data and apply that to the future so you can better predict how things will flow through certain countries," he describes.
Bordner, who has been in the GTM software space for 22 years, predicts Amber Road will keep growing its client base. "There's still many potential companies and customers out there that don't know GTM platforms exist," he says.
"Our continued success is based on our ability to let companies know this great capability and associated value exists today, " he says. "There are three major value areas we bring to the table for our customers: improved efficiency, increased agility, and reduced supply chain risk."