American Axle & Manufacturing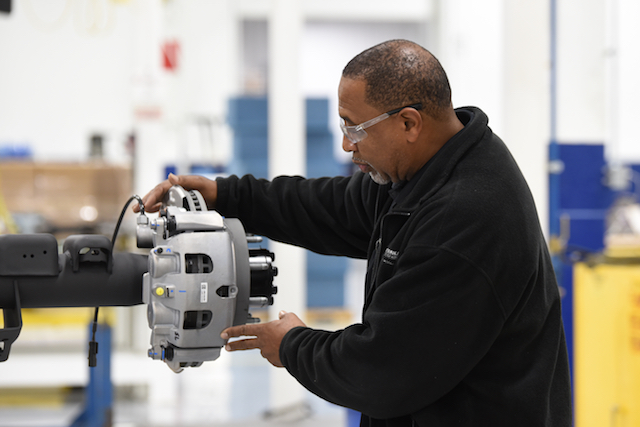 American Axle & Manufacturing has implemented new supply chain strategies to increase efficiency as it continues to grow.
By Janice Hoppe-Spiers
American Axle & Manufacturing (AAM) has stepped into the upper echelon of automotive suppliers over the past year after doubling in size through acquisition. Expanding from a $4 billion company procuring about $2.5 billion worth of materials into a $6.27 billion company with more than $4 billion in purchasing power, AAM continues to be a leading global Tier I supplier.
"The acquisition has impacted the supply chain positively," Chief Procurement Officer Jake Stiteler says. "We have expanded the products that we now buy into – areas we hadn't bought before – and take synergies between the two companies to consolidate the supply base, but at the same time looking at how we grow it and bring in new technologies."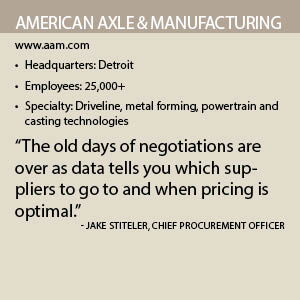 Founded in 1994 and building on decades of experience, Detroit-based AAM provides driveline and drivetrain systems, metal forming and forging, powertrain and casting components for light trucks, SUVs, passenger cars, crossover and commercial vehicles and industrial markets. The company has more than 90 locations throughout the globe.
Supplier Advantage
Over time, AAM has put together a regionally cost-competitive and operationally flexible global manufacturing, engineering and sourcing footprint. Its key suppliers have received the acquisition positively because they have the opportunity to grow by taking on new products and through innovation.
"AAM has more scale in the market, and for procurement it has been good because we can partner with our key supplier partners and move forward with new product and processes," Stiteler explains. "Our increased size and scale has had a positive reflection on our supply chain."
AAM has developed a reputation in the industry for being a good, strategic partner for its suppliers and that reputation continues with the company's increased size, scope and reach. "Suppliers want to work with us and the supply base is excited about the change," Stiteler adds.
By combining two companies, it is inevitable that AAM will begin consolidating suppliers of direct and indirect materials. "If you are a big supplier you have an opportunity to grow your business while small, niche suppliers are being told they need to do something different to differentiate themselves among the bigger competitors," Stiteler explains. "The smaller companies get it and need to think on a larger scale or risk elimination from the supply chain."
As a much larger company today, AAM recently created a fully staffed department to focus on the short- and long-term procurement strategy for the entire company. It is responsible for outlining how each market is evolving and implementing new technology. "In the past we did more tactical day-to-day buying and now we are looking at it more strategically and long-term," Stiteler says.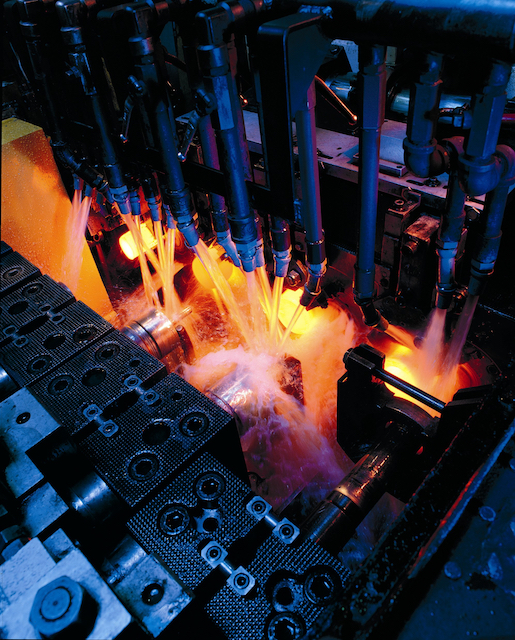 Strategic Sourcing
AAM is partnering with key global suppliers to manage its spend, supply base and key categories of direct and indirect sourcing at all its large plants. Its goal is to drive consolidation of the supply base, vendor managed inventory and a reduction in inventory cost.
AAM has developed a cost-reduction initiative and is working with its supply base to agree on what the cost "should be" on components. The "should cost" business model will be used by AAM moving forward. "This eliminates multiple rounds of negotiations when we all agree on what it should cost and we work with our supplier partners up front so we can avoid the old way of doing business," Stiteler explains.
The company is also looking at driving technology and innovation when it comes to artificial intelligence and data analytics on spend. "We have been making a big push over the last 18 months on process, systems and technology that will make a buyer's job or a procurement job much more doable and let the analytics do the work," Stiteler says. "All the analysis is done behind the scenes by software and artificial intelligence."
AAM partners with outside firms to develop its software and is working to obtain exclusivity of those programs. "We have helped jointly develop these programs and there are a couple areas where we are the industry leaders and others where we are a fast follower in terms of adoption," Stiteler explains.
The company will continue to focus on efficiently managing its supply chain, which includes partnering more than 20,000 suppliers globally. "Managing and sorting the data and actually acting on the data quickly is becoming a continuing trend and issue and we have to find better ways to manage this," Stiteler says. "We gather lots of it, but we need to find ways to get faster results and make quicker decisions."
In the future, AAM predicts the automotive industry will continue to evolve as technology advances and buyers become more technology-focused. "The old days of negotiations are over as data tells you which suppliers to go to and when pricing is optimal. I think the industry is evolving to a much faster and quicker technology-based process and system," Stiteler says. "The people who get onboard with digital change will be ahead of everyone else and the 'should cost' business model is going to leapfrog the competition."