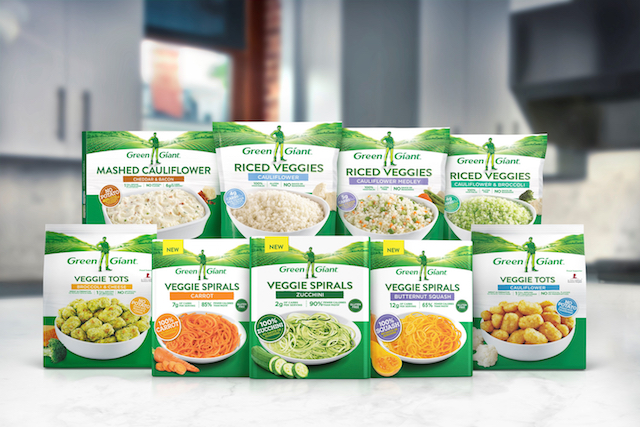 B&G Foods' procurement team has helped the company double its stable of brands in the past decade.
By Tim O'Connor
Supply chain interruptions are a nightmare for any company, but it's especially frightening when the product has a shelf life. A delayed shipment of the metallic film used to make cheese puff bags not only keeps the product off retailer displays, but it risks going stale as it waits for packaging.
It's one of the reasons New Jersey-based B&G Foods takes care to diversify its supplier base. The company typically has two to three suppliers for each procurement area across its larger network and five to six on a smaller basis that can jump in whenever there is an issue.
The strategy paid off last fall when hurricanes in Houston and Florida threatened the on-time delivery of several critical materials. B&G Foods had contracts in place that protected it on pricing during the shortage and fulfilled orders from its suppliers' secondary manufacturing sites to ensure it kept its own production lines running.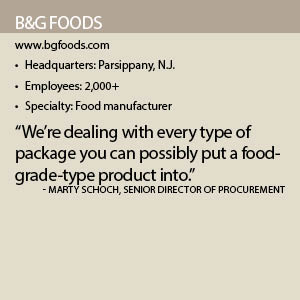 The result was a relatively smooth response even as other industries raced to find alternative suppliers. "We didn't see much of an impact from a purchasing or procurement standpoint," Schoch says.
Supporting Acquisitions
B&G Foods's origins date back to 1889 when immigrants Joseph Bloch and Julius Guggenheimer started selling pickles in Manhattan. The two soon formed Block & Guggenheimer, which eventually evolved into B&G Foods in 1996.
In the nearly 130 years since its founding, the company has created or absorbed many of the country's most popular food brands, including Joan of Arc, Underwood, Pirate's Booty, Ortega and Cream of Wheat. Many of the biggest acquisitions have occurred in the last three years with the additions of Green Giant, Spice Islands and Snackwell's.
In all, B&G Foods has doubled its number of brands in the past 10 years to more than 50. All those additions have stretched the company's supply chain.
When Schoch started with the company in 2008, it was a $400 million business with 28 supply chain partners and five manufacturing sites. Today, it generates $1.7 billion in revenue, operates 10 manufacturing sites and relies on nearly 90 co-packers and contract manufacturers to produce finished goods. In the same time period, B&G Foods' procurement spend grew from $200 million to $900 million. "Our supply chain has grown dramatically since that point in time," Schoch says.
Supporting that growth requires a multi-layered supply chain. The procurement team is centralized at the company's headquarters in Parsippany, N.J., and there are four dry and six frozen distribution centers split between the United States and Canada. Schoch's procurement team is responsible for direct spend – the raw materials such as vegetables, spices, packaging and commodities – and has opportunistically challenged indirect spend such as energy, and marketing agency contracts. "Whenever a group needs some assistance from procurement to negotiate a contract, we get involved," he says.
The procurement team primarily responsibility is profit margin growth but also supports two kinds of projects: launching new products and integrating acquired brands into the company. The rapid pace of acquisitions in the past decade has seen as many as six brands folded into the company in a single year, making that latter function critical to B&G Foods' success.
In acquiring those brands, B&G Foods' strategy has been to look for well-regarded names in declining markets and then reinvigorate them. "That's been our trademark over the last 10 years with our marketing team," Schoch says. A lot of that work happens on the marketing and sales end, but the procurement team also looks for ways to lower the cost of materials and ingredients to make the product more efficient and profitable. "In most cases over the last decade, we're brought on more procurement spend responsibility within the group," Schoch adds. "It's a very lean organization and a very smooth transition."
The most recent brands to go through that process were Snackwell's and Back to Nature, both of which were acquired in 2017. A project leader was appointed to coordinate their integration into B&G Foods and the procurement team provided support by following an acquisition template that guided the transition. The template was a new idea for 2017, designed to standardize the steps for absorbing functions such as inventory control and product planning while maintaining communication with the legal and quality departments every step of the way. "That helps us be more efficient this year," Schoch says.
The length of the transition period varies by the size and complexity of the brand. Larger product lines, such as Green Giant, have a massive footprint and their own manufacturing facilities, and it can take a year to scale up across the company. Smaller brands such as Back to Nature can complete the transition in as little as three months.
Another aspect of that integration period is finding efficiencies in packaging. "We're dealing with every type of package you can possibly put a food-grade-type product into," Schoch says. Pirate's Booty uses a metalized film bag, for example, while other items are held in glass jars, steel cans, plastic containers, totes and even five-gallons pails.
Evolving Procurement
Revitalizing a classic brand often means rethinking how it fits within its current market. The general trend toward healthy products made from natural ingredients has tripped up many food producers; however, B&G Foods has been fortunate that many of its items already fit that description. Back to Nature, Snackwell's and Green Giant have proven popular among younger, health-conscious customers. "The millennials are always changing their look and what they're eating and how they're eating it," Schoch says.
But some foods do need tweaking to suit modern customers. When converting an item to a non-GMO or organic product, the procurement department gets involved early to set up contracts with suppliers and farmers that can deliver those more natural ingredients. B&G Foods asks its growers to plant based on consumer need, not what it hopes will sell, so Schoch cautions that it takes time to make that kind of change. "We know about the food trends," he notes. "Where we can do it easily without taking costs increases we'll do those changes."
Cost is the biggest driver in choosing which suppliers to work with, but B&G Foods is expanding its evaluation to encompass other factors. Schoch wants to start looking more at sustainability efforts and diversity benchmarks – how many suppliers are women- or minority-owned – so that B&G foods can begin sharing that data with retailers that have prioritized those areas in their corporate responsibility pledges.
Perhaps the biggest shift coming down the line is in the technology B&G Foods uses. In early 2017, the company began implementing a new ERP system that will better support its rapid growth than the current legacy software in place across different brands.
"It will make us more efficient, it will provide us more data," Schoch says. "We'll be on one platform versus the multiple platforms today and we'll be ready to expand this company like we have in the past."