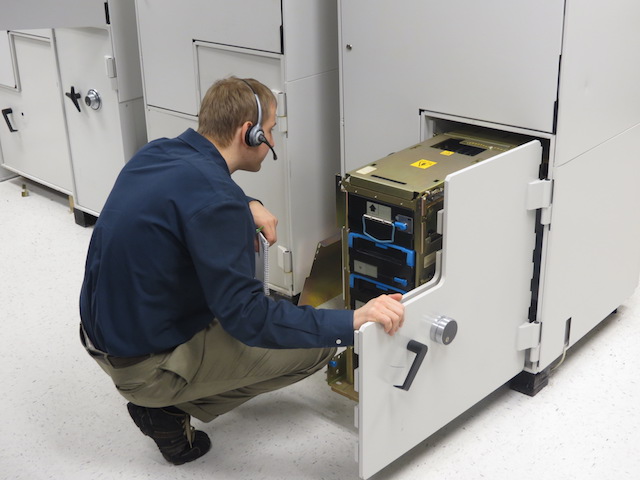 Burroughs Inc. acquires a new repair center and changes its inventory management approach.
By Kat Zeman
With the purchase of a new repair center and a change in its inventory management system, Burroughs Inc. is reducing expenses and making itself leaner.
Burroughs is a Plymouth, Mich.-based service company for third-party ATMs, teller cash automation, smart safes, branch automation equipment and self-service solutions throughout the United States, including Puerto Rico.
Through acquisition and organic growth, Burroughs has expanded its maintenance services footprint to offer one of the nation's largest maintenance and support organizations with more than 800 customer service engineers delivering comprehensive and customized maintenance coverage. The company services more than 30,000 machines throughout the United States.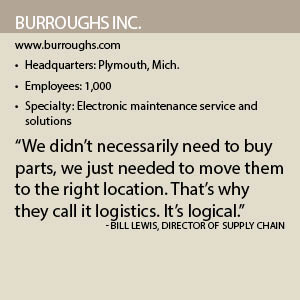 Saving On Repairs
In September, the company acquired Warrington, Penn.-based Remcal, an engineering, manufacturing and repair company for cash automation equipment. "Traditionally, parts were sent to repair companies and then sold back to us," says Bill Lewis, director of supply chain. "So we started looking for other options. There is a significant cost-savings in doing repairs in-house."
Lewis estimates that the company will save between $3 million and $4 million a year once fully integrated. "That's about a 30 percent savings," he adds. The 20,000-square-foot repair facility employs about 20 technicians who repair between $6 million and $9 million worth of parts per year. By next year, it plans to increase the number of technicians to 45 and grow production.
The new division is responsible for repairing parts for ATMs, cash recyclers and similar equipment. Burroughs believes that acquisition complements its business model and gives it better control over quality and costs. "We're extending the life expectancy of a part by doing quality repair," Lewis says.
Going Leaner
In addition, Burroughs is revamping its inventory management approach. Lewis, who started with the company in 2017, is striving to reduce inventory. When he first started, Burroughs had a stock of roughly $18 million in inventory. Some of it included old parts for machines that the company no longer services.
"So we sold them and scrapped them," he says. "And our inventory count went down for non-usables, went up for the in-demand parts and the overall cost went down."
In February, the company's inventory decreased to roughly $15.4 million. "We made sure we bought the right parts at the right time at the right prices," he adds. "That increased our service quality and now I have more parts where they are supposed to be for less money."
Burroughs has 92 third-party storage facilities throughout the United States. In addition, each technician has a small inventory of parts in their vehicle. "We leveled our parts based on actual demand," Lewis says. "When we did that, we found that we didn't necessarily need to buy parts, I just needed to move them to the right location. That's why they call it logistics. It's logical."
Lewis, who worked as a transportation and logistics officer for the United States Air Force for 28 years, has used his military background at Burroughs. "I applied the Air Force supply chain model here," he says.
Altering the Fleet
Lewis is adapting the same lean philosophy to the company's fleet. With about 800 vehicles to manage, he altered the fleet management philosophy and hired a fleet administrator who analyzed geographic locations and how the vehicles were used.
"We looked at mileage, fuel usage, maintenance and repair costs against what the vehicles do and basically put the right vehicle in the right place based on its ability and mileage," he says. "By altering the fleet management approach, I'm going to guess we will save maybe three-quarters of a million dollars."
Lewis' future goals for supply chain involves building on the initiatives that he's installed. "Our goal is to have a revenue reduction like we did last year and to build on the culture that I'm trying to install," he says.
Founded in 1886, Burroughs started as a major American manufacturer of business equipment like adding machines and pre-electric calculators. Today, the company is known for delivering flexible solutions for financial institutions, retailers and independent ATM deployers.
The company prides itself on quality performance provided by a team of market-leading service engineers. More than half of them have more than 25 years of experience. Burroughs is known for utilizing leading-edge technologies to support staff in multiple call centers, covering all time zones 24 hours per day, 365 days per year.